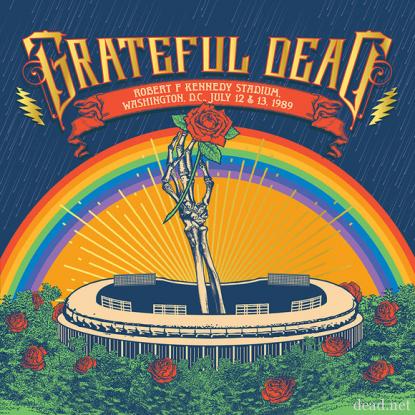 The Grateful Dead will release Robert F. Kennedy Stadium, Washington, D.C., July 12 & 13, 1989, a six-CD boxed set that includes all of the music from two previously unreleased concerts. The set is taken from the band's master 24-track analog recordings, which have been mixed by Jeffrey Norman at TRI Studios and mastered in HDCD by David Glasser. The collection's slip case features original artwork by Justin Helton and a perfect-bound book with in-depth liner notes written by Dean Budnick, editor-in-chief of Relix magazine. The set will be available on the band's Dead.net website as a digital download in Apple Lossless and FLAC 192/24.
According to the band's press release, "The Grateful Dead battled the elements in July 1989, enduring drenching rains and stifling humidity during back-to-back shows at Robert F. Kennedy Stadium in the nation's capital. In spite of the bleak weather, the band thrilled the massive crowds both nights with triumphant performances that rank among the very best of a busy year that included 74 shows and the release of the group's final studio album, Built to Last.
The boxed set can be pre-ordered here.
"RFK Stadium '89 fell right in the middle of one of the best tours of the last 15 years of Grateful Dead performances, with these shows being the sixth and seventh of an 11-show tour," says David Lemieux, Grateful Dead archivist and the set's producer in the press release. "This tour is widely considered the start of a nine-month period of sustained excellence, which ran from summer '89 through spring '90."
Related: BCB's review of the documentary Long Strange Trip
Pianist Bruce Hornsby—who briefly joined the band between 1990 and 1992—is featured on both shows. For fans of Brent Mydland's tenure with the Dead, which began in 1979 and ended in 1990 with the keyboardist's death, "these stellar shows capture that incarnation in peak form," the release states. Among the long list of highlights are performances of live staples such as "Eyes Of The World," "Wharf Rat" and "I Need a Miracle," along with rarities like "To Lay Me Down," which was played only a few times in 1989. The July 13 show also features the band road-testing "I Will Take You Home," a track Mydland wrote with Dead lyricist John Perry Barlow that would appear later that fall on Built to Last.
Set Lists
R.F.K. Stadium, Washington, D.C. (7/12/89)
Touch Of Grey
New Minglewood Blues
Mississippi Half-Step Uptown Toodeloo
Just Like Tom Thumb's Blues
Far From Me
Cassidy
Friend Of The Devil
Promised Land
Sugaree>
Man Smart, Woman Smarter
Ship Of Fools>
Estimated Prophet>
Eyes Of The World>
Drums>
I Need A Miracle>
Dear Mr. Fantasy>
Black Peter>
Turn On Your Lovelight>
Black Muddy River
R.F.K. Stadium, Washington, D.C. (7/13/89)
Hell In A Bucket
Cold Rain And Snow
Little Red Rooster
Tennessee Jed
Stuck Inside Of Mobile With The Memphis Blues Again
To Lay Me Down
Let It Grow
He's Gone
Looks Like Rain
Terrapin Station
Drums
Space
I Will Take You Home
The Other One
Wharf Rat
Throwing Stones
Good Lovin'
U.S. Blues
Watch the Dead play "Mississippi Half-Step Uptown Toodeloo" at RFK Stadium in 1989

Latest posts by Best Classic Bands Staff
(see all)