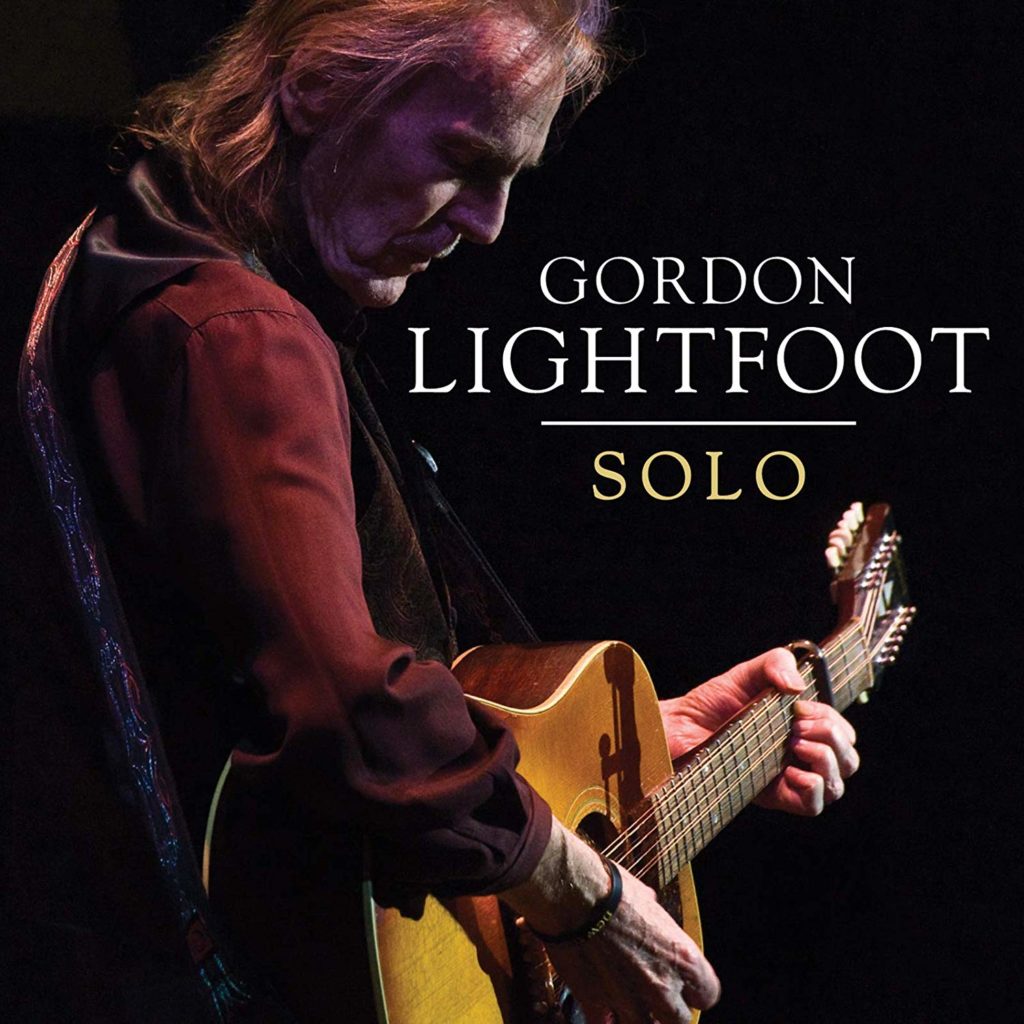 Canadian singer-songwriter Gordon Lightfoot has announced his new album, titled Solo. The album, which arrives March 20, sees Lightfoot returning to the studio to release his first album of new music since 2004's Harmony. Solo, according to a press release, "showcases Lightfoot at his most pure, alone in the studio with his guitar."
The first single "Oh So Sweet," was released on Jan. 24. Listen to it below.
In the making of Solo, says the announcement, Lightfoot discovered a treasure trove of unreleased material in his Toronto home. Two CDs of songs he recorded nearly two decades ago were tucked away in his office. The songs were written in late 2001 and early 2002, just before he suffered a near-fatal abdominal aortic aneurysm later that year. After discovering the songs, he went into Grant Avenue Studio in downtown Hamilton, Ontario, with his guitar to create this beautifully minimal work.
Of the new work, Lightfoot says, "I thought my fans would be interested in hearing what songs sound like when first written."
The press release offered this mini-bio: "Gordon Lightfoot is Canada's greatest singer-songwriter. He was a genre-defining figure in the folk-pop scene of the 1960s and 1970s. He has been awarded the Governor General's Performing Arts Award, Canada's highest honor in the performing arts, as well as being named a Companion of the Order of Canada. His songs are indelible to the Canadian music landscape, and include such national treasures as 'Sundown,' 'The Wreck of the Edmund Fitzgerald' and 'If You Could Read My Mind.' Lightfoot has been inducted into the Songwriters Hall of Fame, the Canadian Music Industry Hall of Fame, the Canadian Songwriters Hall of Fame, as well as Canada's Walk of Fame. His songs have been recorded by the likes of Elvis Presley, Neil Young, Bob Dylan, Barbra Streisand, Eric Clapton and the Tragically Hip."
Gordon Lightfoot 2020 Tour Dates (Tickets are available here and here)
Feb 13 – Baton Rouge, LA – River Center Ballroom theatre
Feb 14 – Lake Charles, LA – Golden Nugget Casino
Feb 15 – Bossier City, LA – Margaritaville Casino
Feb 17 – Asheville, NC – Thomas Wolfe Auditorium
Feb 18 – Atlanta, GA – Cobb Energy PAC
Feb 19 – Pensacola, FL – Saenger Theatre
Feb 21 – Bixoli, MS – IP Casino
Feb 22 – Chattanooga, TN – Tivoli Theatre
Feb 23 – Greensboro, NC – Carolina Theatre
Mar 25 – Davenport, IA – Adler Theatre
Mar 26 – Nashville, IN – Brown County Music Center
Mar 27 – Northfield, OH – MGM Northfield Park Center Stage
Mar 29 – Chicago, IL – Copernicus Center
Mar 30 – Champaign, IL – Virginia Theatre
Mar 31 – Columbia, MO – Missouri Theatre
Apr 02 – Angola, IN – Furth Center
Apr 03 – Royal Oak, MI – Royal Oak Music Theatre
Apr 04 – Royal Oak, MI – Royal Oak Music Theatre
Apr 13 – Fredericton, NB – Richard J. Currie Center
Apr 15 – Ottawa, ON – Algonquin Commons Theatre
Apr 16 – Montreal, QC – Place Des Arts
Apr 18 – Orillia, ON – Casino Rama
May 05 – Gettysburg, PA – Majestic LeVan PAC
May 06 – Bethel, NY – Bethel Woods Center for the Arts
May 07 – Bethel, NY – Bethel Woods Center for the Arts
May 09 – Annapolis, MD – Ram's Head on Stage
May 10 – Annapolis, MD – Ram's Head on Stage
May 11 – Richmond, VA – Carpenter Theatre
May 14 – East Lansing, MI – Wharton Center
May 15 – Elkhart, IN – Lerner Theatre
Jun 03 – Buffalo, NY – Kleinhans Music Hall
Jun 04 – Rochester, NY – Kodak Center
Jun 05 – Bimghampton, NY – Broome County Forum Theatre
Jun 07 – Ridgefield, CT – Ridgefield Playhouse
Jun 08 – Alexandria, VA – The Birchmere
Jun 09 – Portsmouth, NH – Music Hall
Jun 11 – Utica, NY – Stanley Theatre
Jun 12 – York, PA – Strand Theatre
Jun 13 – Stroudsburg, PA – Sherman Theatre
Jul 19 – Oak Bluffs, MA – Martha's Vineyard PAC
Oct 09 – Collingswood, NH – Scottish Rite Auditorium
Related: The story behind Lightfoot's "The Wreck of the Edmund Fitzgerald"

Latest posts by Best Classic Bands Staff (see all)