The Beatles' 'White Album': Giles Martin Interview
by Greg Brodsky
On September 24, 2018, Apple Corps Ltd./Capitol/UMe announced the Nov. 9 release of 50th Anniversary editions of The BEATLES (aka The White Album). The original double album's 30 tracks are newly mixed by producer Giles Martin and mix engineer Sam Okell in stereo and 5.1 surround audio, joined by 27 acoustic demos (aka the Esher demos) and 50 session takes, most of which are previously unreleased in any form.
The new edition reintroduces us to our old friends Desmond and Molly Jones, Bungalow Bill, Prudence and Rocky, via the early versions of decades-old favorites.
Best Classic Bands attended Martin's presentation in New York in which he played many of the Super Deluxe Edition's demos and spoke about the enormous undertaking to properly expand the album, originally produced by his father, George Martin.
Giles Martin, now 49 – though he looks perhaps 10 years younger – has been the guiding hand on several Beatles projects, including 2017's 50th Anniversary editions of Sgt. Pepper's Lonely Hearts Club Band. (The former "was incredibly well received and we're humbled by that," he says. And by every barometer, he's right: music critics were effusive in their praise – including Best Classic Bands in its review – and the various editions were among 2017's top selling releases.)
In the interview, Giles Martin addressed the long standing perception that The White Album wasn't a true Beatles album, with four individuals working separately (and Ringo Starr famously AWOL for a period during the recording sessions). "A lot of people have said that The BEATLES is the sound of the Beatles breaking up. I don't hear that. The sounds on the record are the sounds of a band in the studio. You can't make an album like that if you're not getting on.
Apple Records chief Jeff Jones notes the significant maturation that had occurred since the Fab Four released "I Want to Hold Your Hand" in November 1963. "Five years later, [the same band] put out 'Helter Skelter.' The progression is unequaled except perhaps by Bob Dylan."
Martin acknowledges that growth and newfound independence. "My dad didn't like working on The White Album. My theory is that [it] was about not listening to my dad as much. They had gone to India and he lost the classroom."
Martin played a variety of demos and remixes throughout the presentation. When one hears the so-called "Esher demo" of "Back in the U.S.S.R." for the first time after countless plays of the original release, it's tempting to "correct" Paul McCartney when he sings "Man we had an awful flight," instead of the word "dreadful," which was ultimately used in the 1968 release.
"When I press Play in a studio in Abbey Road, [the Beatles] sound like they're in the room with you," says Martin. "There are 107 takes of 'Sexy Sadie'. When you work on a project like this, you really dig deep."
There's the demo for "Child of Nature," which wasn't included in the original. Lennon rewrote the song, which ultimately became "Jealous Guy" on his 1971 Imagine album. There are Esher demos for both "Mean Mr. Mustard" and "Polythene Pam"; it's hard to imagine them omitted from Abbey Road side two.
Someone asked Martin if he would begin preparing a 50th anniversary edition of that 1969 masterpiece and he delicately sidestepped the question, emphasizing that the focus was on The White Album.
Related: White Album facts and trivia
On October 22, Universal Music Group, which owns Capitol Records and markets and distributes Apple Records Ltd., announced that it had appointed Martin to a newly created global role as Head of Audio & Sound, based out of the company's Abbey Road Studios in London.
Despite his pedigree and access, he's still very much a fan. What's the most fun part of working on these expanded editions? "Sitting with them," he says with a wide grin, referring to Paul and Ringo.
Related: Our 2016 one-on-one with Martin at Abbey Road Studios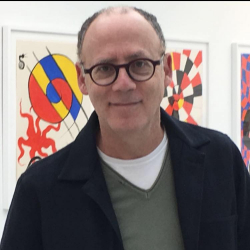 Latest posts by Greg Brodsky
(see all)