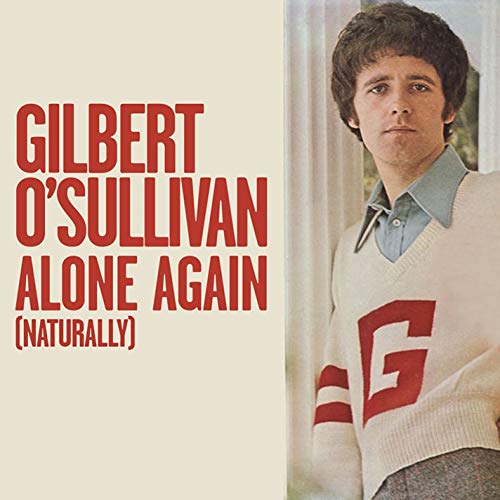 Gilbert O'Sullivan, who scored a #1 hit in 1972 with "Alone Again (Naturally)," has announced a 2022 tour. The U.S. dates in March, dubbed "Just Gilbert," will bring him to seven locations of the intimate City Winery chain, including the new flagship of the NYC location. The shows were postponed from 2020 and again in 2021 due to the pandemic.
The Ireland-born singer-songwriter quickly followed up his 1972 smash single with two other big U.S. hits, "Clare," which reached #2, and "Get Down," which peaked at #7 the following year.
O'Sullivan, who turned 75 on December 1, 2021, celebrated his 40th wedding anniversary to his wife, Aase, in 2020.
O'Sullivan was born Raymond Edward O'Sullivan on Dec. 1, 1946, in Waterford, Ireland, and enrolled at Swindon Art College, specializing in graphic design.
But he had another love – music – and after forming and joining local bands as a drummer/vocalist, he started writing his own songs, heavily influenced by The Beatles as writers and Bob Dylan as a performer.
After two unsucessful singles, he sent a demo tape to Gordon Mills, the man behind Tom Jones and Engelbert Humperdinck, who impressed with his songwriting, became his manager. The result was his first single on the MAM label, "Nothing Rhymed," which became a U.K. Top Ten hit in 1970.
But it was 1972's "Alone Again (Naturally)," which O'Sullivan wrote and produced that sealed his fame, topping the U.S. charts for six weeks and earning three Grammy nominations. The song was ranked the year's second biggest by Billboard.
Related: "Alone Again (Naturally)" was #1 for all of 1972 on New York's WABC
O'Sullivan has earned seven Top 10 U.K. singles and a #1 album, Back to Front. He released a self-titled album in 2018.
Watch the video for "The Same the Whole World Over" from his recent LP
Gilbert O'Sullivan 2022 Tour Dates (Tickets are available here and here)
Mar 04 – Houston, TX – Main Street Crossing
Mar 07 – Philadelphia, PA – City Winery
Mar 08 – New York, NY – City Winery
Mar 10 – Boston, MA – City Winery
Mar 11 – Chicago, IL – City Winery
Mar 14 – Nashville, TN – City Winery
Mar 15 – Atlanta, GA – City Winery
Mar 17 – Los Angeles, CA – The Mint
Mar 18 – Los Angeles, CA – The Mint
Mar 20 – Washington, DC – City Winery
Apr 05 – Scunthorpe, UK – Baths Hall
Apr 08 – Leeds, UK – City Varities Music Hall
Apr 12 – Birmingham, UK – Town Hall
Apr 23 – Tokyo, Japan – Sinjuku Cultural Center
Apr 24 – Tokyo, Japan – Sinjuku Cultural Center
Sep 02 – Limerick, Ireland – Lime Tree Theatre
Sep 03 – Castlebar, Ireland – Royal Theatre
Sep 06 – Kilkenny, Ireland – Watergate Theatre
Sep 09 – Cork, Ireland – Cork Opera House
Sep 11 – Dublin, Ireland – Bord Gais Energy Theatre
Nov 05 – Amsterdam, Netherlands – Carre Theatre

Latest posts by Best Classic Bands Staff
(see all)