On September 3, Gerry Rafferty, best known for the recordings "Baker Street" and "Stuck in the Middle With You," is getting a posthumous release with a solo album, Rest in Blue. The 14-track record will be the singer-songwriter's 11th solo studio album. It arrives digitally on September 3, 2021, with a CD also available in the U.K. (An import will be available in the U.S. on Sept. 10.)
Rafferty started work on a new album in 2006 but it wasn't completed before he passed away in 2011. His daughter, Martha Rafferty, sought to complete the project with demos left by her father including multiple layers of synths, which she stripped back to showcase his immense vocal ability. The result is an album brimming with raw emotion, and a quintessential collection of blues, rock, and folk. Some of the demos date back as far as 1970.
The materials tackles a variety of topics including climate change on "Sign of the Times," the legality of war in "Lost Highway," and problems with his alcoholism in "Still In Denial."
Listen to "Lost Highway"
The album also features popular traditional folk songs such as "Wild Mountain Thyme" and "Dirty Old Town," as well as a cover of Richard and Linda Thompson's "It's Just the Motion." The album finishes with a re-record of the Stealers Wheel classic "Stuck in the Middle With You" recorded back in the 90s, which gives the track a fresh, country-inspired interpretation.
Rest in Blue features many musicians who worked closely with Rafferty throughout his career. One is guitarist Hugh Burns, who played on a vast amount of Rafferty's catalog, including the powerful guitar solo on "Baker Street." Renowned vocalist Katie Kissoon (Eric Clapton, Roger Waters, George Michael) performed backing vocals on many of the tracks. Alan Clark, formerly of Dire Straits, is on piano and the Hammond organ.
Listen to the first release, "Slow Down"
Rafferty first found success as part of the band The Humblebums, which included the comedian, actor and musician Billy Connolly. Rafferty went on to form Stealers Wheel with old school friend Joe Egan. Rafferty relaunched his solo career in 1978 with the album City to City which included "Right Down The Line" and "Baker Street," which features the iconic saxophone solo by Raphael Ravenscroft.
Related: Our feature on "Baker Street" and that sax solo
Rest in Blue Track Listing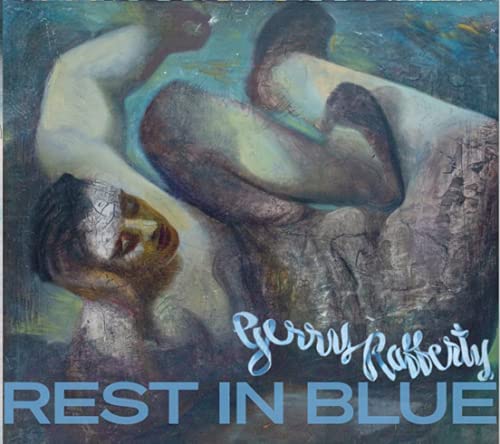 1. "Still In Denial"
2. "Full Moon"
3. "Sign Of The Times"
4. "You Are All I Want"
5. "I Still Love You"
6. "Wild Mountain Thyme"
7. "Slow Down"
8. "It's Just The Motion"
9. "Look At Me Now"
10. "Dirty Old Town"
11. "Lost Highway"
12. "Keeper Of My Soul"
13. "Precious Moments"
14. "Stuck In The Middle With You"
The album features artwork by long-time collaborator and friend John Byrne.

Latest posts by Best Classic Bands Staff
(see all)