Decades after the British Invasion, it's easy to overlook the Liverpool band Gerry and the Pacemakers. The '60s group, led by singer Gerry Marsden, shared a manager and producer with the Beatles. They earned numerous top 10 singles in the U.S. including the ballads "Don't Let the Sun Catch You Crying" and "Ferry 'Cross the Mersey" and the rocker "How Do You Do It?," the latter also recorded (but not released) by the Beatles.
In 2018, Marsden, born Sept. 24, 1942, announced his retirement after six decades in the music business.
Other hits by the group included "I Like It," "I'll Be There," "It's Gonna Be Alright" and a cover of Rodgers and Hammerstein's "You'll Never Walk Alone," from the musical Carousel. In their home country, they set a record for being the first act to reach #1 with their first three consecutive singles: "How Do You Do It?," "I Like It" and "You'll Never Walk Alone." The latter also became a popular football anthem in the U.K., played at every home game at Liverpool's Anfield ground.
Watch the team and its fans celebrate with the song in 2019
A Nov. 28, 2018, report in the U.K.'s Daily Mail, said Marsden, then 76, wants to spend more time with his family. "Gerry would like to say a special thank you to all his fans for the unconditional support down the years, and will sadly miss them all. He looks forward to this new chapter in his life," said a statement from the singer.
Related: 12 "lost" British Invasion hits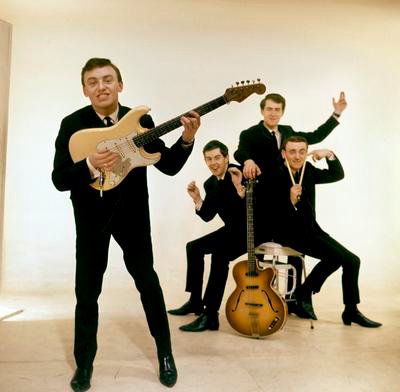 Gerry Marsden formed Gerry and the Pacemakers in 1959 and were the second band to be signed by Brian Epstein, who also arranged for George Martin to producer their recordings. Their first hit, "How Do You Do It?," written by Mitch Murray, became their first chart-topper in Britain, on April 11, 1963, after the Beatles decided not to release their version. In the U.S. in 1964, they first charted with "Don't Let the Sun Catch You Crying," which reached #4, but their reign was brief—by the end of 1966 they were no longer scoring hits in the States, and they disbanded. Marsden starred in a few musicals in London following the split.
The group appeared on the famous rock concert film The T.A.M.I. Show, trading off songs with Chuck Berry. They also starred in their own film, Ferry Cross the Mersey, a knockoff of A Hard Day's Night. Marsden reformed the group in 1974 and played the oldies circuit. His brother, Fred, an original member, died in 2006.
Gerry Marsden's memoir, I'll Never Walk Alone, was published in 1993. He underwent heart surgery in 2003 and again in 2016. In 2017, Gerry Marsden collapsed onstage during a concert in the U.K., telling the audience he was scheduled to undergo knee surgery. He did not return to performing.

Latest posts by Best Classic Bands Staff
(see all)