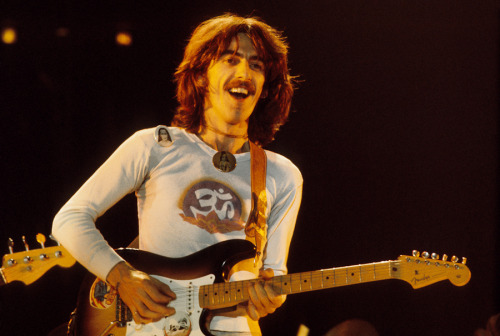 It was the very first time an ex-Beatle would be touring America since the band last visited eight years earlier, and anticipation was running high. When the dates during the last two months of '74 were announced, tickets sold rapidly. George Harrison's triumphant Concert for Bangladesh benefit three years earlier had proven he could hold a concert stage on his own, albeit with a little help from his friends.
On November 2, 1974, Harrison and his band performed at the Pacific Coliseum in Vancouver BC.
It was called the "Dark Horse" tour after his current single and album of the same name that came out midway through the trek on December 2. It was billed almost as if it were a co-headlining tour with Ravi Shankar, the Indian sitar player (and father of Norah Jones) who Harrison had signed to his Dark Horse label, which the tour was intended to also promote.
Alas, things did not go as well as planned. Harrison suffered bouts of laryngitis that prompted some wags to refer to the tour as "Dark Hoarse." It was also a somewhat dark time in his life as his first wife Pattie Boyd, aka "Layla" in rock music iconography, had left George for his best friend Eric Clapton.
Reviewers and fans had issues with the show. Some felt that Shankar's mid-concert segment of six-seven songs was too long for a rock show. Harrison's tour band included soft jazz players Tom Scott (saxophone), Robben Ford (guitar) and Emil Richards (percussion), and the sound was inappropriate for Harrison's music. The spotlights given to keyboard player Billy Preston and Scott during the set irked some listeners.
Listen to Preston perform one of his hits (from a clip said to be from this tour)
No doubt expectations for the first Beatle on tour created disappointment that there weren't more Harrison songs from his time with the group. The tour's typical setlist included such Beatles songs as "Something," "While My Guitar Gently Weeps" and "For You Blue." (See below.)
Harrison didn't tour again until he visited Japan in 1991 with Clapton.
Related: The Beatles White Album Facts and Trivia
George Harrison, Pacific Coliseum, Vancouver, BC, November 2, 1974 Setlist
Hari's on Tour (Express)
The Lord Loves the One (That Loves the Lord)
Who Can See It
Something
While My Guitar Gently Weeps
Will It Go Round in Circles (Billy Preston)
Sue Me, Sue You Blues
Zoom, Zoom, Zoom (Ravi Shankar)
Na Na Dahni (Ravi Shankar)
Cheparte (Ravi Shankar)
For You Blue
Give Me Love (Give Me Peace on Earth)
Sound Stage of Mind
In My Life
Tom Cat (Tom Scott)
Maya Love
Outa-Space (Billy Preston)
Dark Horse
Nothing From Nothing (Billy Preston)
What is Life
Anurag (Ravi Shankar)
I Am Missing You (Ravi Shankar)
Dispute & Violence (Ravi Shankar)
Encore
My Sweet Lord

Latest posts by Best Classic Bands Staff
(see all)