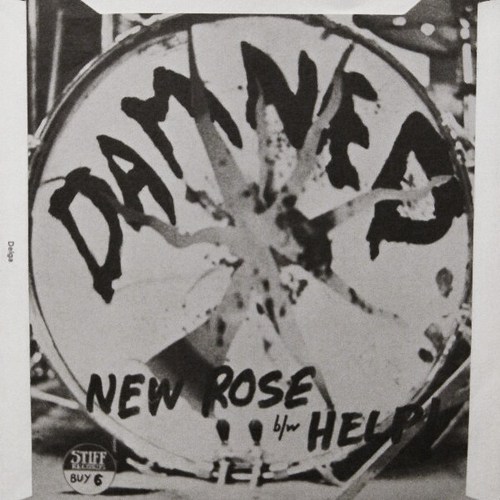 Punk rock was ginning up interest and outrage in London in October 1976 when the first 45 RPM seven-inch single from the movement was issued on this day: "New Rose" b/w "Help" – yes, The Beatles song, albeit done at double time from the original. It was also the third release on a new independent label, Stiff Records.
The Damned were formed in '76 with the line-up of lead vocalist Dave Vanian (David Letts), guitarist Brian James (Brian Robertson), bassist Captain Sensible (Raymond Burns), and drummer Rat Scabies (Chris Miller). Vanian, Sensible and Scabies had been in a previous band together, Masters of the Backside, along with Chrissie Hynde, who went on to start the Pretenders. James had been a member of the now-legendary London SS with future Clash guitarist Mick Jones.
On July 6, 1976, the Damned played their first show, opening for the Sex Pistols at the 100 Club. They recorded "New Rose" at Pathway Studios in a day with producer and ex-Brinsley Schwarz bassist Nick Lowe (who had recorded the first Stiff Records single, "So It Goes" b/w "Heart of the City"). Its release preceded the issue of "Anarchy in the U.K.," by the already-far-more notorious Sex Pistols, by five weeks.
In a string of firsts, the Damned also released the first U.K. punk album, Damned Damned Damned, on February 18, 1977. Not long after The Damned were the first British punk band to tour America. The group was also the first of the original U.K. punk bands to break up (in February 1978) and regroup (in April 1979).
They would break up and get back together again throughout the 1980s, finally calling it quits for at least a while in 1988. Since 1996, Vanian and Sensible have led a new version of the Damned. The group's original lineup including Scabies and James have reunited. When they tour, tickets are available here.
Related: Our review of their 2022 tour with Blondie
Listen to that first single's B-side, a Beatles cover
"New Rose" would be recorded by Guns N' Roses on their 1993 covers album The Spaghetti Incident?. A documentary film about the group by director Wes Orshoski, The Damned: Don't You Wish That We Were Dead, was released in 2017.
Related: Where does "New Rose" appear on our list of the top punk rock songs?

Latest posts by Best Classic Bands Staff
(see all)