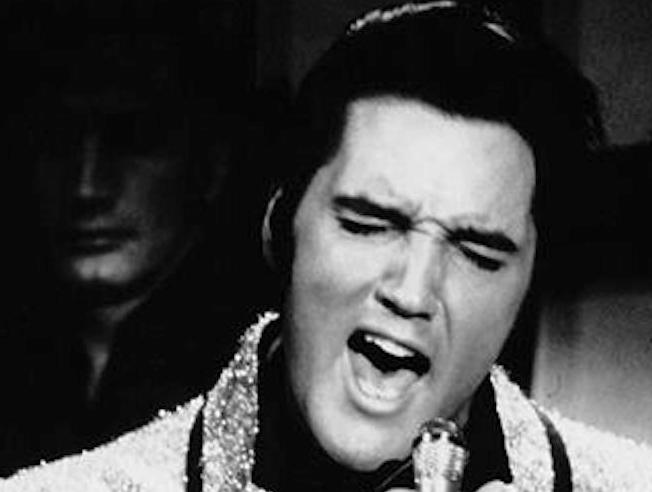 Many major rock stars had already passed away during the course of the music's two decades—from Buddy Holly in 1959 to Jimi Hendrix and Janis Joplin in 1970—and in retrospect perhaps there was no reason to have been surprised when Elvis Presley joined them in death on this day. He'd given up recording new music some time ago, preferring to tour constantly or hold forth in Las Vegas, and to many who witnessed his performances it had appeared for some time that he was in trouble.
The ballooning weight (he was reportedly 350 pounds at the time of death), the incoherent speech that sometimes came out when he was onstage, reports of erratic behavior behind the walls of his Memphis home Graceland—it all gave credence to the rumors that had circulated for at least a couple of years that there were drug problems and other health issues dragging him down. Elvis had been hospitalized for what was reported as "tests" by his handlers, but even from what the public was privy to, something more was going on.
We later found out, of course, that Elvis had for years been on what could only be called a death spiral. Paranoid and depressed, his wife Priscilla having divorced him in 1973, he'd remain cloistered inside of Graceland, surrounding himself only with the sycophants who would never say no to him, regardless of the request. His fiancée, Ginger Alden, later revealed that Elvis rarely left his bedroom or got out of his pajamas, having his junk food meals delivered to him. When in Vegas, he was the same, staying inside of his hotel room until it was time to perform. His favorite pastime seemed to be shooting guns—he once blasted a toilet bowl to bits because he didn't like the sound it was making.
Meanwhile, he was turning his body into a laboratory for a litany of prescription drugs intended to ease his pain. A nurse, Letetia Henley, who lived on the grounds of Graceland, later said, "To the world he seemed to have it all but he had things missing in his life and that pained him." It didn't help that Presley had a willing accomplice, Dr. George Nichopoulos (a.k.a. Dr. Nick), willing to supply him with all the drugs he wanted (Nichopoulos later lost his license for over-prescribing—a medical board later determined he had prescribed Elvis more than 10,000 doses of prescription medicine), nor that friends and strangers were willing to give Elvis anything he asked for in order to remain in his good graces.
Related: Dr. Nick died on Feb. 24, 2016
Watch Elvis perform "Trying To Get To You" during his '68 comeback special
It all caught up to him on August 16, 1977. Early that morning he dealt with some last-minute details regarding an upcoming tour. He was scheduled to fly to Portland, ME, that night for a show the next day. At around 7 a.m., Elvis retired to his bedroom to get some rest. When he was next seen, he was slumped over dead in his bathroom.
An attempt by paramedics to revive Presley failed. The cause of death, announced by Dr. Nick, was erratic heartbeat, or cardiac arrhythmia. It would be a long time before fans learned what really killed him, but many already suspected that day that it wasn't a common heart attack.
He had earned 18 U.S. #1 pop singles in his now almost-mythic singing career, from 1956's "Heartbreak Hotel" to 1969's "Suspicious Minds."
Related: What they said about the king
Watch Elvis perform on The Ed Sullivan Show on Oct. 28, 1956

Latest posts by Best Classic Bands Staff
(see all)