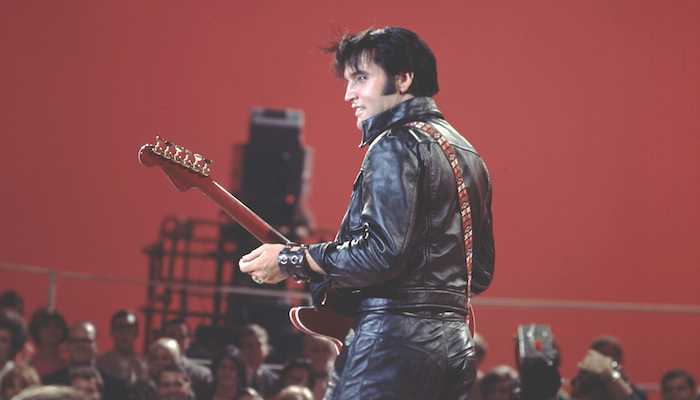 The influence of Elvis Presley on his fellow singers and musicians is incalculable, and many of them have gone on the record to say so. So, too, have many who had little to do with rock 'n' roll. Here's a collection of quotes, spanning decades,  from just some those who were impacted by him, both fellow rockers and some whose names you might be surprised to see.
Presley was born on January 8, 1935, in Tupelo, Mississippi. August 16, 2022, marked the 45th anniversary of Elvis' death at Graceland, his Memphis home.
For many, it was Elvis' early appearances on The Ed Sullivan Show that were a life-changer
"Nothing really affected me until I heard Elvis. If there hadn't been an Elvis, there wouldn't have been a Beatles"—John Lennon
"When we were kids growing up in Liverpool, all we ever wanted to be was Elvis Presley."—Paul McCartney
"We all loved Elvis and it was sad to see what happened to him. We still love him and he's still there in his spirit and in his music and best of luck to him, that's what I say."—George Harrison
"There have been a lotta tough guys. There have been pretenders. And there have been contenders. But there is only one king."—Bruce Springsteen
"When I first heard Elvis' voice, I just knew that I wasn't going to work for anybody; and nobody was going to be my boss…Hearing him for the first time was like busting out of jail."—Bob Dylan
"Elvis is the best ever, the most original. He started the ball rolling for us all. He deserves the recognition."—Jim Morrison
"Describe Elvis Presley? He was the greatest who ever was, is or ever will be."—Chuck Berry
"I remember Elvis as a young man hanging around the Sun Studios. Even then, I knew this kid had a tremendous talent. He was a dynamic young boy. His phraseology, his way of looking at a song, was as unique as Sinatra's. I was a tremendous fan, and had Elvis lived, there would have been no end to his inventiveness."—B.B. King
"Elvis was a major hero of mine. I was probably stupid enough to believe that having the same birthday as him actually meant something.—David Bowie
"A lot of people have accused Elvis of stealing the black man's music, when in fact, almost every black solo entertainer copied his stage mannerisms from Elvis."—Jackie Wilson
"I learned music listening to Elvis' records. His measurable effect on culture and music was even greater in England than in the States."—Mick Fleetwood
"Ask anyone. If it hadn't been for Elvis, I don't know where popular music would be. He was the one that started it all off, and he was definitely the start of it for me."—Elton John
"He was just amazing and spectacular. He really opened the door to my whole love of music. Because of him, and because of the choice of his material, I found Smiley Lewis [and] all those great singers."—Robert Plant

"You have no idea how great he is, really you don't. You have no comprehension—it's absolutely impossible. I can't tell you why he's so great, but he is. He's sensational."—Phil Spector
"Elvis is iconic; a lot of performers today look to that for inspiration."—Beyonce

"I identified a lot with Elvis, yeah. I love his style of singing, he was a very loyal guy – he was a little misled, but in the big picture he was a good guy."—Jon Bon Jovi
"I wasn't just a fan, I was his brother. He said I was good and I said he was good; we never argued about that. Elvis was a hard worker, dedicated, and God loved him. Last time I saw him was at Graceland. We sang 'Old Blind Barnabus' together, a gospel song. I love him and hope to see him in heaven. There'll never be another like that soul brother."—James Brown
"He was the firstest with the mostest."—Roy Orbison
"This boy had everything. He had the looks, the moves, the manager and the talent. And he didn't look like Mr. Ed like a lot of the rest of us did. In the way he looked, way he talked, way he acted—he really was different."—Carl Perkins
"None of us could have made it without Elvis."—Buddy Holly
"Elvis was God-given, there's no other explanation. A Messiah comes around every few thousand years, and Elvis was it this time."—Little Richard
"I had always wanted to be like Elvis, to be a rock 'n' roll star, but I couldn't sing, so I joined a mod band instead."—Roger Daltrey
"Elvis was a giant and influenced everyone in the business."—Isaac Hayes
"Elvis was the king. No doubt about it. People like myself, Mick Jagger and all the others only followed in his footsteps."—Rod Stewart
"He was a unique artist, an original in an area of imitators."—Mick Jagger
"Before Elvis, everything was in black and white. Then came Elvis. Zoom, glorious Technicolor."—Keith Richards
"The first time I heard his music, back in '54 or '55, I was in a car and I heard the announcer say, 'Here's a guy who, when he appears on stage in the South, the girls scream and rush the stage.' Then he played 'That's All Right, Mama.' I thought his name was about the weirdest I'd ever heard. I thought for sure he was a black guy. Later on I grew my hair like him, imitated his stage act. Once I went all over New York looking for a lavender shirt like the one he wore on one of his albums. I felt wonderful when he sang 'Bridge Over Troubled Water,' even though it was a touch on the dramatic side, but so was the song. When I first heard Elvis perform 'Bridge Over Troubled Water' it was unbelievable, and I thought to myself, how the hell can I compete with that?"—Paul Simon
"Elvis was the only man from Northeast Mississippi who could shake his hips and still be loved by rednecks, cops, and hippies."—Jimmy Buffett
"Elvis had an influence on everybody with his musical approach. He broke the ice for all of us."—Al Green
Related: The 1968 comeback special brought Elvis back into the good graces of rock's elite

Watch Elvis sing "If I Can Dream" from his 1968 comeback special
"Elvis touched the life of every ear that heard him, and you couldn't help but listen when he sang."—Merle Haggard
"Without Elvis you're nothing."—Madonna
"I think Elvis is the sexiest man to ever walk the earth, I love him."—Britney Spears
"Elvis Presley is like the 'Big Bang' of rock 'n' roll. It all came from there and what you had in Elvis Presley is a very interesting moment because, really, to be pretentious about it for a minute, you had two cultures colliding there. You had a kind of white, European culture and an African culture coming together—the rhythm, OK,, of black music and the melody chord progressions of white music, just all came together in that kind of spastic dance of his. That was the moment. That's really it. Out of all that came the Beatles and the Stones, but you can't underestimate what happened. It does get back to Elvis."—Bono
"No one will ever touch Elvis."—Garth Brooks
"I don't think there's a musician today who hasn't been affected by Elvis."—Brian Setzer

"A lot has been written and said about why he was so great, but I think the best way to appreciate his greatness is just to go back and play some of the old records… Time has a way of being very unkind to old records, but Elvis' keep getting better and better."—Huey Lewis
"There was something just bordering on rudeness about Elvis. He never actually did anything rude, but he always seemed as if he was just going to. On a scale of one to 10, I would rate him 11."—Sammy Davis Jr.
"There have been many accolades uttered about Elvis' talent and performances through the years, all of which I agree with wholeheartedly. I shall miss him dearly as a friend. He was a warm, considerate and generous man."—Frank Sinatra
"Elvis is the greatest cultural force in the 20th century. He introduced the beat to everything, music, language, clothes, it's a whole new social revolution – the '60s comes from it."—Leonard Bernstein
"Elvis Presley was the sweetest, most humble and nicest man you'd ever want to know."—Muhammad Ali

"He epitomized America, and for that we shall be eternally grateful. There will never be anyone else like him. Let's all rejoice in his music."—President Ronald Reagan
"Elvis Presley was the first and the best. He is my favorite of all time."—President Bill Clinton

Latest posts by Best Classic Bands Staff
(see all)