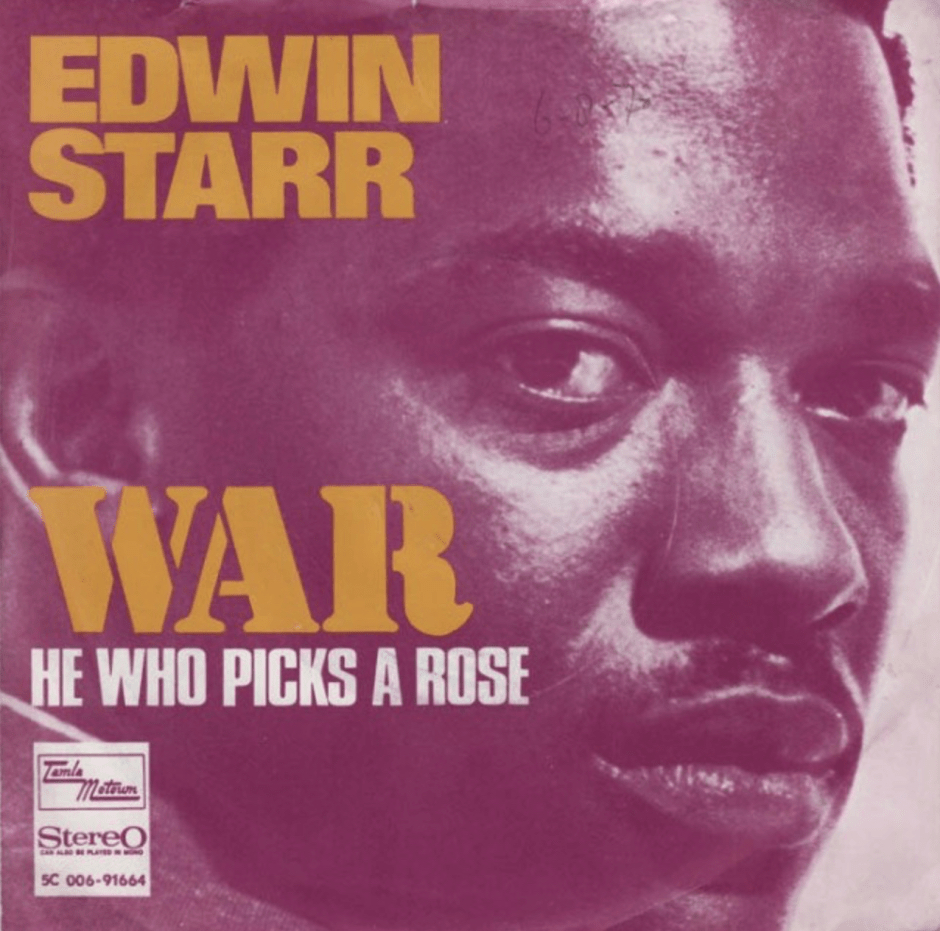 "War!
Huh!
What is it good for?
Absolutely nothing."
Talk about powerful opening lines! Few songs in the annals of the pop charts have expressed such a direct, authoritative, unambiguous sentiment in so few words, one that no one—regardless of political leanings—could argue with.
The song, released at the peak of the Vietnam conflict in 1970, went to the top of the Billboard singles chart in the United States and to #1 in Canada, and made it into the top 10 in several other countries, including the U.K., Norway and Germany. It was a true universal anthem of its time, a statement understood everywhere.
Watch the official video of "War" featuring Edwin Starr
"War" wasn't, of course, the first or only such song to find its way to the masses during the volatile years of the late '60s and early '70s. Since the advent of the folk boom in the late '50s/early '60s, songs bearing a social or political message had occasionally found favor with the record-buying public. When the folk-rock hybrid became popular in the mid-'60s, ushered in via hits by Bob Dylan, the Byrds and others—Barry McGuire's doomsday warning "Eve of Destruction" had gone to #1 in 1965—the so-called protest song went mainstream. By the late '60s, it seemed that every band, including the Beatles ("Revolution") and the Rolling Stones ("Street Fighting Man"), had something to say about the state of the world.
Related: Looking back at the year 1970 in rock music
But compared to rock, the R&B/soul genre was slower to latch onto the protest-song trend. As the Black Power movement took hold late in the '60s, some performers, notably James Brown, began injecting strong cultural messages into their songs (1968's "Say It Loud—I'm Black and I'm Proud"), but many of the best-selling African-American artists of the era stuck with love and relationships as their song subjects of choice—after all, those kinds of songs had been the ticket to success for so many years.
Nowhere was this truer than at Detroit's Motown Records. Label founder Berry Gordy Jr. made it known to his staff of in-house songwriters that they were to steer clear of controversy, even if the rockers were finding success with rallying cries.
Which is why "War" came as such a surprise. Not only was the song released on the Motown subsidiary Gordy Records, but it was sung by Edwin Starr, a 28-year-old Nashville native whose previous brushes with success had been the innocuous 1965 single "Agent Double-O-Soul," which cashed in on the then-current mania for all things James Bond and secret agent-related, and "Twenty-Five Miles," a pulsing 1969 release that had given Starr his first top 10.
Watch Starr lip-sync "Agent Double-O-Soul" on the Hollywood A-Go-Go TV program
"Agent Double-O-Soul" had been released on the indie Ric-Tic label and found its way to #21 nationally, but Starr truly found his groove on the later dance track: "Twenty-Five Miles" was co-written by Johnny Bristol, Harvey Fuqua (formerly of the Moonglows) and Starr, but it was so close in structure and content to an earlier composition called "32 Miles Out of Waycross" that the writers of that song, Bert Berns and Jerry Wexler, were ultimately added on to the list of authors of the Gordy label release of "Twenty-Five Miles." A true feel-good tale of longing and desire, the song's lyrics counted down the distance remaining as the singer, traveling by foot, inched closer and closer to his love.
It begins at the 25-mile starting point. Starr sets the scene:
"Girl, my feet are hurting mighty bad
Now I've been walking for three days, and two lonely nights
You know that I'm mighty mad"
He has one goal, this determined fellow, to get to the end point and see his girl:
"That's gonna make this trip worthwhile
You see she's got
The kind of lovin' and a-kissin'
Make a man go stone wild"
So on and on, he presses ahead: at 15 miles he can hear her calling his name. Soon, it's down to 10, then finally five. "I'm so tired," he tells us in the chorus, "but I just can't lose my stride." He walks and walks and then, finally, there she is, "just across the bend."
Listen to "Twenty-Five Miles"
"Twenty-Five Miles" is one of those likable numbers that never gets old. You not only keep rooting the walker on—even though you've known the happy ending forever—but you probably sing along with him as he makes his way there.
Following the record's chart run, Edwin Starr was next heard from via the minor chart single "Oh, How Happy," his own version of a gospel-tinged tune he'd co-written and which had been a hit in 1966 by the Shades of Blue. There wasn't much interest in a new version of that one, but with "War" in 1970, Starr hit gold.
It, too, was actually a remake. Written by Norman Whitfield and Barrett Strong (the latter of "Money" fame), "War" had already been recorded and released by the Temptations on their Psychedelic Shack album of 1970. The album track had generated a fair amount of interest, especially among college students involved in the protest movement, but Motown was reluctant to associate the Temptations with a politically infused lyric. Instead, the label decided, another artist on the group's roster would re-cut the song. Starr volunteered.
Listen to the Temptations' version of "War"
The recording begins with a military-style drum roll that leads to Starr's horn-punctuated chant of the "What is it good for?" chorus. In each new verse, the singer spells out the reasons to back up his claim, such as this one:
"It ain't nothing but a heartbreaker
(War), Friend only to the undertaker, awwww
War is the enemy of all mankind
The thought of war blows my mind"
Throughout, Starr bolsters the lyric with chanted exhortations, among them, "Say it, say it, say it, good God, y'all," always returning to the main theme of war being good for "absolutely nothing."
Starr's decision to pick up the tune paid off big-time. Released on June 10, 1970, with a B-side titled "He Who Picks a Rose," the single entered the Billboard Hot 100 at #72 on July 11 and reached #1 on Aug. 29, replacing the soft-rocker "Make It With You" by Bread. "War" lasted three weeks in the top spot, before being supplanted by another Motown hit, Diana Ross' "Ain't No Mountain High Enough."
Listen to the B-side of "War," titled "He Who Picks a Rose"
Edwin Starr never again found that level of success. A followup with a similar theme, "Stop the War Now," peaked at #26 in 1970 and after that he never saw the top 40 again. By 1973, Starr had picked up and moved to England, where American R&B found great appreciation. He continued to record into the 1980s and died on April 2, 2003, at the age of 61.
Listen to a cover of "War" by the British band Frankie Goes to Hollywood
"War," meanwhile, enjoyed a life of its own, covered by artists as diverse as Bruce Springsteen and England's Frankie Goes to Hollywood. It has been used in numerous films and TV programs—from The Simpsons to Seinfeld—and even in commercials.
As for Motown, even with another #1 notch on its belt, the label was still a little reluctant to release politically themed music on singles, afraid that radio wouldn't play it. In 1971, Marvin Gaye had to fight to to get his song "What's Going On," the title track of his latest album, out as a single, but the label ultimately gave in. It went to #1 on the R&B chart and #2 pop.
Sadly, the message of "War" hasn't quite sunk in. War is no less prevalent today, still good for absolutely nothing.
Watch Bruce Springsteen's official "War" video, including a live performance

Latest posts by Jeff Tamarkin
(see all)