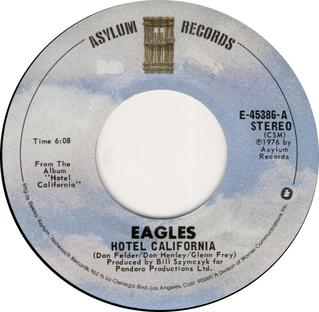 "Hotel California" is such a phenomenally popular song that it's hard to believe that A) It took more than two months to get to the top of the Billboard charts, and B) It only stayed at the #1 position for one week. But that's the truth: The title track from Eagles' fifth studio album was released on Asylum Records on Feb. 22, 1977, and inched its way up, replacing Glen Campbell's "Southern Nights" at #1 on the Hot 100 chart for the week ending May 7. It was knocked down to #3 on May 14, toppled by Leo Sayer's "When I Need You" (with Stevie Wonder's "Sir Duke" at #2).
"Hotel California" is credited to Don Felder, Don Henley and Glenn Frey, three of the band members at the time (the others were Joe Walsh and Randy Meisner). Felder composed the basic melodic structure of the song, then handed it off to the other two, who crafted the lyrics.
Watch Felder describe the writing process to Dan Rather
What exactly the song is about depends on which co-author is being asked at any given time. Frey once explained that he and Henley wanted the song "to open like an episode of the Twilight Zone. We take this guy and make him like a character in The Magus, where every time he walks through a door there's a new version of reality. We wanted to write a song just like it was a movie."
Frey said it's "just one shot to the next … a picture of a guy on the highway, a picture of the hotel, the guy walks in, the door opens, strange people. We decided to create something strange, just to see if we could do it."
Others contend that it's a portrait of life in L.A. during the heady '70s.
Whatever it was about, it certainly resonated, and still does. The lyrics are, of course, one reason—everyone who has heard it can ponder its meaning and decide what they think it's about. But beyond that, it's also one of Eagles' most musically thrilling songs, punctuated by a shared Joe Walsh/Don Felder guitar solo for the ages.
Related: Our interview with the producer of the Hotel California album
The "Hotel California" single went to #1 in the U.S. and Canada, and top 10 in several European countries. It has sold some three million copies in the United States alone. It was awarded the Grammy for Record of the Year in 1978.
Watch the Eagles perform the classic live in 1977
When Eagles announce another tour, tickets will be available through Ticketmaster and StubHub.

Latest posts by Best Classic Bands Staff
(see all)