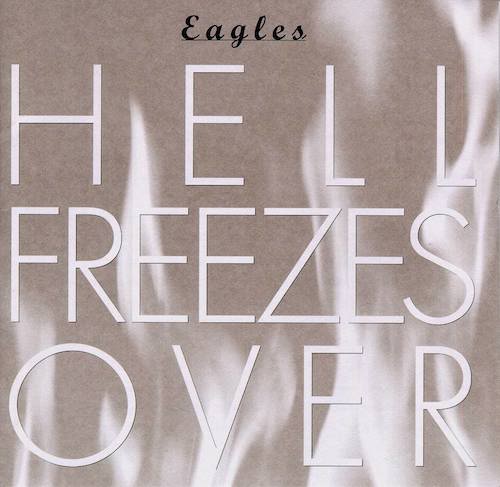 The title was an in-joke. After Eagles had split in 1980, Don Henley, one of the band's co-founders, was asked if there was a chance the band might ever reunite. "When Hell freezes over," was his reply. Fourteen years later—never mind that Henley had also said, "I just rule out the possibility of putting Eagles back together for a Lost Youth and Greed tour"—the icicles were forming down below.
The reunion had begun tentatively when the band members agreed to appear in a 1993 video by country star Travis Tritt, who was covering "Take It Easy" for an Eagles tribute album. One thing led to another, and on this date in 1994 Eagles took off on their new flight.
Starting that day, they recorded 11 tracks at Warner Bros. Studios in Burbank, Calif., for an MTV special. On May 27, 1994, they began a tour. Hell Freezes Over would be the audio souvenir of that tour, released on Nov. 8, 1994.
The 15-track live album begins with "Get Over It," co-written by Henley and fellow co-founder Glenn Frey—their first new tune since the breakup. A collection of hits ("Desperado," "Life in the Fast Lane," "Take it Easy"), other assorted tunes and four new studio tracks comprised the set, with those studio tracks recorded at L.A.'s Village Recorder and at a studio in Toronto.
The band members for this run were Henley and Frey, along with Don Felder, Timothy B. Schmit and Joe Walsh. It would be Felder's last recorded hurrah with the Eagles—he was fired from the band in 2001.
Watch them perform "Take It Easy from the album
Related: Our 2018 Eagles review
Not surprisingly, the album sold massively, reaching #1 in the U.S. A video version was released on the then-current formats of VHS, Laserdisc and DVD. Eagles toured from 1994 into 1996, shattering records wherever they appeared.
In recent years, holdover members Henley, Walsh and Schmit have been touring with Vince Gill. (Their first dates, at the time also with Frey's son, Deacon, came during summer 2017's Classic East and Classic West concerts.) Tickets are available at Ticketmaster and StubHub.
Listen to "Love Will Keep Us Alive" from Hell Freezes Over

Latest posts by Best Classic Bands Staff
(see all)