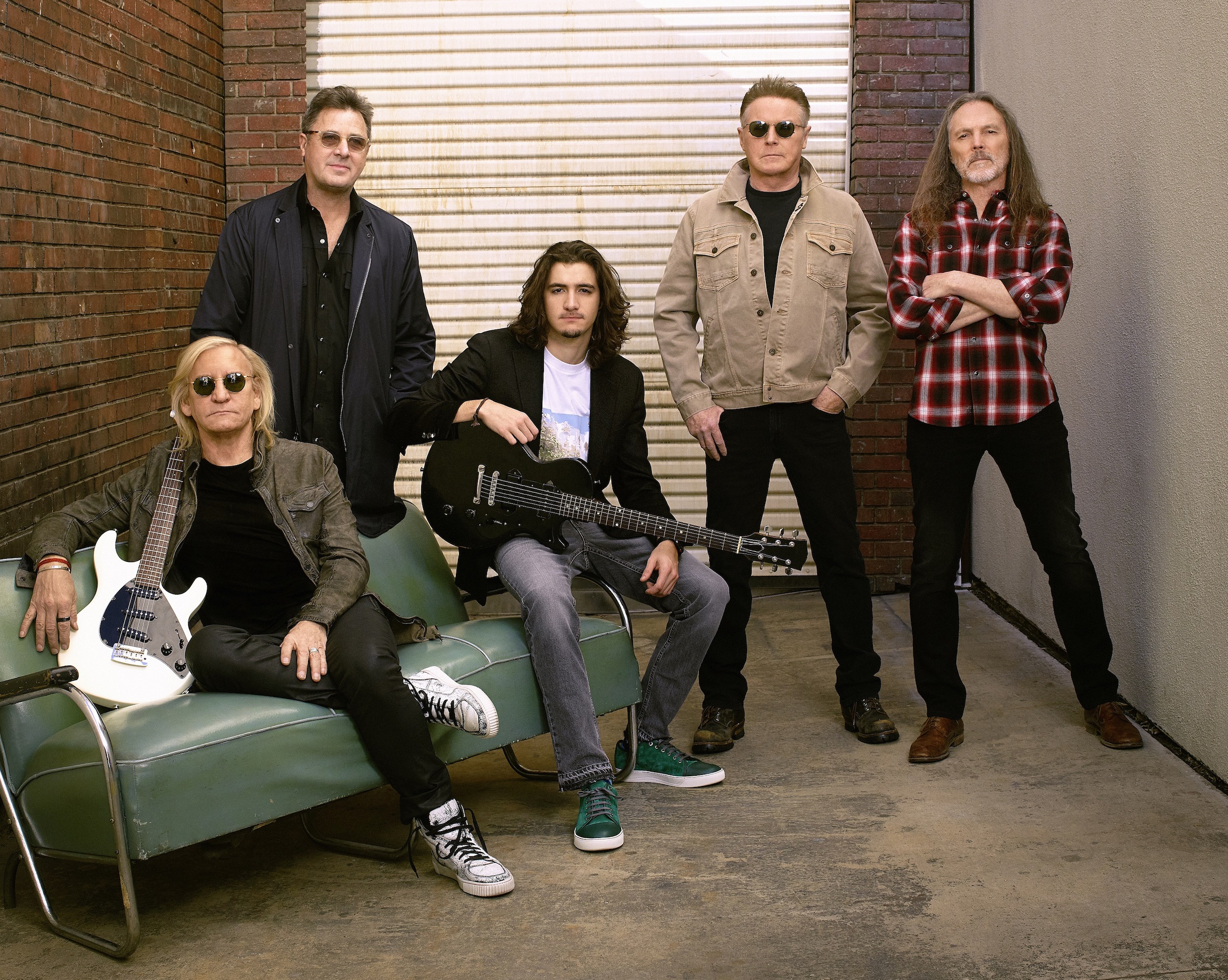 So where were we? When last we left the Eagles, they had completed a brief mini tour on October 27 in Detroit. Since then, the classic rock band has announced an extensive 2018 tour, which Best Classic Bands was the first to report when their longtime manager, Irving Azoff, gave us the exclusive news last Nov. 14.
"The Eagles are in an experimental phase," Azoff told us. "I look at is as not really an Eagles tour; it's really a celebration of their music. We just kind of do things that feel right. I don't know how long it'll go. I don't speculate there will be any (studio) recordings based on the public's willingness to listen at this point. I'm not going to suggest it, anyway."
Since their twin appearances at last summer's Classic West and Classic East concerts, the Eagles now comprise Don Henley, Joe Walsh and Timothy B. Schmit, with Vince Gill and Glenn Frey's son, Deacon.
The tour now numbers 82 crew members, 14 semis, 8 buses and 53 concerts, most of which are offered as an "Evening with the Eagles," as Monday night's (March 12) opener at Indianapolis' Bankers Life Fieldhouse was billed. (They're also doing a handful of stadium dates, with rotating support from Jimmy Buffett and the Coral Reefer Band, James Taylor and His All-Star Band, Chris Stapleton and the Zac Brown Band. Tickets are available at Ticketmaster and StubHub.)
The setlist was a generous 28 songs, up significantly from last year's typical 23. Frey sang lead on three songs: "Take It Easy," "Peaceful Easy Feeling" and "Already Gone." Gill did six.
At one point, Walsh stood at the mic and joked: "You know what happened to me one time? For some reason or another, I went to karaoke. And so my turn came up–and I didn't pay a lot of attention–and this next song was on the list. So I sang it! And it was 'Life's Been Good.' So I went back to the bar and this guy came up and he said: 'You know, that wasn't very good. You shouldn't sing that. Only Joe Walsh should sing that.'" The Indianapolis audience howled.
[The Eagles are among the handful of acts that remove material from YouTube faster than a newly married couple's clothes on their wedding night. The videos posted onto this page were all available as of the day after the show. They may not be by the time you read this.]
Watch Gill sing "Ol' '55"
Of Deacon Frey, Henley said, "Just to tell you what an extraordinary family this is, he played a few gigs with his dad in clubs for 150 people, just for fun. His first gig with us was at Dodger Stadium… fifty-five thousand people. He then introduced a song he wrote with Glenn Frey and their "good friend J.D. Souther."
Watch Henley sing "Best of My Love"
Watch Frey sing "Already Gone"
Watch Walsh sing his solo hit "Life's Been Good"
Watch the evening's first encore, "Hotel California"
Eagles, Bankers Life Fieldhouse, Indianapolis, IN, March 12, 2018 Setlist
Seven Bridges Road
Take It Easy
One of These Nights
Take It to the Limit
Tequila Sunrise
Witchy Woman
In the City
I Can't Tell You Why
How Long
Ol' '55
Peaceful Easy Feeling
Best of My Love
New Kid in Town
Love Will Keep Us Alive
Lyin' Eyes
Next Big Thing
I Don't Want to Hear Anymore
Those Shoes
Already Gone
Victim of Love
Walk Away
Heartache Tonight
Life's Been Good
Funk #49
Life in the Fast Lane
Encores:
Hotel California
Rocky Mountain Way
Desperado

Latest posts by Best Classic Bands Staff
(see all)