Eagles to Tour in 2018, Says Manager: Exclusive
by Mark Brown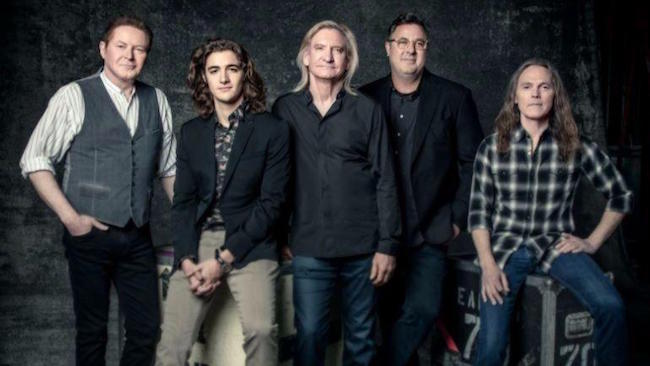 After a warm reception to an Eagles reunion without the late Glenn Frey, a set of stadium dates is being planned for summer of 2018, pairing the best-selling band with party troubadour Jimmy Buffett.
"One word answer? Yes," the band's longtime manager, Irving Azoff, told Best Classic Bands. Coors Field in Denver will be one destination, Azoff said, with "an Eagles/Buffett celebration up in the mountains there. We're just talking about a handful" of stadium dates featuring the two classic artists.
Azoff declined to comment about a possible Eagles tour following the stadium dates, noting that the band is still in flux after the untimely death of co-founder Frey. Vince Gill and Frey's son Deacon have stepped in to handle Frey's vocals and guitar work to great acclaim. While live dates are planned, any studio recordings are unlikely.
"The Eagles are in an experimental phase," Azoff said. "I look at is as not really an Eagles tour; it's really a celebration of their music. We just kind of do things that feel right. I don't know how long it'll go. I don't speculate there will be any (studio) recordings based on the public's willingness to listen at this point. I'm not going to suggest it, anyway."
Related: Recap of the Eagles' first performance with Gill and Deacon Frey on July 15, 2017
In an interview published in the Las Vegas Sun today (Nov. 14), where he has three shows at the House of Blues at the Mandalay Bay, Joe Walsh was asked about the group's string of 2017 dates and whether the band would tour in 2018:
"Yes, we are. You know, we had to try. We didn't know if we could do it, so we had to try. Glenn's son said OK and stepped up; he's 23 and he's great. He doesn't know he's great but he's great, and that really helped us spiritually. Then we got Vince Gill and he filled in that ghost voice in the harmonies, and he's a brilliant musician.
"So we rehearsed and I was really nervous about it, but we played a couple shows and got great reviews and it just felt right onstage. It felt great. So we took a deep breath and recommitted and yes, next year we're going to play between 40 and 50 shows. It sure feels good to play our music for people again, and they know the words better than we do."
If you're a new reader of ours, we'd be grateful if you would Like our Facebook page and/or bookmark our Homepage.
Read Walsh's complete interview here.
Related: The Eagles have, indeed, announced details of their 2018 tour

Latest posts by Mark Brown
(see all)