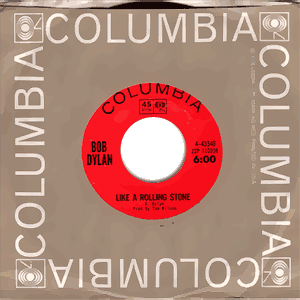 The story of Bob Dylan's pivotal shift to rock 'n' roll is one of the music's most familiar, and it was on June 16, 1965, that he set it in stone—a rolling stone, to be exact. Released a month later, on July 20, the single changed the course of rock music.
By the spring of 1965, Dylan already knew that he wanted to make a change in his music. The arrival of the Beatles a year earlier had convinced the 23-year-old singer that rock 'n' roll—music he had played in his youth, before taking up folk—had new potential, that he might be able to move beyond self-accompaniment on acoustic guitar and apply his style of songwriting to full-band arrangements.
Returning from a tour of England, Dylan began to write a new kind of song. Lyrically, it was bitter and vengeful—"Once upon a time you dressed so fine, threw the bums a dime in your prime, didn't you?" it began—but as yet it had no shape. Until, one day, Dylan sat at the piano at his manager Albert Grossman's Woodstock, N.Y., home, tinkled around a bit and jotted down a chorus: "How does it feel, how does it feel?/To be without a home/Like a complete unknown, like a rolling stone."
"Like a Rolling Stone," often cited as the greatest rock song of all time, was still somewhat amorphous when Dylan entered Columbia Records' Studio A in New York City on June 15. He'd managed to whittle the lyrics down from 10 rambling pages to four pointed verses and had come up with a simple chorus whose specific wording changed slightly with each reading. Tom Wilson was tapped to produce and several musicians were brought in to assist Dylan in molding his new composition into something he could actually release.
Related: What was it like to be in the studio with Dylan in 1965?
"Like a Rolling Stone" was not—contrary to some lingering misstatements—Dylan's first experience playing with a band. In fact, several songs on his recently released album Bringing It All Back Home, particularly its leadoff track "Subterranean Homesick Blues," were undeniably rockers.
But this new tune had something else—even if Dylan and the studio crew weren't quite sure what. Listening to the deluxe edition of The Cutting Edge 1965-1966: The Bootleg Series, Vol.12, Legacy Recordings' compendium of Dylan's recordings of 1965-66, one can hear "Like a Rolling Stone" take shape over a series of takes and false starts. Joining Dylan in the studio were Mike Bloomfield, of the Paul Butterfield Blues Band, on guitar, Paul Griffin on piano, Joe Macho Jr. on bass, Bobby Gregg on drums and Bruce Langhorne on tambourine. The first takes are in waltz time, with Dylan playing the piano. Not until take 5, when Gregg claps down on the snare drum and puts a beat to the song, now in 4/4, does it begin to resemble "Like a Rolling Stone" as we know it.
It wasn't until the following day that the musicians truly found what they didn't even know they'd been looking for. Wilson had invited Al Kooper, a 21-year-old musician from Queens, to visit the studio and watch the proceedings. In a story he's told so many times he refuses to tell it anymore, Kooper took advantage of Wilson's stepping out of the room, strapped on his guitar and sat among the other players.
"There was no way in hell I was going to visit a Bob Dylan session and just sit there like some reporter from Sing Out! Magazine," Kooper wrote in his memoir, Backstage Passes & Backstabbing Bastards. "I resolved that not only was I going to go to that session, I was going to play on it."
When Kooper heard the virtuosic Bloomfield play the guitar though, he sheepishly put his guitar away. "I was in over my head," he wrote. "I anonymously unplugged, packed up, and did my best to look like a reporter from Sing Out! magazine."
Related: Behind the scenes for Dylan's previous album
But when Griffin got up from the organ bench and sat down at the piano, Kooper saw his chance. Although he could play the piano, he'd never played an organ in his life. He didn't let that stop him. "If the other guy hadn't left the damn thing turned on, my career as organ player would have ended right there," he wrote. "There is no music to read. The song is over five minutes long. The band is so loud that I can't even hear the organ, and I'm not familiar with the instrument to begin with. But the tape is going, and that is Bob fucking Dylan over there singing, so this had better be me sitting here playing something."
He started playing what has since become one of rock's signature riffs and, soon after, Dylan's voice came over the studio speakers: "Turn the organ up!"
Over the course of the day on June 16, via 15 further takes, "Like a Rolling Stone" took its familiar form. The label ultimately decided to go with take 4, releasing all six minutes of the take as a single on July 20 and as the lead track on Dylan's largely electric new album, Highway 61 Revisited. Columbia executives feared no radio station would ever play something so long, and it actually took off first in New York's dance clubs first, forcing radio to take notice. Much to their surprise, listeners didn't switch stations.
Related: Dylan in '65: Evolving to electric
"Like a Rolling Stone," with "Gates of Eden on the B-side," entered the Billboard singles chart on the week ending July 24 and spent 12 weeks on the chart in all, peaking at #2. Bob Dylan was now a rock star.
Watch Dylan play the hit at Newport in 1965

Latest posts by Best Classic Bands Staff
(see all)