'Stranger in Town' Delivers Rocker Del Shannon's Entire Catalog: Review
by Jeff Burger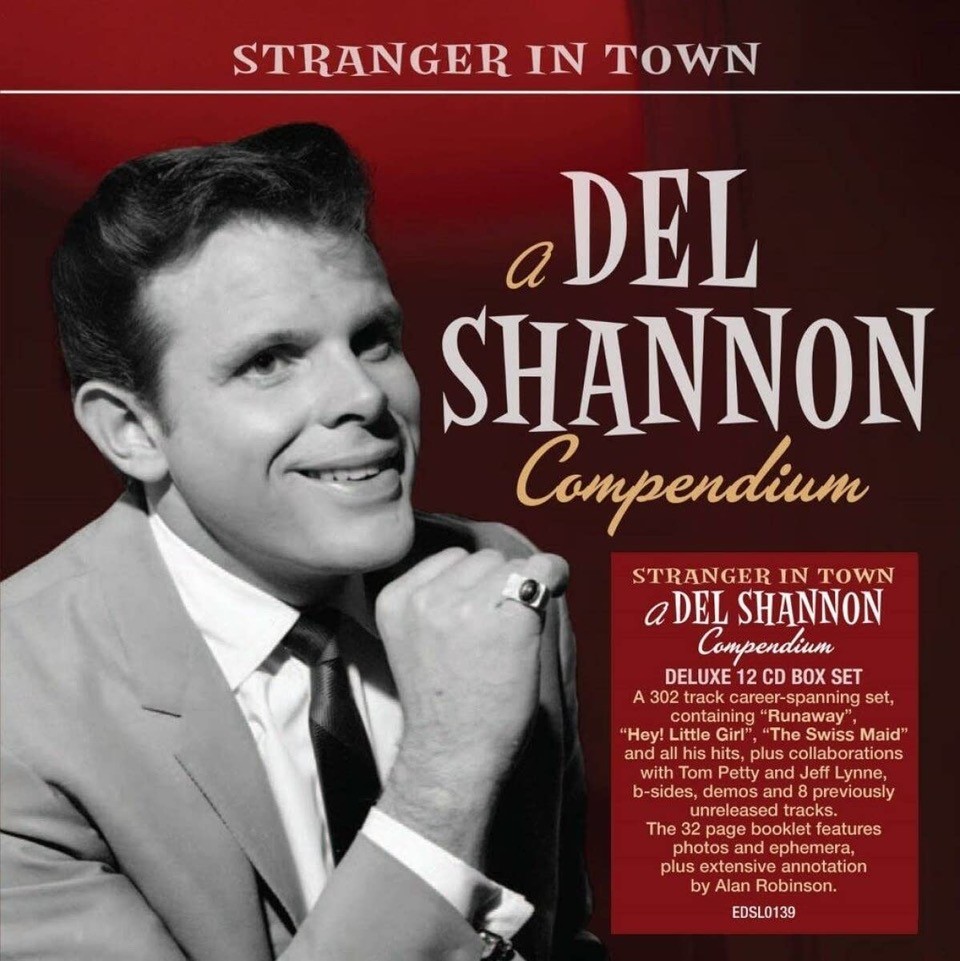 Germany's Bear Family label often outshines all the competition with its gargantuan, career-spanning boxed sets. Not when it comes to rocker Del Shannon, however. Granted, that company's eight-CD Shannon anthology, Home and Away, isn't exactly insubstantial. But that 2005 collection covers nothing released after 1970, and its list of 226 selections falls short of what you'll find in the new Stranger in Town: A Del Shannon Compendium, which contains 301 tracks (not 302 as a cover blurb indicates).
This 2023 12-CD anthology from Demon—a label based in the U.K., where Michigan-born Shannon often enjoyed more popularity than he did in the States—embraces all of his albums, starting with 1961's Runaway with Del Shannon and including such standouts as 1965's Del Shannon Sings Hank Williams, 1973's Live in England and 1981's Drop Down and Get Me. Also here are all of the non-album singles, 62 rare tracks and demos that appeared on the Bear Family release and eight previously unavailable songs. Original release dates range from 1960 to 1991, the year after the singer's suicide at age 55.
Not many acts deserve this degree of comprehensive treatment, but Shannon most certainly does. He was a terrific singer with a fantastic range and an unforgettable falsetto, not to mention a fine songwriter: he composed more than half the numbers on Stranger in Town solely and co-wrote many of the rest.
Related: When Del Shannon took his own life
Among his self-penned songs are 1961's chart-topping "Runaway" (co-written with keyboardist Max Crook) and its follow-up, "Hats Off to Larry"—both of which memorably employ Crook's innovative clavioline keyboard—and 1964's propulsive "Keep Searchin' (We'll Follow the Sun)." Shannon also scored with such great original material as "Little Town Flirt" (co-written with Marion McKenzie), "So Long, Baby" and "Hey! Little Girl." Many of his songs that didn't chart are as memorable as the ones that did.
When he picked material to cover, moreover, he evidenced excellent taste. Among the tunes he winningly interprets here: "I'm Gonna Be Strong," the Barry Mann and Cynthia Weil number that provided a hit for Gene Pitney; the Searchers' "Needles and Pins" (co-written by Jack Nitzsche and Sonny Bono) and "When You Walk in the Room" (written by Jackie DeShannon); the Box Tops' "The Letter"; the Four Seasons' "Rag Doll"; Tim Hardin's "Reason to Believe"; the Lovin' Spoonful's "Summer in the City"; and the Rolling Stones' "Out of Time" and "Under My Thumb." You need to be quite a singer to take on Roy Orbison's songs, but Shannon proves up to that task as well with excellent covers of "Oh, Pretty Woman," "Crying" and "Running Scared."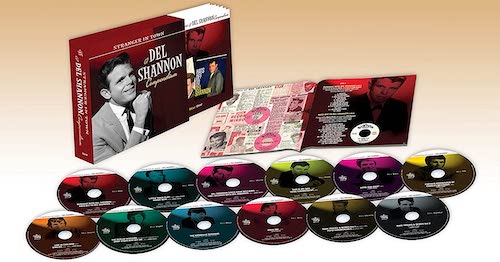 It's no wonder that his fans have ranged from Tom Petty, who produced Drop Down and Get Me, to the Beatles, who loved his work back when they were barely known outside of Liverpool. (The admiration was mutual; in June 1963, Shannon's version of "From Me to You" became the first Lennon-McCartney song to appear on U.S. charts—six months before the Fab Four themselves made the cut.) Other fans include Bruce Springsteen and Jeff Lynne, as well as Neil Young, whose vocal work at times sounds extremely reminiscent of some of Shannon's 1980s performances.
Latest posts by Jeff Burger
(see all)