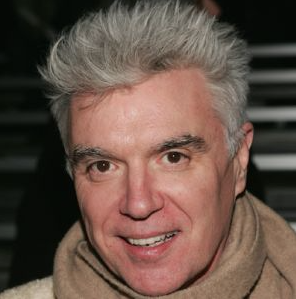 Updated (Jan. 12): We first reported on David Byrne's new theatrical work-in-progress  last spring. It's finally getting ready to open, and it has a new name: Joan of Arc: Into the Fire. Directed by Golden Globe winner Alex Timbers (Here Lies Love, Bloody Bloody Andrew Jackson), Joan of Arc: Into the Fire is described as "a thrilling and provocative new show about challenging the powerful and believing in the impossible."
The show will run from Feb. 14-April 16 at New York's Public Theater. The book, music, and lyrics are by Byrne,
choreography by Steven Hoggett. Tickets, cast and other information are available here.
Here is our original report…
Fans were burning down the house when Best Classic Bands reported the rumors that everyone's favorite new wave band was considering a reunion tour. And though those rumors seem to have dissipated now, those looking to get a little Talking Heads action can check out the iconic lead singer's latest artistic effort. The Oscar, Grammy and Golden Globe winner David Byrne has gone and written another play.
Saint Joan is the name of his latest work, a one-of-a-kind rock musical concert that follows the meteoric rise and tragic ending of Joan of Arc. The play will run during the 2016-2017 season at The Public Theatre in New York City, the same theater where current Broadway smash Hamilton enjoyed its Off Broadway debut. This will be the second Off Broadway show Byrne has debuted at the iconic venue in Soho.
Don't miss a post! Sign up for Best Classic Bands' Newsletter; form is on every page.
His first production, Here Lies Love, premiered in 2013 as a concept album and rock musical made in collaboration between Byrne and Fatboy Slim. The musical followed the life of the former First Lady of the Philippines, Imelda Marcos, as a disco odyssey staged in a dance-club setting, earning numerous awards.
Under the headline "Well Folks, I've Written Another Musical," Byrne wrote on his website: "Like Here Lies Love, this one [Saint Joan] is almost all contemporary music with very little spoken text, though this time around the music is more anthemic and 'spiritual' rather than the clubby disco grooves of Here Lies Love. The main character in both pieces is a well-documented historical figure. In fact, Joan's trial was the first to be so well documented—so there was a lot of that trial's testimony to draw on. There was actually a lot of primary research to work with! On stage, imagine a singer, a contemporary young woman, backed by her inspired band, ultimately immolated at the end of her concert."
Related: Byrne: Still no Talking Heads Reunion
He also stated why he feels this is a good time for this story now, "It's about someone—a nobody, a teenage girl—who inspired others to act, to overthrow their oppressors and take charge of their lives. She transforms from an innocent, into an androgynous warrior, and finally a martyr. Joan's story is about the power of the individual to make a difference and (for me) the hubris and sometimes oversteps that often go along with that. In other words—it's completely relevant."
Byrne will be working with many of the same people from Here Lies Love, including Tony Award-nominated director Alex Timbers (Bloody Bloody Andrew Jackson). Saint Joan is scheduled to premiere on February 14, 2017. 

Latest posts by Best Classic Bands Staff
(see all)