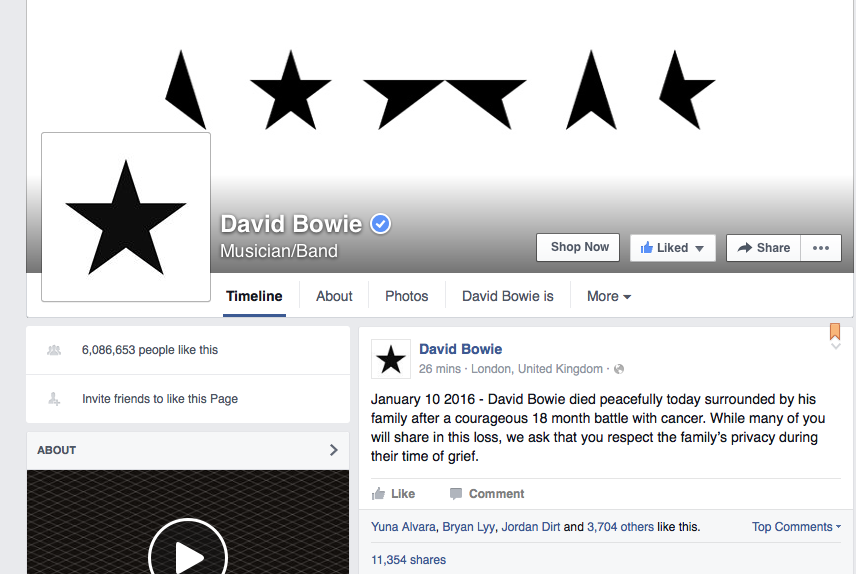 Here is Best Classic Bands' original coverage of David Bowie's death. Our site was less than six months old and we were as shocked at the news as you were.
The social media world was abuzz in the middle of the night Monday, January 11, 2006, with three simple, shocking words: David Bowie Dead. The news stemmed from the classic rock legend's own Facebook page:
"January 10, 2016 – David Bowie died peacefully today surrounded by his family after a courageous 18 month battle with cancer. While many of you will share in this loss, we ask that you respect the family's privacy during their time of grief."
As of 2 AM ET, Bowie's death was being reported by, among others, The Hollywood Reporter, Sky News, BBC News and NBC News. By 2:30 AM, it was everywhere.
Tony Visconti, who produced the just-released ★ (Blackstar) album with Bowie wrote, via Facebook: "He always did what he wanted to do. And he wanted to do it his way and he wanted to do it the best way. His death was no different from his life – a work of Art. He made Blackstar for us, his parting gift. I knew for a year this was the way it would be. I wasn't, however, prepared for it. He was an extraordinary man, full of love and life. He will always be with us. For now, it is appropriate to cry."
Tributes from many of the biggest names in classic rock have been pouring in. Click here to read how these legends are mourning and see many of their personal photos with Bowie. Not surprisingly, they're all fans just like the rest of us.

Just this past Friday on his 69th birthday, the star had released a new album, ★ (Blackstar) via Columbia Records. Read our review here. The video for a single, "Lazarus," was released last Thursday, in which the singer's own Facebook page described as "deliciously disturbing."
The busy English singer's off-Broadway musical production of the same name, Lazarus, sold out in minutes and opened December 7 to rave reviews. Best Classic Bands' previous coverage can be found here.
Ben Brantley of The New York Times wrote that the show is "great-sounding, great-looking and mind-numbing," creating "a haunting impression of dividedness, of life as a perplexing jumble of puzzle pieces that can never be fully assembled."
On Sunday, before the performer's death was announced, his wife, Iman, had made some cryptic posts on social media. On her Facebook page, she wrote "Rise #imandaily," followed by a stark message of white letters against a black background: The struggle is real, but so is God.
Bowie was born David Robert Jones on January 8, 1947 but changed his name to avoid confusion with Davy Jones, who had achieved stardom as an actor and with The Monkees. His first release as David Bowie was in 1966.
He earned his first hit with "Space Oddity" in 1969, which reached #1 in the U.K. and #15 in America. From 1972-1974, he enjoyed seven additional Top 10 U.K. singles including "Starman" and "Rebel Rebel" but none clicked with U.S. audiences.
Bowie took on numerous personas: Ziggy Stardust with the glam makeup. The Thin White Duke. Actor.
His lack of pop music success changed in 1975, however, with the release of the ironically named "Fame." Though just a modest hit in his native England, the song became his first #1 U.S. hit. Over his career, the icon earned eight Top 15 singles in the U.S. and 29 in the U.K.
In 2015, Best Classic Bands wrote a story about 9 Signature Rock Classics That Weren't Chart Hits. Ironically, two of them were Bowie performances. "Young Americans," with the great sax playing by David Sanborn and memorable backup vocals by none other than Luther Vandross, peaked on the pop charts at only #28. And Bowie's memorable duet with Freddie Mercury, "Under Pressure," with its unbelievably catchy bassline, finger snaps, and powerful vocals from the pair, though a #1 hit in the U.K. surprisingly peaked at just #29 in the U.S.
In 1983, after years on RCA Records and a lack of pop success from 1975-1980, Bowie signed with EMI for what proved to be a huge comeback with the release of yet another career transformation for the chameleon-like performer on Let's Dance. The album yielded three huge worldwide hits: the #1 title track, plus "China Girl" and "Modern Love." Amazingly, his last Top 20 U.S. pop hit was a duet with fellow superstar Mick Jagger on a cover of "Dancing in the Street."
It's estimated that he sold 140 million albums during his career. Though the icon was nominated for 10 Grammy Awards, he only won one minor one (Best Video – Short Form). The National Academy of Recording Arts Sciences corrected their career-long snub by honoring Bowie with its Lifetime Achievement Award in 2006.
★ (Blackstar) is Bowie's first new record since 2013's The Next Day. #DavidBowie

Latest posts by Best Classic Bands Staff
(see all)