David Bowie's Brilliant Last Will and Testament
by Noe Gold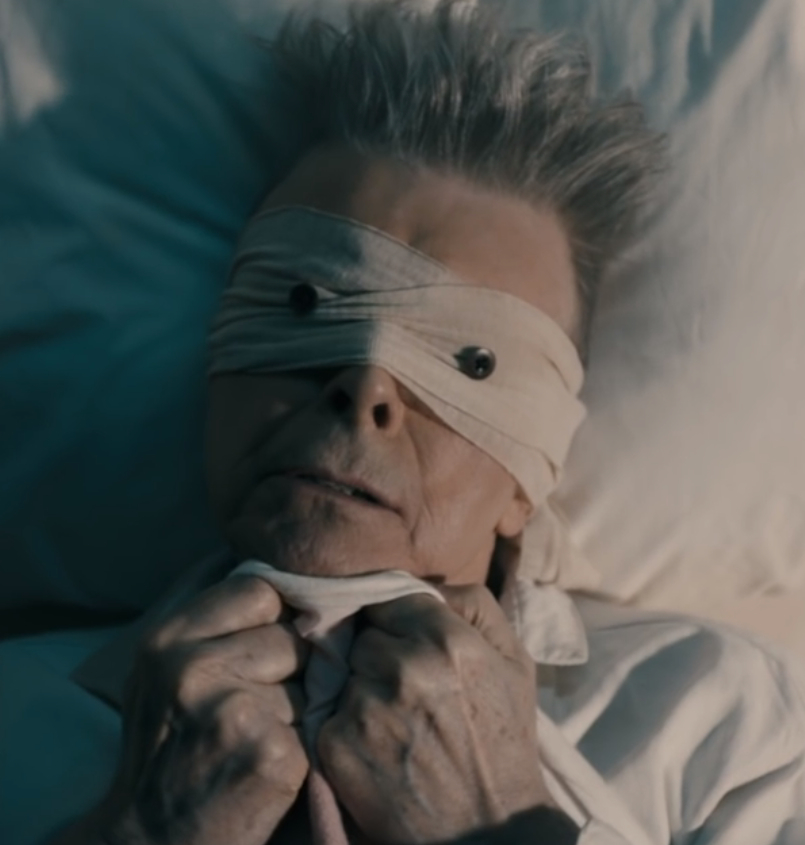 His 25th album, ★ (aka Blackstar), is his last one since he fell to Earth and the first one without his picture on the cover; this is a serious statement about life and death – a life lived to the fullest and a death contemplated philosophically and somehow hedonistically by an artist who chose to live on through his art. I say this notwithstanding that I write this on the day after he died. As it turns out, he knew that was coming and Mr. Bowie let us in on the process.
And this is not any kind of pose, either. If there is an "author's message," it's in the title cut "Blackstar" about a Mephistophelean persona who waves the book of the star as he solemnly leads his voodoo cult of otherworldly followers in incantations of immortality. The seriousness of this message is underlined by "Lazarus," a song title that invokes a biblical reincarnation as it half-jokingly bleats,
"Look up here I'm in heaven
everybody knows me now
I've got nothing left to lose
Just like that bluebird
I'll be free
Aint that just like me…"
Well, it is just like him. Facing extinction, there is hope if, like Bowie, you will live life to the fullest, and you will live on through your art, and rise up with "that bluebird."
In "Lazarus," an atmospheric wash of swelling saxophones and horny horns, compelling and poetic, and typically echt-Bowie led by saxophonist Donny McCaslin, drives the point home. Life is art, art is music.
The conceptual brilliance of this LP, released on January 8, 2016, his 69th birthday, is best appreciated by listening to the title cut while watching this video…
…then putting on the headphones and taking in the entire album in sequence. Because the video for "Blackstar" sets the tone for the entire experience. It is mystical and gritty, and replete with surreal, Bunuelian imagery, incantatory solipsism, voodoo scarecrows, visions and santeria. Shot magnificently in a high desert landscape, the video brings a flavor of William Burroughs into the mix. The song builds to a crescendo – and just stops. No coda, no flourish. Just. Stops. Dead. Just like life. Just like death.
"'Tis A Pity She Was A Whore" pits McCaslin's howling sax bleats against Bowie's croon propelled by bongos in the night. Again, it's hard to describe in words the small-combo dynamic of Bowie's musical aesthetic on this album. It is unique and not derivative of anything, and totally original. It takes some work to get up to his level, so if you are looking for a "Let's Dance" groove, seek elsewhere. But if you are willing to work a little, you will be rewarded. Like Coltrane and Pharoah Sanders at their most experimental, the outward feel borders on cacophony, but there is a definite groove – and yes, you can dance to it – in the rhythm section and the rock-steady thump of Tim Lefebvre's bass.
In addition to the nuevo combo of Bowie on agile vocals and acoustic guitar, Lefebvre on bass, Mark Guiliana's drums and percussion, McCaslin's flute, saxophone and woodwinds, Jason Lindner on piano, organ, keyboards and Ben Monder's rock-steady guitar, this feat could not have been pulled off without the collusion of a serious man behind the curtain, er booth, and while Bowie is credited for mixing, production, string arrangements and vibes, as they used to say in pre-hippie days, the alchemy was engineered by David's longtime producer Tony Visconti with his coterie of a crew. That cabal – and its Kabbalistic shroud of silence, as no one but Visconti knew just how mortal and physically fragile Bowie was at the time – were essential in the mix. The basic tracks were laid down in the opening months of 2015 in what we now know as a superhuman effort by Bowie to perform at his peak for three hours a day in the studio, then head crosstown to oversee the developing production of the off-Broadway show known as Lazarus, a prequel of sorts to his first movie role, The Man Who Fell to Earth.
There is even a characteristic La Bowie ballad groove in "Girl Loves Me," and "Dollar Days" is a downright jazzy swing tune. But like Bowie's cryptic way, the artist's way, it is best experienced as art, not entertainment. If David Bowie spelled everything out for you, you would lose half of the experience. That is, as the title of the final cut states: "I Can't Give Everything Away." Like the rest of the album, it's Bowie's plaintive croon, juxtaposed against the rambling sax and fluid guitar lines that make so much cosmic sense. And while it's entertaining, it is not mere entertainment. That is Bowie's legacy and that will live on long after he is gone.
Related: Bowie died two days after he released the album
At the 59th Grammy Awards in 2017, the album won for Best Alternative Music Album, Best Engineered Album (Non-Classical), and Best Recording Package. The title track earned the awards for Best Rock Performance and Best Rock Song. That same year, it won British Album of the Year at the 2017 Brit Awards.