'Dancing in the Moonlight'—The Circuitous Path of King Harvest's One and Only Hit
by Jeff Tamarkin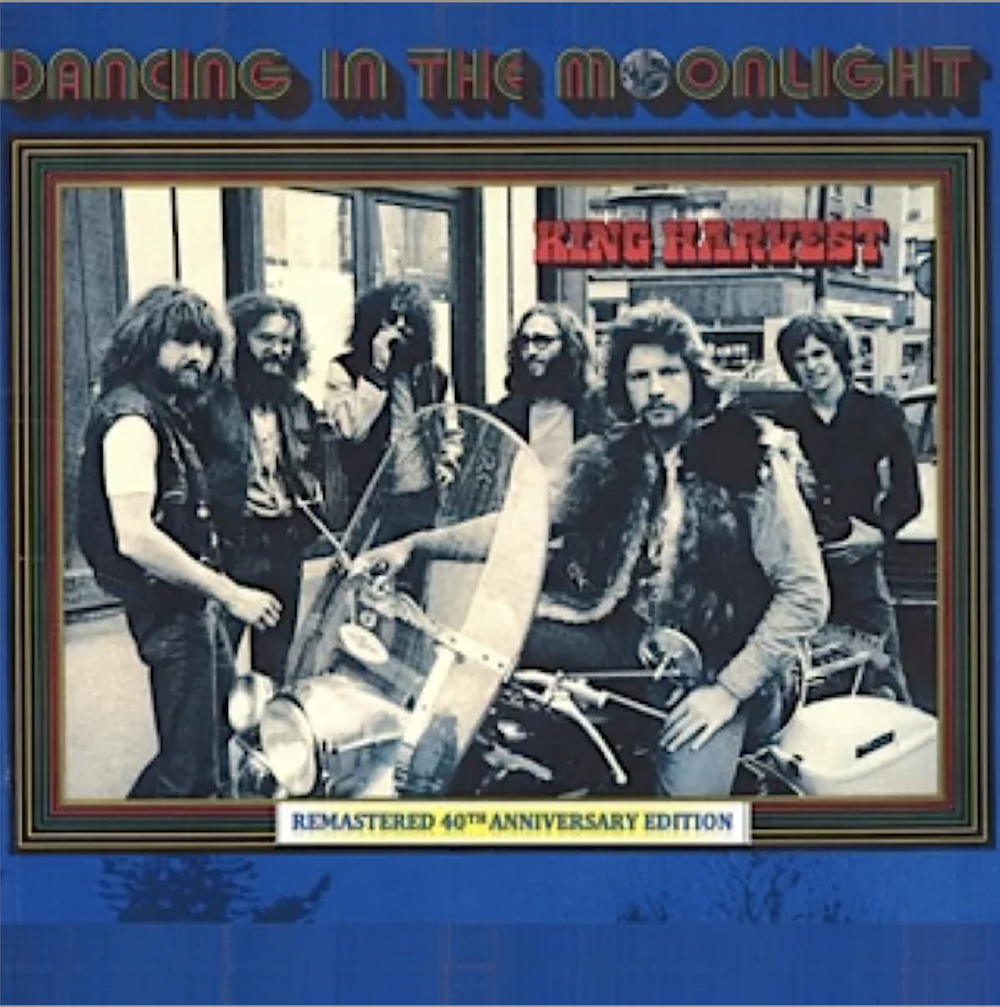 It's one of those songs that, even 50 years after it was a hit, still feels good every time you hear it. When it comes on the radio, it's always a welcomed surprise. You may find yourself inadvertently cranking the volume and singing along—which isn't all that hard because the words aren't very complicated.
It's got a tinkly piano intro, catchy melody, a breezily sung lead vocal, sweet harmonies and an easy, but insistent, foot-tapping rhythm. It's a little bit country, a little bit jazz, and a bunch of that laid-back '70s rock thing. A few little morsels of the song's lyric probably snap back into your brain as you listen: "It's a supernatural delight," "Everybody here is out of sight/They don't bark and they don't bite" and, of course, the era-appropriate opening line: "We get it on most every night."
If you're pretty good with rock trivia, you may remember that "Dancing in the Moonlight" was a hit for King Harvest in late 1972 and early '73.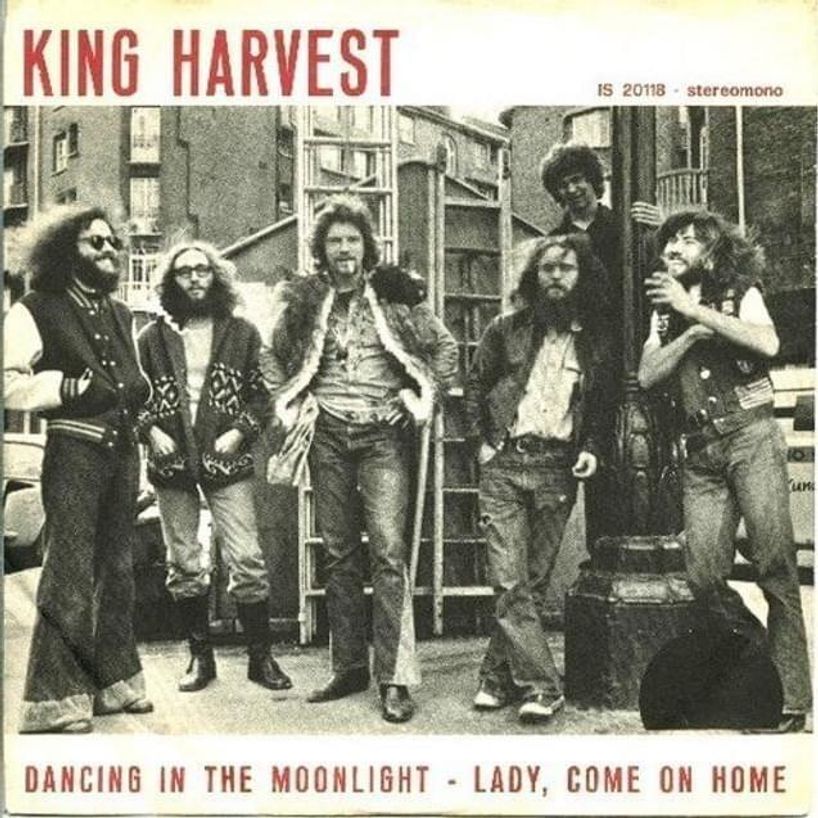 But that's likely as far as you get. King Harvest? We're guessing you couldn't even begin to tell us who they were or where they came from. And if they ever had another hit, you'd have to have some special kind of memory to know what it was.
We didn't know squat about them either. So, we did what anyone might do these days when they want to find out more about something: We looked it up.
Here's the hit…
King Harvest, it turns out, started out as a quartet in Ithaca, New York, in 1969, where Dave "Doc" Robinson (lead vocals/bass/keyboards), Ron Altbach (keyboards), Ed Tuleja (guitar) and Rod Novak (saxophone) were attending Cornell University. The band's name—this part we already assumed—came from the song "King Harvest (Has Surely Come)" by The Band, released on the latter's second album in the fall of '69.
Nothing much happened and one by one the musicians each relocated to France, where others came and went, although the original four remained the core of the band. They recorded a few singles and an album in 1971, the latter titled I Can Tell and released only in Europe. Nothing at all happened with any of them, but we're getting ahead of ourselves anyway.
Let's get back to that business about various other players showing up, sticking around for a bit and then disappearing. One of them was a keyboardist, Sherman Kelly, who was also a Cornell alumnus. Kelly had written a song titled "Dancing in the Moonlight," and had recorded it with his band, called Boffalongo, in 1970. Hold that thought for a minute.
Listen to Boffalongo's version of "Dancing in the Moonlight"
It was Wells Kelly, brother of Sherman, who convinced King Harvest to record "Dancing in the Moonlight." Wells, who would go on to co-found the band Orleans ("Still the One"), had already left Paris by the time King Harvest cut the track, which included a drummer named Steve Cutler in addition to the original KH members.
Once again, there was nothing shaking. "Dancing in the Moonlight," released in France, went nowhere and the band decided to give it up. Just a little too soon. As often happens in the mysterious world of pop, "Dancing…" had a life of its own. Back home in America, it began to find attention among radio programmers, and before long the small label Perception Records signed the band, which re-entered the studio to cut an album, which they also called Dancing in the Moonlight. The single found its way up the Billboard chart beginning in late '72, peaking at #13 on Feb. 24, 1973. The album, released in January 1973, hobbled up to #136, the first and last time King Harvest visited that chart.
Related: What were some of the other radio hits of 1973?
There would be one more charting single, "A Little Bit Like Magic," in the spring of '73, but it stalled at #91 and effectively ended the band's story as a presence on the charts. Perception Records, too, closed its doors after its failure to capitalize on the hit.
But wait, there's more! King Harvest continued to make music and, with moral support from Beach Boys Carl Wilson and Mike Love, signed with the larger A&M label, releasing two albums that bombed out. By 1976, it was all over—several of the musicians that had been associated with King Harvest went on to do session work (including on Dennis Wilson's Pacific Ocean Blue LP). There would be reunions long after the fact—a version of King Harvest was still active in 2016—but mostly they are remembered for their one big hit, which has found its way regularly into '70s-related movies and TV shows.
Their hit song, in fact, far outlasted their own moment in the sun, er, moonlight. In 2000, a British band called Toploader covered "Dancing in the Moonlight" and had a top 10 U.K. hit with it. Their version also scored big in several other European markets and Australia. Then, in 2018, yet another version made some noise in several countries, this time by a Swedish duo called Jubël.
Watch the video for Toploader's cover
King Harvest didn't bark nor bite, but they did contribute one durable supernatural delight to rock history—something not everyone can boast. Everybody, it seems, is still dancing in the moonlight.
Watch King Harvest's Doc Robinson sing "Dancing…" with Huey Lewis and the News
Watch King Harvest reprise their big hit live in 2013

Latest posts by Jeff Tamarkin
(see all)