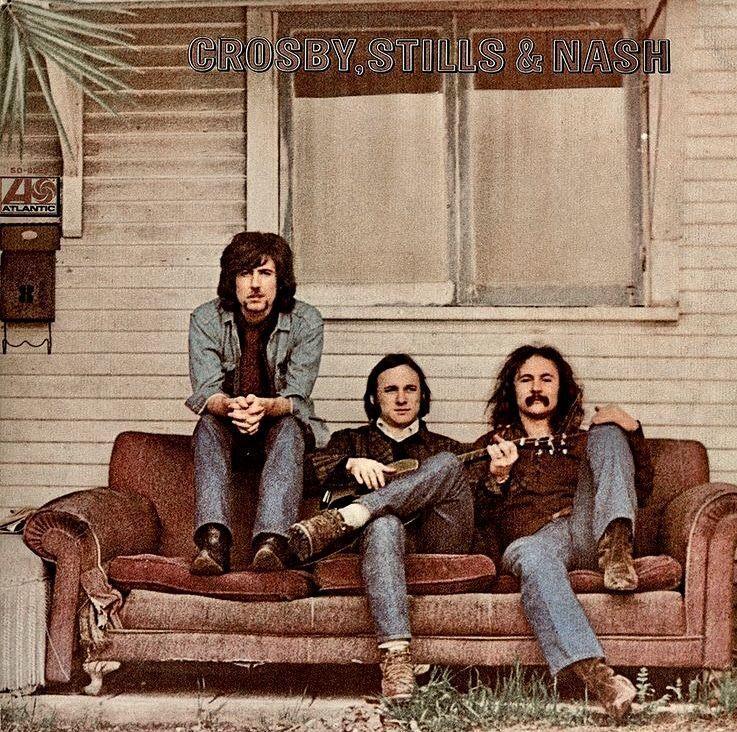 David Crosby, Stephen Stills and Graham Nash did interviews in conjunction with the release of the 50th Anniversary deluxe edition of their 1970 album, Déjà vu. The expanded collection with dozens of rare and unreleased studio recordings from those sessions was released on May 14, 2021. Nash and Stills spoke to Apple Music's Zane Lowe about how the supergroup's initial incarnation as Crosby, Stills & Nash began. As you'll see, the two legends agree on most, but not all, of the details.
Lowe asks Nash how the three first met. "I've known David Crosby for a couple of years by that time," recalls Nash about the events in 1968. "He was in England with the Byrds and they were getting trashed in the press because somebody had said that they were America's Beatles. And of course, that doesn't sit very well with English people. Crosby said to me, one day he said, 'Peter Tork's having a party up on his house on Mulholland, do you want to come? I want to introduce you to somebody.'
"We knocked on the front door and the door opened and this incredible cloud of smoke came out of the living room. And there was this music going on. This like Brazilian kind of hard-edged great groove on the piano. And I walked over to this kid and looked at him, playing the piano and Crosby nudged me. He said, 'That's who I want you to meet. That's Stephen Stills.' That's the first day I met Stephen. He was playing great piano. He had great music… and I knew it."
Time has passed since that first meeting and on July 3, 1968, Nash arrives at Joni Mitchell's house, his girlfriend at the time. "And I pulled up in front of her house in Laurel Canyon, in a cab, in a yellow taxi. And I heard other people's voices. And I thought, 'Wow, I just want me to spend some time with "Jon," but there's other voices?' So I knocked on the door and she opened the door and it was David and Stephen. They were having dinner with Jon. And we got through dinner. I must confess we smoked a big one.
"And David said to Stephen, 'Hey, Stephen, play Willie that song.' And they had been trying to get a duo act together. The Buffalo Springfield had broken up. David had been thrown out of the Byrds. They wanted to get a little two-part harmony, kind of Everly Brothers kind of thing, going. And so they sang a song to Stephen. It was called, 'You Don't have to Cry,' which ended up on the first record. They got to the end of it. And I looked at Stephen and I said, 'That's an incredible song, Stephen. That's really a beautiful song. Do me a favor and sing it one more time.' And they looked at each other and shrugged, and they sang it one more time. They got to the end of it. And I said, 'Okay, all right, I'm English. Forget it. Do it one more time, please. One more time.' In those three playings of that song, I had learned my harmony. I'd learned the words. I learned, how Crosby was breathing. I learned Stephen's body language about when he was going to start a line or end a line or put emphasis on particular words. When we sang that third time, my life changed. And so did David's and so did Stephen's and so did Joni's."
Lowe then asks Stills if he shares the same recollection as Nash. "That's all true except the locale," he says. "It was actually at [Mama] Cass's house the day before [July 2, 1968]. And Cass was the only witness. I wouldn't have sung in front of Joni Mitchell if you paid me a million dollars, cold like that. That I can assure you!
"But I have a smell-a-phonic memory of it, it's so vivid. And so we're constantly having this argument about where did we sing first? And I went to Joni's the next day with Elliot [Roberts, his manager], and that's when we were all at the kitchen table with the ladderback chairs, but the day before, we'd been at Cass's and I found this really wonderful little corner at her dining room table that had stucco walls behind it, and so when Graham joined in, it was like a mushroom cloud going off. It was wonderful."
Watch Nash, Stills and Crosby reminisce with Apple Music's Zane Lowe
Related: The story of the Crosby, Stills & Nash album cover photo

Latest posts by Best Classic Bands Staff
(see all)