The Story of the Crosby, Stills & Nash Album Cover
by Greg Brodsky
It's one of the most iconic album covers in music history. And the story of the photo shoot for Crosby, Stills & Nash plays out like a three-part CSN harmony.
Before Henry Diltz became a celebrated music photographer, particularly of the great artists that were living and playing in the Laurel Canyon scene, he was a musician himself. While part of the Modern Folk Quartet, of which he was a founding member, he picked up a camera for the first time and began taking pictures to document what he saw.
He got his first formal assignment in 1967 at age 29 from the teen magazine Tiger Beat, to shoot the Monkees. He became friends with the group's members almost immediately. "I was a hippie with love beads," he tells Best Classic Bands. "There were hardly any music photographers back then. Just the AP [Associated Press]."
Diltz didn't take any photography classes and, to this day, he swears he's never developed a roll of film of the countless ones he's taken in his extraordinary career. "I made a list of everyone I could think of that I photographed," he says in the excellent documentary, Laurel Canyon, that aired on Epix. "Lot of people."
Related: Our review of Laurel Canyon
Early in 1969, he and his creative partner, Gary Burden, got an assignment to take publicity photos for Stephen Stills, Graham Nash and David Crosby, who had just finished recording their debut album together.
Diltz, born September 6, 1938, is also a great storyteller.
"I knew these guys," he says. "I'd see them at the Troubadour [in West Hollywood]. Or I'd see them at Mama Cass' house. And then when they were recording the album, I went to Wally Heider Studios and photographed them through the window while they were singing."
On a February day, Diltz arrived at Burden's house. "They were sitting on the back stoop singing. What a sound they had! They would go to someone's house and stand in the corner and sing a song and everybody would just faint, it was so ethereally beautiful, with Graham's high voice. All three of them had amazing voices and David is one of the best descant singers, the low harmony parts."
On Burden's stoop, he says, "it was mind-blowing to hear them sing. They had one guitar and they were just harmonizing. They were in love with the sounds." To help set the mood, the five of them smoked a couple of joints. "God's herb kind of sets the mood. When I talk about Laurel Canyon, I say, 'How do you think all those songs got written?'"
Soon, they piled into Burden's car. "Gary was like the scout leader," says Diltz. "He was such a cool guy. He was the guy that you would want to follow anywhere. He was a year or two older than us and had such great taste. He was a natural born leader.
"And we drove around. Graham had seen this little house at some point and we found it, on a little street… Palm Avenue, between Sunset Blvd. and Santa Monica Blvd. And there was this little funky wooden house, with an old couch sitting outside.
"We jumped out of the car, they piled onto the couch, and I started shooting photos. Framing was the big thing… I had a framing jones. It made me feel balanced to frame things. They're horizontal, rectangles, and they fit the couch perfectly. There's the three guys and the couch and, boy, that just framed up perfectly.
"I was snapping away and then Gary said one of the things he always said to me. This one was, 'Back up! Back up! Get the whole house.'
"So I backed up and backed up and backed up, and I was across the street," he recalls, laughing. "There were no cars and I got the whole house. I guess in Gary's mind, he was thinking of an album cover.
"So I did all these shots and then we had to get it developed at Kodak because they were transparencies and you had to send them there. Got them back a day later, two days later and had a slide show.
"When you project these things, you'd get a 12-inch white cardboard square, which would be like an album cover, and you could hold it in the stream of light coming from the projector and you could move it around and see exactly what an album cover would look like.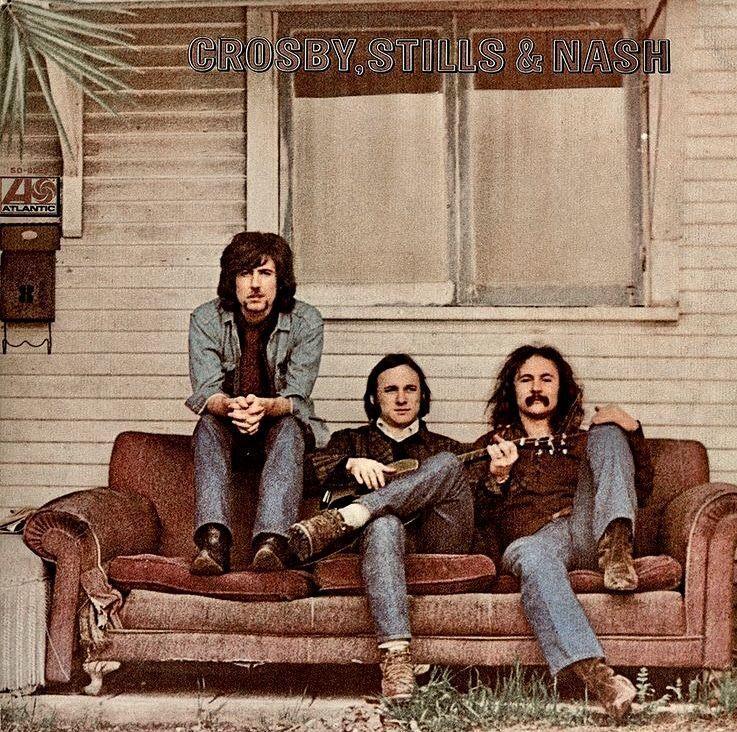 "And we did that and said, 'Wow, that would make a great album cover!'"
There was a hitch. "In the time between taking the picture and looking at the picture, which was a couple of days, three days, maybe, they had decided what to call themselves. It was almost gonna be Stills, Nash and Crosby. Because Stephen, famously, played [most of] the instruments on that record. He was really the key musician. The other guys were singers, you know?
"But somehow the idea prevailed that Crosby, Stills and Nash flowed like a nice poetic name. And unfortunately they were in the wrong order. And I do remember some discussion… 'well, look, you could flop the picture over'. But then Stephen would be holding the guitar as a left-handed player, which he isn't, which would have caused all sorts of problems," he laughs.
"I remember in the middle of that discussion, saying, 'Holy shit… let's just go back. You guys jump on the couch… what will it take? Five minutes? Just jump up there… bang bang bang.'
"So we got in the car, drove down there, and immediately saw there was no house anymore. The house was gone. As Graham has said, 'It was a pile of timbers pushed to the back of the lot!'"
When they first saw the album, plenty of new fans assumed Nash was Crosby and vice versa.
A week or so after what turned out to be the album cover shoot, he and Burden had a follow-up assignment with the trio for a drive up to Big Bear, in the mountains. Burden had rented a limo, so nobody had to drive. Stills sat next to the driver. Left to right in the back seat were Crosby, Joni Mitchell and Nash. (Nash and Mitchell were a couple at the time.) Diltz and Burden sat on the jump seats, facing the back row.
"As we drove up there, up in the mountains," says Diltz, "Graham and Joni were talking and laughing and she was writing in her notebook. And at one point, they had their heads together, she was kind of caressing his hand. They didn't even notice me and I was able to photograph them without their even knowing it."
When they arrived at Big Bear, the six of them engaged in some "tomfoolery," he says. It was time to get to work. By then, the so-called "magic hour" had approached, right after the sun goes down, where there's about an hour's worth of really soft light, with no shadows.
"Stephen had bought fur coats for the three of them as a celebration for finishing their album. They were wolf fur for David and Graham… light colored blond. For himself, Stephen had bought a dark brown wolverine coat because wolverines are a little badder than wolves!" Diltz began to snap away and captured another legendary shot, this time in the "correct" order. "In Gary's mind, maybe not even saying to anybody, this would be for the album's inside gatefold."
So, who's the guy on the back cover peering out of the doorway?
"It's Dallas Taylor, the drummer," says Diltz. "Most people think it's Neil Young. When they were making the album, I guess they said Dallas was part of the group, and wanted to give him some presence in this somehow. He wasn't even in the doorway because the house was boarded up. so Gary just stripped him in there." Mystery solved.
When the album was released on May 29, 1969, it was immediately embraced by radio, with FM stations playing multiple tracks and, at times, the entire album all the way through. Two songs, Nash's "Marrakesh Express" and an edited version of Stills' "Suite: Judy Blues Eyes," were pop successes. The album reached #6 on the U.S. sales chart.
In March 1970, Crosby, Stills & Nash won the Grammy Award for Best New Artist (Led Zeppelin and Chicago were among the other nominees). Their LP was nominated for Album of the Year but lost, along with The Beatles' Abbey Road, to Blood, Sweat & Tears' self-titled release.
Diltz' iconic works are available for purchase at the Morrison Hotel Gallery, which he co-founded.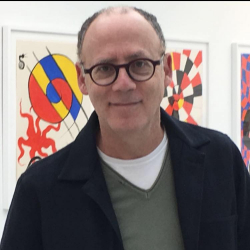 Latest posts by Greg Brodsky
(see all)