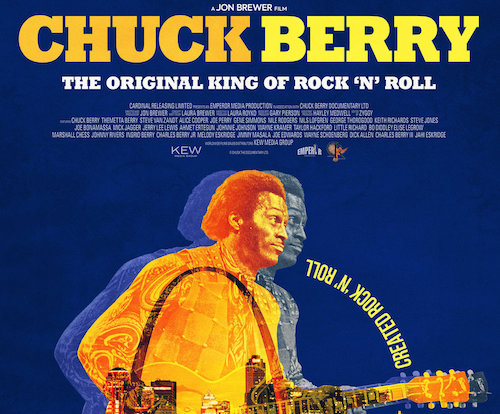 A new feature length documentary of Chuck Berry, who died March 18, 2017, at age 90, is on the way. The film, approved by the rock 'n' roll pioneer's widow, Themetta, is titled Chuck Berry: The Original King of Rock and Roll. It had its premiere on October 4 at the Nashville Film Festival.
The film, from the U.K. film company Cardinal Releasing Ltd., features new interviews and archival footage with such classic rock stars as Keith Richards, Mick Jagger, Alice Cooper, Little Richard, Bo Diddley, Joe Perry, and many more.
It was directed and produced by Jon Brewer, whose previous documentary subjects include Nat King Cole and B.B. King.
There's no word yet on when the film will be shown in theaters.
Watch the trailer for Chuck Berry: The Original King of Rock and Roll (Note: You may have to view it directly on YouTube)
Berry was also portrayed (by rapper Mos Def) in the film Cadillac Records, the story of Chicago's Chess Records, for which Berry recorded all of his major hits.
Related: Dave Edmunds shares his Chuck Berry stories
Berry, one of the initial inductees into the Rock and Roll Hall of Fame, was the subject of one previous film, 1987's Hail! Hail! Rock 'n' Roll. That film documented the planning of a pair of 60th birthday concerts in Berry's hometown of St. Louis, and featured appearances by Keith Richards, Eric Clapton, Linda Ronstadt, Julian Lennon, Etta James, Robert Cray and Berry's longtime pianist Johnnie Johnson.
Watch Chuck Berry and Keith Richards perform "Nadine" in 1987's Hail! Hail! Rock 'n' Roll
Related: Listen to many great Chuck Berry cover versions
Berry's final album simply titled Chuck, his first collection of new material in nearly four decades, was released shortly after his passing.

Latest posts by Best Classic Bands Staff (see all)