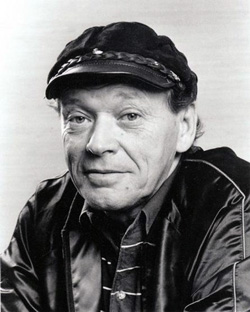 The man who recorded Elvis Presley's hit "Suspicious Minds" and numerous others died June 13, 2016, at a hospice in his hometown of La Grange, Ga. A guitarist, songwriter and record producer, Chips Moman was a key figure in the Memphis, Tenn., music scene, working with Stax Records and later at his own American Sound Studios. In addition to producing Presley's landmark 1969 From Elvis In Memphis album, which contained the songs "Suspicious Minds," "In the Ghetto" and "Kentucky Rain," Moman recorded The Box Tops, The Highwaymen, Dusty Springfield, Bobby Womack, Wilson Pickett, Willie Nelson, Mark Lindsay, Carla Thomas, Petula Clark and Merrilee Rush. He was the co-writer of such standards as "Do Right Woman, Do Right Man" (made famous by Aretha Franklin), "The Dark End of the Street" the Grammy winning "(Hey Won't You Play) Another Somebody Done Somebody Wrong Song" and "Luckenbach, Texas (Back to the Basics of Love)," among others.
Born June 12, 1937, Moman left his Georgia hometown at age 17 and hitchhiked to Memphis. He broke into the music business playing guitar with rockabilly stars Warren Smith, Gene Vincent and Johnny Burnette. Traveling to Los Angeles with Burnette, he recorded at the famed Gold Star Studios with pioneering engineer Stan Ross. "And from what I'd learned in California, I decided to take that experience and put it to work in Memphis," Moman said in a 2008 interview.
Back in Tennessee he began working at a small studio owned by Jim Stewart, later to found Stax Records, where as house producer Moman worked with Rufus Thomas, The Mar-Keys, William Bell and Booker T. & the MG's. After a dispute with Stewart over royalties for the MG's hit "Green Onions," Moman started his American Sound Studios in 1964.
He soon recorded his studio's first hit, the million-selling "Keep on Dancing" by The Gentrys. Memorable tracks cut at American with the top-flight house band Moman gathered there include "The Letter" (The Box Tops), "Son of a Preacher Man" (Dusty Springfield), "Sweet Caroline" (Neil Diamond), and "Angel of the Morning" (Merrilee Rush).
"Chips was brilliant. He and I were like brothers; we made a lot of hits together," B.J. Thomas told Best Classic Bands in 2020.
In 1968, they recorded "Hooked on a Feeling." Moman wanted to incorporate a sitar into the song.
"Reggie Young was the guy who played it," said Thomas. "Chips said, 'Let Reggie really fire the thing up.' It took a while for him to catch the grooves. He had it on the intro but when he did the instrumental, he played a kind of 18-bar Ravi Shankar kind of thing, which I wish I had a tape of it… it was incredible. But it was not like a rock and roll record, you know. Eventually, when he played the fade-out, he played what Chips wanted and Chips spliced that up as the instrumental.
"That's one of the classic guitar rides."
Moman left Memphis in 1971 to start a studio in Atlanta, and then moved to Nashville, where he produced such acts as Nelson, Waylon Jennings, Tammy Wynette and Ronnie Milsap. He later produced the best-selling debut album by the Highwaymen – Nelson, Jennings, Johnny Cash and Kris Kristofferson – in 1985.
(If you're a new Best Classic Bands reader, we'd be grateful if you would Like our Facebook page and/or bookmark our Home page.)
Moman had been in poor health in recent years, and the cause of death was attributed to lung disease.

Latest posts by Best Classic Bands Staff
(see all)