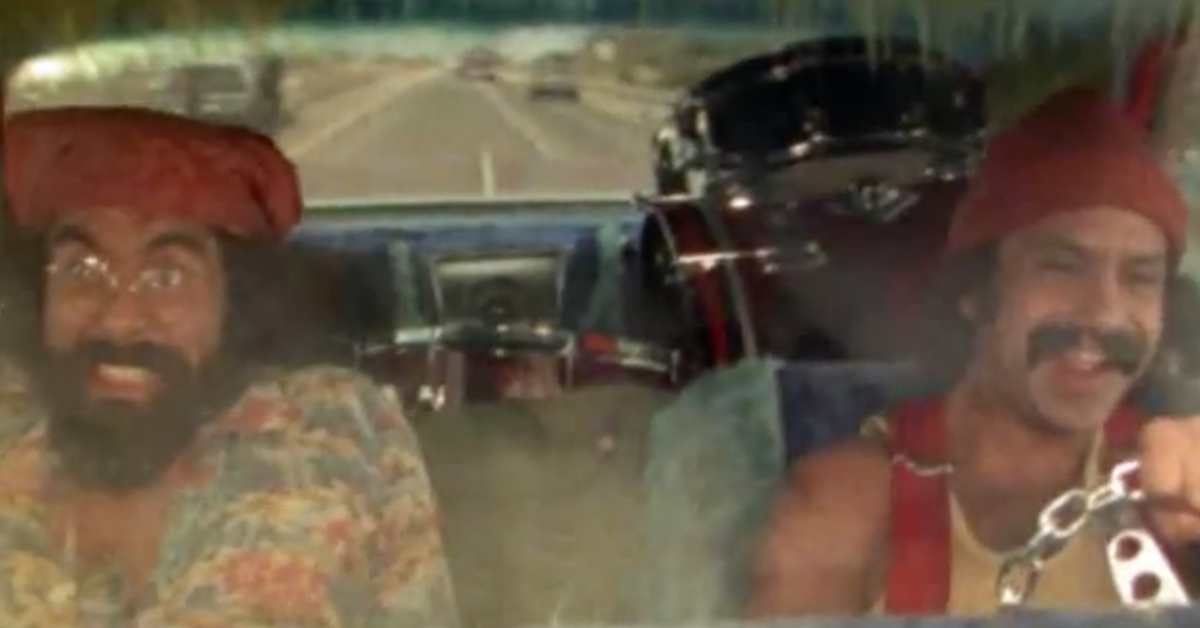 On September 15, 1978, Cheech Marin and Tommy Chong made their feature film debut in Up in Smoke, the classic inspired by their legendary comedy routines of the early '70s. Following massive success with over 10 million comedy albums sold, four Grammy nominations and a win for Best Comedy Recording for "Los Cochinos," Cheech and Chong took Hollywood by storm when Up in Smoke became a smash hit, establishing the pair as a comedic force of a new generation.
In Up in Smoke Cheech and Chong play wannabe musicians and stoners who unwittingly smuggle a van made of marijuana from Mexico to L.A. Their drug-laced humor keeps their spirits high as they unknowingly elude the police and meander their way to an outrageous finale at the Roxy Theatre in Hollywood where Cheech performs in a pink tutu and Chong plays drums in a red body suit with a Quaalude logo.
The film was made for a reported $2 million and earned over $44 million, making it the 15th high-est grossing film of 1978.
The ultimate stoner comedy celebrated its 40th anniversary in 2018. Cheech & Chong's 1978 comedy Up in Smoke was re-released in a variety of editions including a Blu-ray Combo Pack and DVD from Paramount. A special Deluxe Collector's Edition was released on April 20 (get it?) from Rhino, featuring a newly recorded version of the title song "Up In Smoke."
The comedy duo were the subject of a 2018 exhibit at the GRAMMY Museum® in Los Angeles. Titled "Cheech & Chong: Still Rollin'—Celebrating 40 Years Of Up in Smoke," the exhibit was curated in collaboration with GRAMMY-winning producer Lou Adler, who uncovered the legendary duo, produced many of their albums, and directed the film.
The exhibit chronicled the development and success of the film. Items on display included the original marked-up script, comedy sketches, an assortment of limited-edition 40th anniversary smoking devices, and selections from Marin's "Blazing Chicano Guitars" guitar-art collection, among other items.
Related: Revisiting another 1978 comedy classic, National Lampoon's Animal House
Watch the original trailer
"Cheech" Marin was born July 13, 1946; Tommy Chong on May 24, 1938. The comedy duo still tour. Tickets are available here.
Watch a classic scene

Latest posts by Best Classic Bands Staff
(see all)