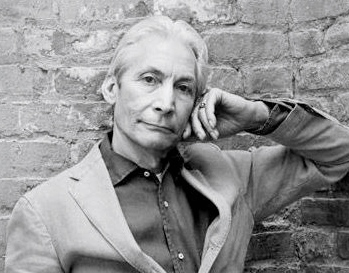 Charlie Watts, the drummer for the Rolling Stones, died August 24, 2021, three weeks after it was announced that he was unlikely to be available for the resumption of the band's USA No Filter Tour that fall.  He had turned 80 on June 2. The news of his death was revealed in a press release from a spokesman who wrote, "It is with immense sadness that we announce the death of our beloved Charlie Watts. He passed away peacefully in a London hospital earlier today surrounded by his family.
"Charlie was a cherished husband, father and grandfather and also as a member of the Rolling Stones, one of the greatest drummers of his generation.
"We kindly request that the privacy of his family, band members and close friends is respected at this difficult time."
— The Rolling Stones (@RollingStones) August 24, 2021
Later that day, Mick Jagger and Keith Richards simply posted photos in tribute to their beloved bandmate. Ronnie Wood wrote a brief note with a photo.
— Mick Jagger (@MickJagger) August 24, 2021
— Keith Richards (@officialKeef) August 24, 2021
I love you my fellow Gemini ~ I will dearly miss you ~ you are the best🙏❤️☀️ pic.twitter.com/aMYTGWikxB

— Ronnie Wood (@ronniewood) August 25, 2021
Related: Rockers react to Watts' death
On Aug. 27, the Stones shared a two-minute tribute clip that was both warm-hearted and comical.
— The Rolling Stones (@RollingStones) August 27, 2021
At that time of the Aug. 4 announcement that Watts would not be participating in the Stones' 2021 tour, the spokesman said: "Charlie has had a procedure which was completely successful, but I gather his doctors this week concluded that he now needs proper rest and recuperation. With rehearsals starting in a couple of weeks it's very disappointing to say the least, but it's also fair to say no one saw this coming."
In the Aug. 4 statement, Watts said: "For once my timing has been a little off. I am working hard to get fully fit but I have today accepted on the advice of the experts that this will take a while. After all the fans' suffering caused by Covid I really do not want the many RS fans who have been holding tickets for this Tour to be disappointed by another postponement or cancellation. I have therefore asked my great friend Steve Jordan to stand in for me."
Jordan had noted at the time: "It is an absolute honor and a privilege to be Charlie's understudy and I am looking forward to rehearsing with Mick, Keith and Ronnie. No one will be happier than me to give up my seat on the drum-riser as soon as Charlie tells me he is good to go."
When the 2021 tour began, Mick Jagger was 78, Keith Richards 77, and Ronnie Wood, the youngest, 74. Six days before opening night, the Stones played a private concert.
Related: Mick, Keef and Ronnie offered encouragement to Charlie when the announcement was made that he wouldn't be joining the tour
In 2004, Watts was diagnosed with throat cancer but it had been in remission.
The Rolling Stones celebrated their 60th anniversary in 2022 with a European and U.K. tour. A new studio album is expected.
Charles Robert Watts was born June 2, 1941, in London. A fan of jazz from childhood, he took up the drums in his teens and first met Mick Jagger, Keith Richards and Brian Jones in early 1963. Watts had planned to become a graphic designer, but at their urging, he joined the nascent blues- and R&B-influenced group the Rollin' Stones (the apostrophe was quickly replaced with a g), although he confessed to not particularly enjoying those musical styles at the time, and remained with the band for the duration of its career.
Watts played drums on every Rolling Stones recording, and at every live gig, and for many he was considered the rhythmic backbone of the group, alongside bassist Bill Wyman (who left the band in 1993). His steady, un-flashy playing style kept the Stones' music grounded and reined in whatever excesses the others tended toward.
Watts also sometimes contributed graphic artwork to Stones album releases, including Between the Buttons, and he performed with both small and large jazz ensembles during periods when the Stones were not active.
If you're a new Best Classic Bands reader, we'd be grateful if you would Like our Facebook page and/or bookmark our Home page.
A suave dresser (in 2006, Vanity Fair elected Watts into the International Best Dressed List Hall of Fame) and soft-spoken, gentlemanly individual, Watts' image offset those of his fellow founding members Jagger and Richards. In 1964, Watts married his girlfriend, Shirley Ann Shepherd, and they remained together until Watts' death. Watts prided himself on his faithfulness, reportedly eschewing the groupies that constantly approached the band members. He generally disdained the rock lifestyle, even while remaining a core member of rock's biggest band, preferring a quiet home life and recording in studios to the large-scale tours the Stones undertook.
In one rare but well-publicized outburst in the '80s, however, Watts reportedly reacted to Mick Jagger calling him "my drummer" by punching the frontman in the face and telling him, "Don't ever call me your drummer again. You're my fucking singer!"
Although Watts confessed to having a drug and alcohol problem in the 1980s, he overcame it. He was diagnosed with throat cancer in 2004 but he reportedly went into remission after a course of radiotherapy.
Related: Musicians we lost in 2021

Latest posts by Best Classic Bands Staff
(see all)