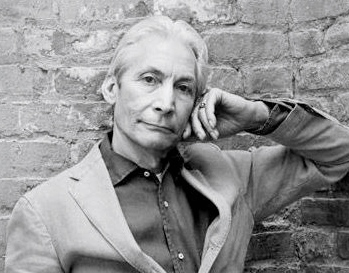 The Rolling Stones drummer was named in full Charles Robert Watts on his birth at University College Hospital in London on June 2, 1941. As the band's website has noted, "Just about everyone considers Charlie Watts to be the coolest man in rock, but he would be just as happy to be considered one of the coolest men in jazz."
After all, he was inspired to play music after discovering such jazz masters as Charlie Parker, Miles Davis and John Coltrane at 10 years old. His first drum was fashioned from the body of a banjo with the neck and strings removed. In the early 1960s Watts worked as a graphic artist at an ad agency by day while at night played drums in a number of R&B and jazz bands.
He first met Mick Jagger when the singer sat in with one of those groups, Alexis Korner's Blues Incorporated. When the Rolling Stones formed in 1962 they tried to recruit Watts to join, but he turned them down to instead continue to play gigs that paid. After finally signing on with the band, he played his first show with them on January 12, 1963, at the Ealing Blues Club.
In 1964, Watts married his girlfriend, Shirley Ann Shepherd. He prided himself on his faithfulness, reportedly eschewing the groupies that constantly approached the band members. He generally disdained the rock lifestyle, even while remaining a core member of rock's biggest band, preferring a quiet home life and recording in studios to the large-scale tours the Stones undertook.
Related: "Charlie's good tonight, in'int he?" Our Album Rewind of the Stones' live classic, Ya-Ya's
Watts played drums on every Rolling Stones recording, and at every live gig, and for many he was considered the rhythmic backbone of the group, alongside bassist Bill Wyman (who left the band in 1993). His steady, un-flashy playing style kept the Stones' music grounded and reined in whatever excesses the others tended toward.
In 2006, Watts was both inducted into Modern Drummer magazine's Hall of Fame and named by Vanity Fair to its International Best Dressed List Hall of Fame.
Check out "Jumpin' Jack Flash" from Watts' perspective
The band wished their drummer a Happy 80th Birthday in 2021.
Happy 80th birthday to the Wembley Whammer – Charlie Watts! 🥁

Leave your best wishes for Charlie below! #happybirthdaycharlie pic.twitter.com/OecfS4g3r6

— The Rolling Stones (@RollingStones) June 2, 2021
In 2017, Watts released a solo album—a jazz set like his previous non-Stones recordings—on impulse!/Verve. Titled Charlie Watts Meets the Danish Radio Big Band, the live album features big band classics, originals and Rolling Stones covers.
On Aug. 24, 2021, three weeks after the Stones announced that would not be joining the band for their U.S tour that fall due to a medical procedure, news arrived that Watts had died.
Related: Our review of the Stones' spectacular 2019 concert at MetLife Stadium
The Stones begin their 2023 "Sixty" concerts with a video montage of their drummer.
Remembering my dear Charlie, my Gemini twin, on his birthday today. I miss you🙏💙 pic.twitter.com/SNPtFwcRUG

— Ronnie Wood (@ronniewood) June 2, 2022

Latest posts by Best Classic Bands Staff
(see all)