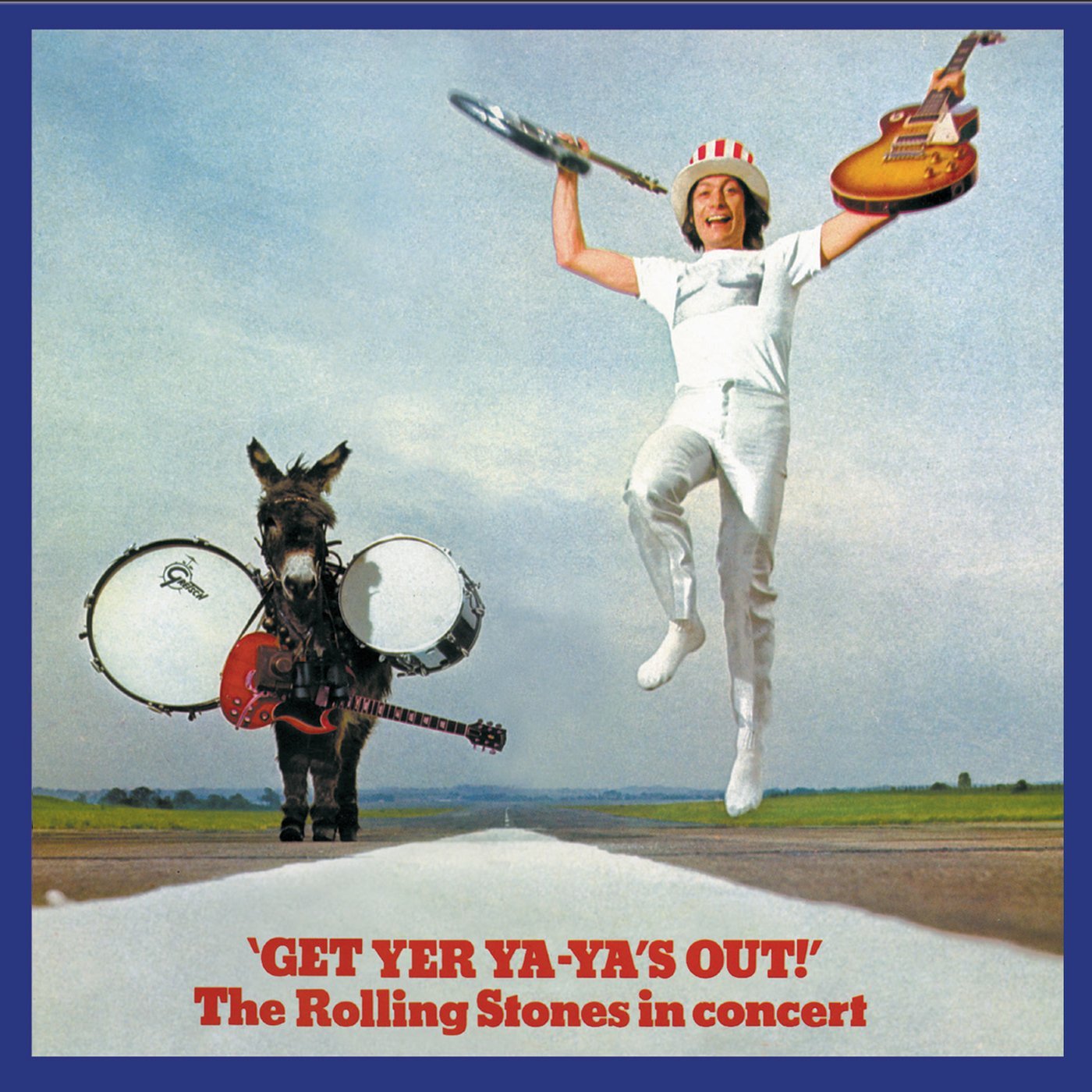 "Charlie's good tonight, in'int he?" observes Mick Jagger just before The Rolling Stones chug into "Honky Tonk Woman" like a mighty locomotive hauling the country-blues tradition into the future that was rapidly unfolding on November 27-28, 1969, when they recorded (most all of) this live album at Madison Square Garden. Hell yeah he's good. As were Mick, Keith, Bill and the newly installed other Mick (Taylor) plus original Stone turned minder/musical conscience Ian Stewart on keys here, there and about.
Sailing on the peak of their powers as a recording act in the potent wake of Beggars Banquet and with Let It Bleed in the chute to arrive the next month, onstage the Stones played it down 'n' dirty, a tad raw and a wee bit loose-limbed and slushy, but to effect that sounds in some ways today even more compelling than when this smoker of a disc first came out. It was the signal that they were indeed The World's Greatest Rock 'n' Roll Band on any given night they played in this era and well into the next decade, nailing down with casually assured aplomb what the notion means. And on Get Yer Ya-Ya's Out, in the pre-professional era of rock concerts, sans any stage set (much less giant inflatable penises), they were there not to simply perform but really play.
Like a genuine band they're locked in with one another – the Richards/Taylor six-string dynamo trading rhythm and lead like ambidextrous Siamese twins – and roaming together like a pack within the grooves, tunes and spirits of the songs. The moments with the most snap for me (most of the time) may be the two Chuck Berry numbers ("Carol" and "Little Queenie") and "Live With Me" that deeply plow the eternally irresistible uptempo rock 'n' roll groove (in addition to all their other thrills and charms, such as Stewart's Johnnie Johnson-style boogie-woogie piano counterpoints on "Queenie," to cite one of many).
Since its September 4, 1970 release followed Let It Bleed (from which four Ya-Ya's songs came) and the Through The Past Darkly hits collection (with hit singles "Jumpin' Jack Flash" and "Honky Tonk Women"), some at the time would A/B compare the live and studio versions, which kind of misses the point. And even doing so now, I remain more fond of "Midnight Rambler" and "Love In Vain" here (respectively, the former's tempo and groove and the latter's crackle feeling closer to the spirit of its writer Robert Johnson).
The studio majesty of "Jumpin' Jack Flash"  and its stripped-down live verve on this set is to me simply the flip-side of the same precious coin. But again, this was before many concerts tried to deliver replications of studio recordings; the Stones were instead about ass-kicking those songs live as a kick-ass band.
Related: Our review of a spectacular Stones concert in 2019
It's a record that can change your life; I broke into a big understanding grin when I read in the book Under Their Thumb by my friend Bill German that after hearing it he became such an avid Stones follower that he founded his fanzine Beggars Banquet that later became the official Stones fan publication. From the early to mid 1970s, for my college crowd, it was the disc to slip onto the turntable when it was time to mainline some rock 'n' roll party hearty.
Over the last decade, I have returned to it over and over and over again; Ya-Ya's never fails to not just satisfy but renew my love for real rock 'n' roll. And I still continue to hear it almost anew and finally key into yet another of the disc's abundance of way cool moments and touches of a live rock band at their very best and realest. Decades later, it remains my all-time most-beloved concert album, and none of the live Stones albums to follow even comes close.
Listen to the full-length version of "Sympathy For the Devil" from the album
On its release, legendary critic Lester Bangs said, "I have no doubt that it's the best rock concert ever put on record." 'Nuff said; that remains true today, and I imagine forever.
Oh, and Charlie's good every night.
Listen to the Stones playing "Carol" at the Garden
Ya-Ya's was certified Gold by the RIAA on Nov. 2, 1970, just two months after its release.
Related: Links for 100s of classic rock tours

Latest posts by Rob Patterson
(see all)