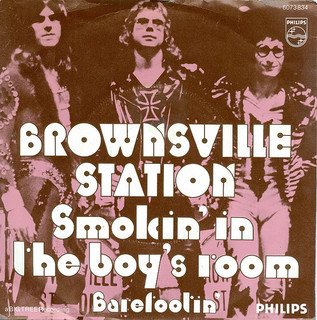 These days, smoking is prohibited just about everywhere. Try to light one up inside any public building in most states and foreign countries and you're likely to set off an alarm or land yourself a big fine or, at the very least, a few looks of utter disdain.
Back in 1973 it wasn't like that. Airplanes still had "smoking sections" (as if the smoke somehow knew where to stop wafting) and it was not uncommon—in fact it was rather probable—to encounter the nasty stench inside of restaurants, bars, offices, movie theaters and all sorts of other spaces.
Many colleges even allowed smoking in classrooms. But high schools were another story. After all, high school students were ostensibly too young to purchase tobacco legally, and the schools did their due diligence to try to prevent their young charges from breaking the law, at least inside of their walls.
Which was why, if you were a high school smoker, you took lots of bathroom breaks. The lavatory was your refuge. It was the only place inside the school where you could grab a few drags without being caught—if you were lucky. Sometimes a teacher might walk in and execute a nasty finger wag—"Hey, put that out! It's not allowed in school!"—but for the most part, privacy was afforded by the WC, where the Marlboros and Camels came out.
Cub Koda knew this. The leader of the Michigan-based rock band Brownsville Station was extremely knowledgeable about all things vintage rock 'n' roll, blues, R&B, country, etc., and a maven of pop culture. That would also include '50s juvenile delinquent films, in which, it seemed, every leather-jacketed punk had one cigarette dangling from his lips and another tucked above his ear, with the pack carefully inserted into a rolled-up shirtsleeve. Koda, although approaching the age of 25 at the time, remembered his Detroit high school days and often drew upon images from that time to incorporate into his songwriting.
By 1973, Brownsville Station—by that time the trio of Koda on guitar and vocals, Mike Lutz on bass, vocals and other instruments and Henry "H Bomb" Weck on drums and vocals—had already been around for four years. They'd cut two albums, of which only the second, A Night on the Town, had charted, peaking only at #191 in Billboard. Only two singles had charted as well, and neither had made much of a splash. They needed a hit. That's when Koda flashed back to his school days, remembering the camaraderie enjoyed by the guys who assembled in that one place where they could puff away contentedly.
"Smokin' in the Boy's Room," credited to both Koda and Lutz, begins with a spoken intro by Koda, played over a simple two-note guitar line. "How you doin' out there?" Koda asks his listeners. "Ya ever seem to have one of those days where it just seems like everybody's gettin' on your case? From your teacher all the way down to your best girlfriend? Well, ya know, I used to have 'em just about all the time but I found a way to get out of 'em. Let me tell you about it!"
And then he does. "Smokin' in the Boy's Room" is a ceaselessly rockin' boogie tune that, in short, chronicles the boredom experienced by a student who sits in his classroom waiting for the bell to ring so he can bolt for the restroom and meet up with the boys.
Sure, they know they're not supposed to do it. That's why they recruit a lookout.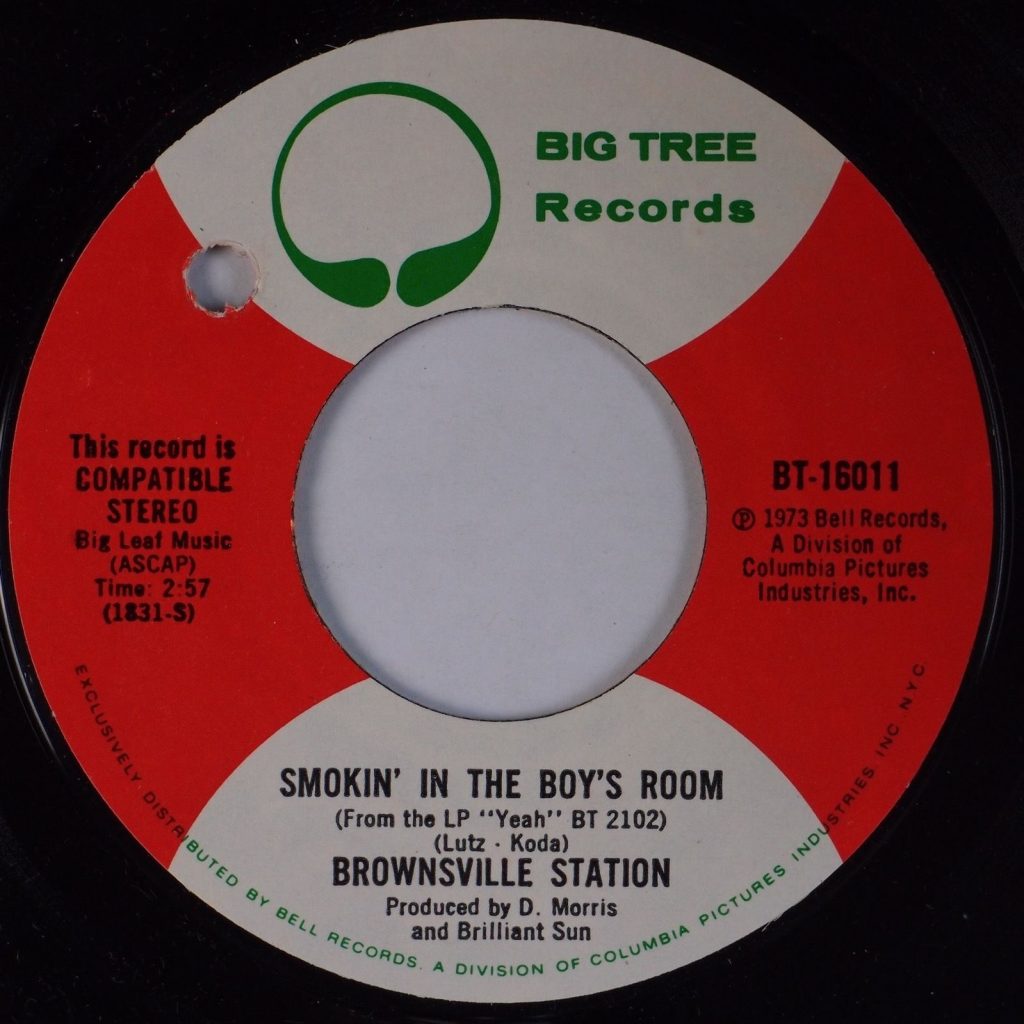 "Checkin' out the halls, makin' sure the coast is clear
Lookin' in the stalls, 'No, there ain't nobody here!'
Oh, my buddy Fang, and me and Paul
To get caught would surely be the death of us all."
With word that no teacher is in proximity, the boys pull out their matchbooks and cancer stick of choice.
"Smokin' in the boys' room
Smokin' in the boys' room
Now, teacher, don't you fill me up with your rules
But everybody knows that smokin' ain't allowed in school"
And so what if it isn't? That was the whole point.
Watch our classic video…Brownsville Station performing their hit on The Midnight Special
"Smokin' in the Boy's Room" (misplaced apostrophe and all) proved the ticket for Brownsville Station. Produced by Doug Morris (who later became president of Atlantic Records and at various times was head of the "big three" of Warner Music, Universal Music and Sony Music), it was included on the band's third LP, Yeah!, and released as a single in October 1973.
Related: The other big hits of the fall of '73 included another Detroit favorite
Rock radio took to it and the song rose all the way to #3 on the pop charts on January 26, 1974. The album itself only peaked at #98 though, and Brownsville never again cracked the top 100 on the album chart, or came close to "Smokin'…" with their subsequent singles. Although there were lineup changes and other solid efforts, the band broke up in 1979.
Koda maintained a prolific career in the wake of BS, as a solo artist, radio host, music critic and more. He teamed with bluesman Hound Dog Taylor for a time, led his own bands, wrote album liner notes and a popular column called "The Vinyl Junkie" for the record collecting magazine Goldmine, a book on the blues and much more. Sadly, Koda, who was born on October 1, 1948, died on July 1, 2000 at the age of 51.
"Smokin' in the Boy's Room" has long had a life of its own, however. The original Brownsville recording was featured in the 1979 Ramones-associated film Rock 'n' Roll High School and, in 1985, was covered by the heavy metal band Mötley Crüe, who took it to #16, their biggest hit to that point.
Today's teens, among whom the smoking habit has steadily decreased, might find it curious that there was ever a song like "Smokin' in the Boy's Room." Of course it's not allowed in school, they might say. It's not allowed anywhere!
Bonus video: Here's the Mötley Crüe version…

Latest posts by Jeff Tamarkin
(see all)