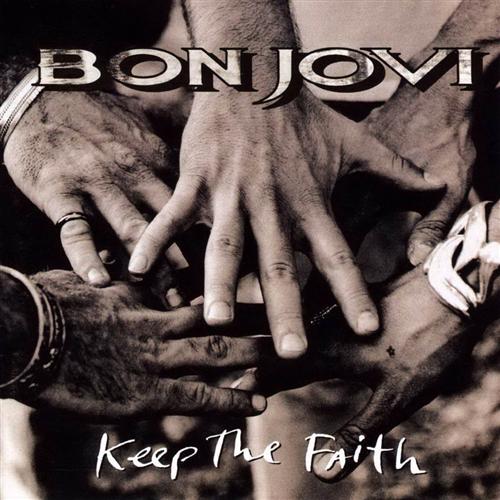 It was four years between the band's New Jersey album and their fifth release, the aptly titled Keep the Faith. The members of Bon Jovi both needed and deserved a hiatus after back-to-back #1 albums, a slew of hits and extensive touring throughout the late 1980s that took them to and then solidified their worldwide fame. "Everything is bigger, and it moves twice as fast," observed Jon Bon Jovi during that time.
The interim between albums saw many changes. Jon Bon Jovi decided to part ways with the band's management, booking agency and business advisers. He decided to take more control of their career by starting their own company to oversee the group's affairs, Bon Jovi Management.
He also continued to be creative during the band's time off. The soundtrack he composed for the Young Guns II movie became Jon's first solo album, Blaze of Glory. The title track was a #1 single and the album won a Golden Globe Award. His partner in crime (and songwriting) and the band's lead guitarist Richie Sambora also made and released his first solo album, Stranger in This Town.
In fall of 1991, the Bon Jovi band members reconvened on the Caribbean island of St. Thomas to hash out issues that had arisen in their rise to success and regain their collective esprit de corps. The group and album that emerged the next year were decidedly different.
They recruited a new producer, Bob Rock, and spent seven months recording 30 songs in Vancouver, BC, whittling them down to an album of 14 tracks. Its sound was decidedly different: Less glam/metal than their past releases and a more mature (but still hard-hitting) mainstream rock 'n' roll sound. It was a new phase for the group, and it included a new shorter haircut for Jon (that was such big news that Cable News Network reported on it).
After the album's November 3, 1992, release Bon Jovi reconnected with their roots by playing the small New Jersey clubs where they started out and became a regional sensation. Keep the Faith wasn't the huge hit like the two albums that preceded it. It only reached #3 on the Billboard Top 200 and sold two million copies. But when the group followed it with a greatest hits collection, Cross Road, two years later, it was that year's best-selling album, and its single "Always" was the group's biggest-seller to date. Bon Jovi had made the changes and transitions to carry them on into the long term success they enjoy today.
Related: Looking back at Bon Jovi's 2018 Rock Hall induction

Latest posts by Best Classic Bands Staff
(see all)