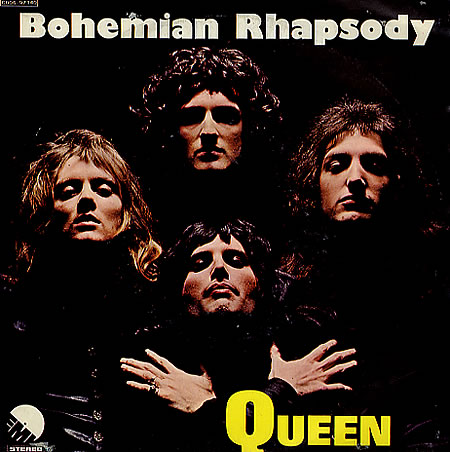 Irony alert: It took Queen some three weeks to record the 5:55 musical and lyrical extravaganza that is "Bohemian Rhapsody," at the time the most expensive single ever made. Yet it took only four hours and a mere £3500 to film its video, which has been hailed as "groundbreaking" and credited with its effect on making the song a huge hit, and in time one of the most beloved numbers in classic rock.
Queen decided to do a promo film – as video clips were known at the time – because "Bohemian Rhapsody" was simply too complex for the band to perform it live on music TV shows, especially those on which they would mime the number, and simply look foolish.
Queen's Roger Taylor adds, "We made a video for 'Bohemian Rhapsody' simply because we were on tour, and we weren't able to go on Top of the Pops. We realized, you don't even have to be here to promote your new record now. You just go and make one of these video films."
It was made by director Bruce Gowers, who brought a small crew to Ellstree Studios on this day, where the band were rehearsing for a tour. Its elements are quite simple in a way: Shots of members of the band performing the song, and a primary view of the group singing their choral parts together that took its cue from the cover shot of the four band members' faces on the Queen II album taken by music photographer Mick Rock. It was all done within four hours. The rush to get it on Top of the Pops resulted in a five-hour editing session.
What made the clip work so effectively was the simple yet artful way it was shot and edited. This remains obvious today. Because it so helped promote the song, the "Bohemian Rhapsody" clip led to videos becoming a required element in the campaign for singles, leading up to the launch of MTV.
If you're a new Best Classic Bands reader, we'd be grateful if you would Like our Facebook page and/or bookmark our Home page.
The song's release as a single was on Oct. 31, well before its video release. "Bohemian Rhapsody" became Queen's biggest single, reaching #1 in the U.K. for nine weeks (though it inexplicably peaked at only #9 in the U.S. upon its initial release). Likewise, its album, A Night at the Opera, released on Nov. 21, topped the U.K. chart for four weeks (and #4 in the U.S.).
Watch the band explain the making-of the video
Related: Our Album Rewind of A Night at the Opera
The clip has become so iconic that it has been both paid tribute and parodied as in this version by The Muppets.

Latest posts by Best Classic Bands Staff
(see all)