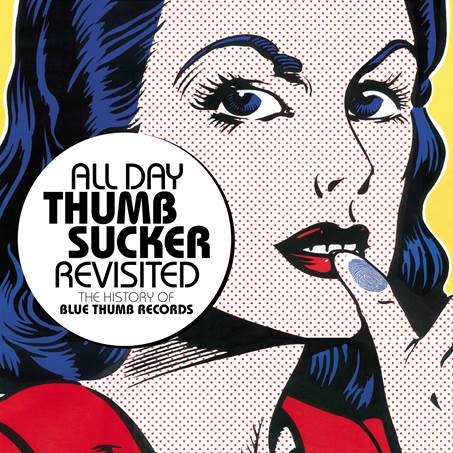 From 1968 to 1978, Blue Thumb Records released an eclectic series of albums by artists as diverse as Dave Mason, Leon Russell, Love, Ike and Tina Turner, Dan Hicks and His Hot Licks, John Mayall and many others.
Blue Thumb's expansive musical vision was anthologized on the 1995 label retrospective All Day Thumbsucker Revisited. Now Verve Records/UMe has re-released the long-out-of-print collection, originally compiled by Gary Katz, known for his work with Steely Dan, in an updated two-CD edition on the eve of next year's 50th anniversary of Blue Thumb's founding. The first in a projected series of releases to celebrate the label, the CD set offers 32 vintage tracks spread across two discs, while the digital edition, due Nov. 10, marks the first time this collection will be available as a digital download and for streaming.
According to a press release, "In showcasing Blue Thumb's influential artist roster, the album also honors the iconoclastic musical vision of late label founders Bob Krasnow, who died on December 11, 2016, and Tommy LiPuma, who passed away on March 13, 2017.: The album is available for purchase here.
Blue Thumb Records' diverse artist roster also included avant-garde hero Captain Beefheart and His Magic Band (whose rejected band name provided Blue Thumb's handle), Marc Bolan's Tyrannosaurus Rex, the Pointer Sisters, Sylvester, jazz icon Sun Ra, rap progenitors the Last Poets, Gypsy jazz guitarist Gábor Szabó, spoken-word innovator Ken Nordine, British imports Mark-Almond and the Aynsley Dunbar Retaliation, jazz greats the Crusaders, Luis Gasca and Philip Upchurch, and blues legends Albert Collins, Buddy Guy, Junior Wells and Junior Mance—all of whom are featured on All Day Thumbsucker Revisited.
Related: Dave Mason's Alone Together (pictured at right)
Along with 30 tracks from the original album, the 2017 edition of All Day Thumbsucker Revisited features two additional tracks by Buddy Guy and the Pointer Sisters. In addition to the above-mentioned artists, the album also includes a track by veteran pianist-journalist Ben Sidran, who also provided the original album's liner notes, which are reproduced here in their entirety.
Says the release, "Krasnow had already been president of the King and Buddah/Kama Sutra labels when he formed Blue Thumb Records in 1968. Recruiting like-minded A&M Records producer Tommy LiPuma and A&M marketing executive Don Graham, Krasnow set out to build a record label that would reflect his own freewheeling sensibility as well as the increasing influence of album-oriented radio."
That "something different" can be heard throughout All Day Thumbsucker Revisited, whose vintage grooves affirm the timeless brilliance of Blue Thumb's enduring musical vision.
Track Listing
Disc One
1. Only You Know and I Know – Dave Mason
2. The City – Mark-Almond
3. Put It Where You Want It – The Crusaders
4. A Song For You – Leon Russell
5. Stimela (Coaltrain) – Hugh Masekela
6. By The Light Of Magical Moon – Tyrannosaurus Rex
7. Yes We Can Can – The Pointer Sisters
8. Darkness Darkness – Philip Upchurch
9. Son Of Mirror Man – Mere Man – Captain Beefheart and His Magic Band
10. Sugar on the Line – The Aynsley Dunbar Retaliation
11. Little Mama – Luis Gasca
12. Canned Music – Dan Hicks and His Hot Licks
13. Riffin' (A.K.A. A Motif Is Just A Riff) – Buddy Guy, Junior Wells and Junior Mance
14. I've Been Loving You Too Long – Ike & Tina Turner
15. Fat Jam – Ben Sidran
16. Southern Man – Sylvester and the Hot Band
Disc Two
1. Delta Lady – Leon Russell
2. Shiver 'n Shake – Albert Collins
3. Shouldn't Have Took More Than You Gave – Dave Mason
4. Blackbird – Bossa Rio
5. Ride A White Swan – Tyrannosaurus Rex
6. I Scare Myself – Dan Hicks and His Hot Licks
7. The Everlasting First – Love
8. The Frog – Joao Donato
9. Safe As Milk – Captain Beefheart and His Magic Band
10. Breezin' – Gabor Szabo
11. Sitting on the Outside – John Mayall
12. Images – Sun Ra
13. Bird's Word – The Last Poets
14. Roger – Ken Nordine
15. How Long (Betcha' Got A Chick On The Side) – The Pointer Sisters
16. So Far Away – The Crusaders
Watch Leon Russell sing "A Song for You"

Latest posts by Best Classic Bands Staff
(see all)