Heartbreakers' Benmont Tench Shares His Sorrow: Review
by Greg Brodsky
There was a noticeable absence in the room on Nov. 9, 2017, prior to the second (and final) night of Benmont Tench's brief stand at The Iridium in the heart of New York City. Several feet from his piano, a guitar stood alone, upright. The keyboardist is the first of the Heartbreakers to perform since the shocking death of their beloved leader, Tom Petty, on Oct. 2.
[These dates, plus an earlier one at the Largo in Los Angeles, were announced well before Petty died.]
And though Tench never said his friend's name during his nearly two-hour set, Petty's spirit was felt by all. Tench addressed it indirectly with the concert's opening number, a cover of  "I Wish It Would Rain," a 1968 hit for the Temptations.
Tench sang in his soft voice, "My eyes search the skies, desperately for rain, 'Cause raindrops will hide my teardrops, And no one will ever know that I'm crying, crying, When I go outside."
It was a stunning moment and a surprising choice and one that summoned up the feelings of Tom Petty Nation since the classic rock legend's passing.
Tench performed more than a half dozen songs from his 2014 album You Should Be So Lucky as well as several unusual covers in his 23-song set. One, the title track from Bob Dylan's 1981 album, Shot of Love, seemed an unusual choice until one realizes that Tench performed on the album from Dylan's often-misunderstood "Christian period."
On the nearly century-old blues song, "Corrina, Corrina," which Tench recorded on his album–Dylan's 1963 version is one of the song's countless covers–he sang, "You've been on my mind, Every time I think about you, I can't keep from crying."
Watch Tench perform "You Should Be So Lucky"
If the concert's first half was dominated by more somber numbers, the second half was ultimately more playful. Tench performed the first song he ever wrote, "This is a Good Street," which he sings on the 2008 self-titled album from Heartbreakers precursor Mudcrutch.
He even strapped on the guitar–who knew?–for two songs.
Tench pulled out covers of the Barry Mann-Cynthia Weil song, "Shape of Things to Come," his "Welcome to Hell" from Mudcrutch's surprise 2016 follow-up album and a rollicking version of "Roll Over Beethoven."
Tench had completed the Heartbreakers' 40th anniversary tour of arenas and stadiums exactly one week before Petty's death. Tench closed this intimate set with a lovely version of a song "from my two favorite songwriters," Petty and Heartbreakers' bandmate Mike Campbell's "You Can Still Change Your Mind," from the band's Hard Promises.
Benmont Tench, The Iridium, New York City, November 9, 2017 Setlist*
I Wish It Would Rain
Starlight
I Like Them With a Screw Loose Because They Rattle When They Walk
Veronica Said
Wobbles
Today I Took Your Picture Down
If She Knew
Shot of Love
You Should Be So Lucky
Corrina, Corrina
I Will Not Follow You Down
I Can't Believe It
[Not identified]
[Not identified]
This Is a Good Street
Pledge
Unbreakable Heart
Hannah
[Not identified]
Shape of Things to Come
Welcome to Hell
Roll Over Beethoven
You Can Still Change Your Mind
*(Note: some song titles are missing; others may be misidentified)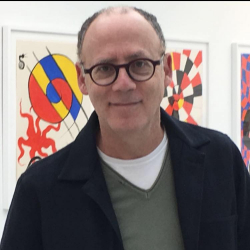 Latest posts by Greg Brodsky
(see all)