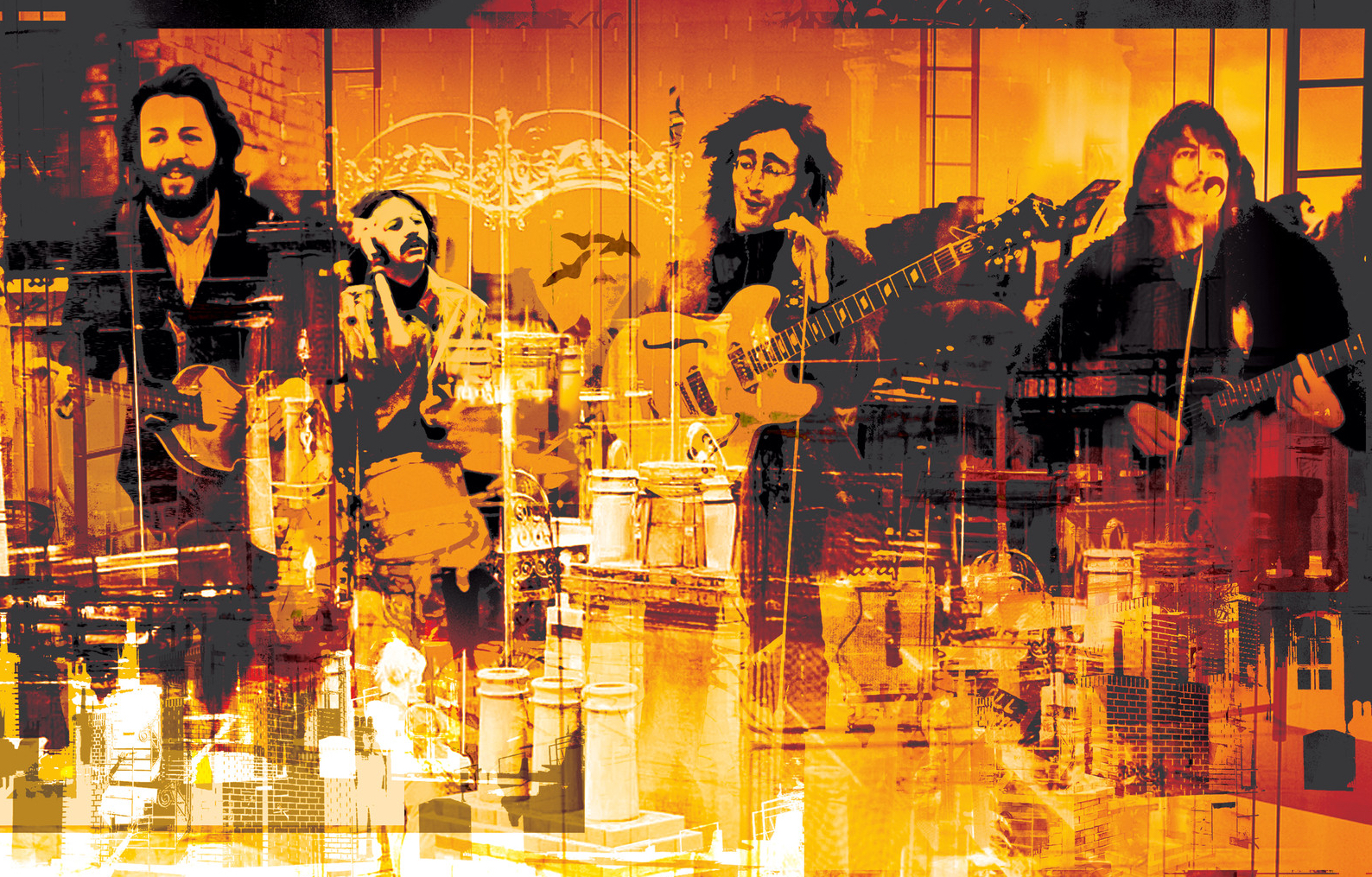 The Beatles LOVE by Cirque du Soleil at The Mirage Hotel & Casino in Las Vegas has helped spread and enhance the legacy of the Fab Four over the last decade. To celebrate its 10th anniversary, the production has teamed up with Apple Corps Ltd. to create a tender video set to a demo version of "While My Guitar Gently Weeps" produced and with string arrangements by the late Sir George Martin on an alternate take recorded by George Harrison.
The evocative video launched today (6/29) is accompanied by the landmark news that songs by The Beatles have been streamed more than one billion times within the six months since the band's launch on streaming services worldwide. The clip directed by Dandypunk, André Kasten and Leah Moyer highlights new artistic and performance elements from the song's LOVE show presentation. Throughout the video, Dandypunk's hand-drawn illustrations connect LOVE's performer, Eira Glover, with projected imagery in a series of ethereal settings. All effects were created using projection mapping and captured live, in-camera. No post production CGI was used.
The video honors the memory of Martin, who died on March 8, 2016, and of George Harrison. Martin's "While My Guitar Gently Weeps" (LOVE Version) string arrangement and recording session at Air Studios in 2006 were his final pieces of work in a legendary career that spanned more than five decades. It's featured on The Beatles' multi-Grammy Award- winning LOVE album, the audio companion to The Beatles LOVE by Cirque du Soleil, which opened on June 30, 2006. To create the show's lush soundscape, producers Sir George Martin and Giles Martin worked at Abbey Road Studios with the entire archive of Beatles master recordings.
Don't miss a post! Sign up for Best Classic Bands' Newsletter; form is on every page.
A truly innovative and unique production, The Beatles LOVE by Cirque du Soleil has received huge critical acclaim and has evolved for its 10th anniversary to present a more dynamic theatrical experience. New acts, costumes, choreography, audio visual technology and remixed music have made the experience of the LOVE show more immersive and exciting than ever. Since LOVE's debut, more than 4,500 performances have been staged for a cumulative audience approaching eight million people. LOVE will stage a special 10th anniversary celebration performance on Thursday, July 14th.
Watch this video about the production of the new LOVE version of "While My Guitar Gently Weeps."
The Beatles debuted for streaming on December 24th, 2015 with the band's 13 U.K. studio albums and Past Masters (Volumes 1 & 2), The Beatles 1962-1966, The Beatles 1967-1970 and The Beatles 1. The Beatles' Anthology, Volumes 1-3 music collections and LOVE album followed on April 4th and June 17th, respectively.

Latest posts by Best Classic Bands Staff
(see all)