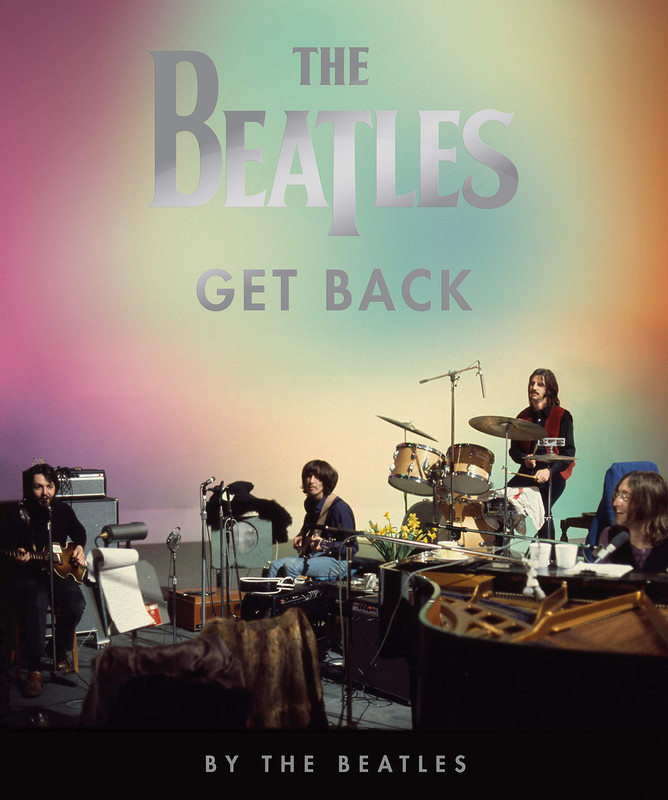 The 50th anniversary of The Beatles' final year as a working band is being celebrated one year late in 2021 with the release of the documentary, The Beatles: Get Back, from acclaimed filmmaker Peter Jackson. But first comes the expanded editions of their chart-topping 1970 album, Let It Be, on Oct. 15, newly remastered and with loads of previously unreleased material from those recording sessions. The film and recording's richly detailed companion book, also titled The Beatles: Get Back, arrived on Oct. 12.
[Jackson's film was originally announced on January 30, 2019, with the revelation that the director was given 55 hours of never-before-seen footage and 140 hours of audio to work with. It airs exclusively on Disney+ over three days this fall, on November 25, 26 and 27.]
Watch The Beatles: Get Back, a sneak peak of the documentary from Peter Jackson
The lavish companion book, from Callaway Arts & Entertainment, features photos from Ethan A. Russell and Linda McCartney (including the book's cover photo), plus hundreds of previously unpublished images of film frames from the original 16mm footage as directed by Michael Lindsay-Hogg and shot by the camera crew.
It lists its authors as The Beatles themselves, and for good reason. Its text primarily consists of conversations between John Lennon, Paul McCartney, George Harrison and Ringo Starr with their associates that took place during the Get Back recording sessions throughout January 1969, transcribed from the original sound recordings.
We thus observe the members arriving in the studio on January 2 cheerfully wishing each other Happy New Year, and contemplating their first live performance in years. As the book's wonderful introduction by novelist Hanif Kureishi notes, "they can't agree as to where or how this event would take place."
"It would be nice to try and find some way to do it out of doors," says McCartney.
As Kureishi writes in his introduction, "This is the only time in their career that The Beatles were filmed at such length while in the studio creating. It is a privilege and an opportunity to see them chatting and improvising, in close-up, in their everydayness. These are young people, don't forget, in their mid to late twenties… Like us they gossip, joke, argue, split up, get back together. Most importantly – they work together."
The text offers significant insight into the recording process. "I've been thinking of all the tunes I've got," says Harrison, "and they're all slowish."
"Yeah, most of mine are," adds McCartney.
At numerous times, the group discuss and rehearse one of Harrison's "slowish" numbers, a song called "All Things Must Pass."
On January 6, one of the eventual album's songs is being discussed. "The one I'm most pleased about is 'One After 909'," says McCartney to recording engineer Glyn Johns and to Lindsay-Hogg, who filmed the sessions. "[It's] one of the first songs we'd ever done. We all used to sag off every school day, and go back to my house, and the two of us would just sort of sit there and write 'Love Me Do'…"
Earlier, on Jan. 3, Lennon says, "I wrote that when I was about fifteen." "Incredible, isn't it?" says McCartney.
"I always meant to just change the words a bit, and do something better," adds Lennon. "No! It's great," says McCartney. "I never sort of knew what it was about before."
Lennon: "No, I never [did]." "I mean, so she's on a train," says McCartney.
"Yes…," says Lennon. McCartney: "And he sort of…"
Lennon interrupts: "He goes to the station and he misses it." (laughs)
McCartney: "But he goes back and finds it was the wrong number, so…"
Harrison: "Wrong location."
Lennon: "To rhyme with station, you know."
Listen to Take 3 of "One After 909," featuring Billy Preston's rollicking piano
On January 9, McCartney is working on the lyrics for "Get Back."
"All the folks around said she got it coming, but she get it while she can," he sings. "Oh get back, get back, get back to where you once belonged…
"It's something about 'I left my home in Arizona, de de de, de, de…'"
"Oh so… 'Get back, get back….," says Harrison. "Get back to where you once belonged," says McCartney. "Think of some words if you can. I don't know what it's about. It's about going away, and then the chorus is 'Get back'! Actually, it's not about anything." They laugh.
Weeks later, on January 24, The Beatles are discussing the work of Billy Preston on the sessions. "Billy just really is so knocked out, so thrilled [to be] doing it," says Harrison. "He sees it as a great opportunity."
"I see it as ours too," says Lennon. "You know, I mean, he could be… " says Harrison, before Lennon cuts him off, "Yeah, like a fifth Beatle."
Listen to a previously unreleased version of "Get Back"
Jackson provided the book's foreword. The Beatles: Get Back weighs in at a hefty 4.6 pounds.
Watch the trailer for the book
Related: The expanded, special editions of Let It Be were announced on Aug. 26, 2021
The book opens in January 1969, the beginning of The Beatles' last year as a band. The BEATLES (The White Album) is at number one in the charts and the foursome gather in London for a new project. Over 21 days, first at Twickenham Film Studios and then at their own brand-new Apple Studios, with cameras and tape recorders documenting every day's work and conversations, the band rehearse a huge number of songs, culminating in their final concert, which famously takes place on the rooftop of their own office building, bringing central London to a halt.
The Beatles: Get Back tells the story of those sessions through transcripts of the band's candid conversations. Drawing on over 120 hours of sound recordings, leading music writer John Harris edits the richly captivating text to give us a fly-on-the-wall experience of being there in the studios.
These sessions come vividly to life through hundreds of unpublished, extraordinary images by two photographers who had special access to their sessions―Ethan A. Russell and Linda Eastman (who married Paul McCartney two months later).
Legend has it that these sessions were a grim time for a band falling apart. However, as novelist Kureishi writes in his introduction, "In fact this was a productive time for them, when they created some of their best work. And it is here that we have the privilege of witnessing their early drafts, the mistakes, the drift and digressions, the boredom, the excitement, joyous jamming and sudden breakthroughs that led to the work we now know and admire." Half a century after their final performance, this book completes the story of the creative genius, timeless music, and inspiring legacy of The Beatles.
On January 27, a session was winding down. "What time is it," asks John. "Just gone half past nine," says producer George Martin.
"Good night, everybody," says Ringo. "Good night, Rich," says Martin.
"I think I'm going to go," says John.
"Night, boys," says Paul.
Watch the previously released official video of "Don't Let Me Down" from Let It Be
Related: Our feature on The Beatles' final gig
[As an Amazon Associate, Best Classic Bands earns revenue from qualifying purchases.]

Latest posts by Best Classic Bands Staff
(see all)