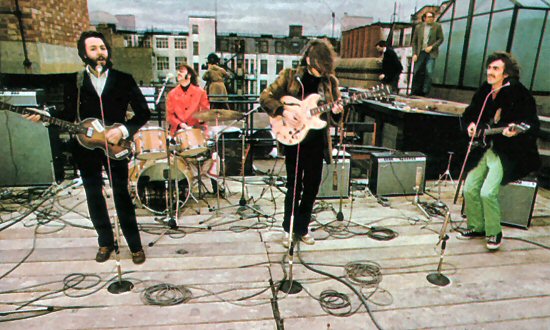 A bizarre, head-shaker moment of realization occurs in the film. Something startling is taking place on the street, five stories below: Some people are actually passing by.
Across the street from the curmudgeonly pedestrians, on the roof of The Beatles' Apple Corps headquarters at 3 Savile Row in London, the band is performing what will turn out to be its final public concert. They could easily have filled any stadium—any space at all, really—in the world, but there they are, the four of them in the flesh, the one and only actual Beatles, on Jan. 30, 1969, playing for free for the benefit of anyone in the neighborhood who cares to stop and listen. The first number was "Get Back" (Take 1).
And yet some people are moving on. They take a brief look to see what the racket is, some make sour faces indicating mild annoyance, and then they continue on their way back to work. Can't miss that marketing meeting! The Beatles performing an impromptu 42-minute live gig? New songs? John, Paul, George and Ringo, right over there?
Eh, who cares?
From a historical standpoint, rock fans have cared very much since the day it happened. As we all now know, they'd been recording what's come to be known as the Get Back sessions, the idea of which was to return them to their roots as a rocking little combo. With the aid of keyboardist Billy Preston, the Beatles had been rehearsing their less-encumbered new songs, filming it all for a documentary, to be called Let It Be. Someone—it was never quite definitively established who—suggested they play a concert, something they hadn't done in nearly three years.
Watch them perform "Don't Let Me Down" from the film, Let it Be
They could have done it anywhere but planning out a huge gig with tickets and all that would have involved too much effort. They just wanted to see what it was like to play live again. Being January, they weren't about to announce a big show in Hyde Park or any such open space. How about the Apple roof? Sure, why not?
There were ten cameras used for the shoot. Five were on stage, one was positioned on a neighboring rooftop. Three were on the street to interview passers-by and those who had heard the sounds and wondered what all the commotion was about. A final one was located in the entrance area of the Apple offices.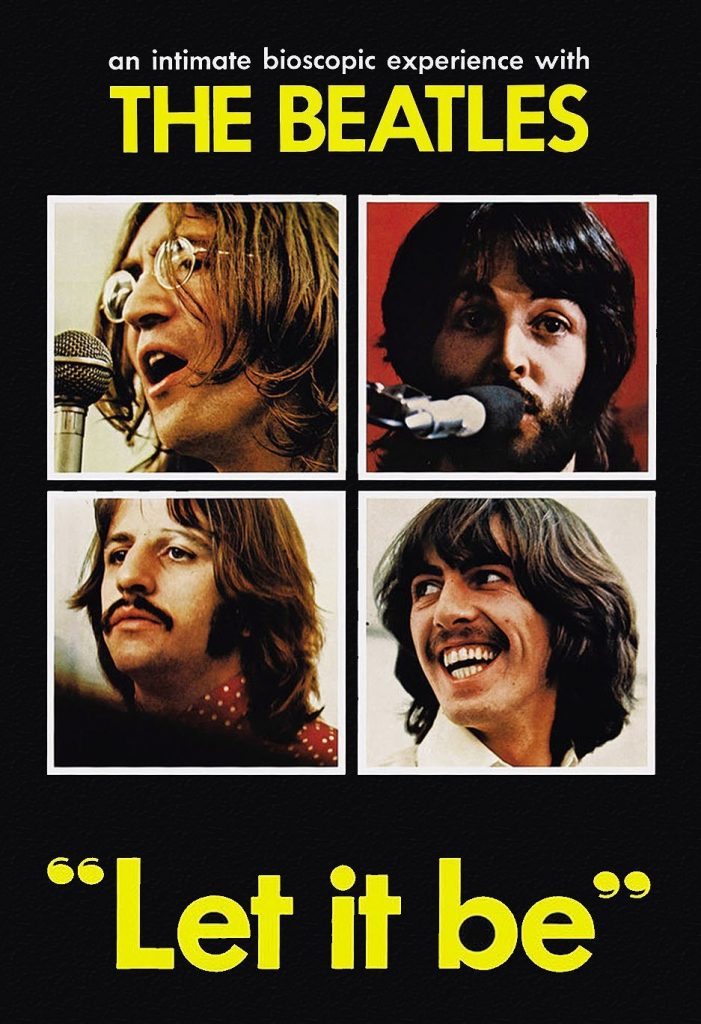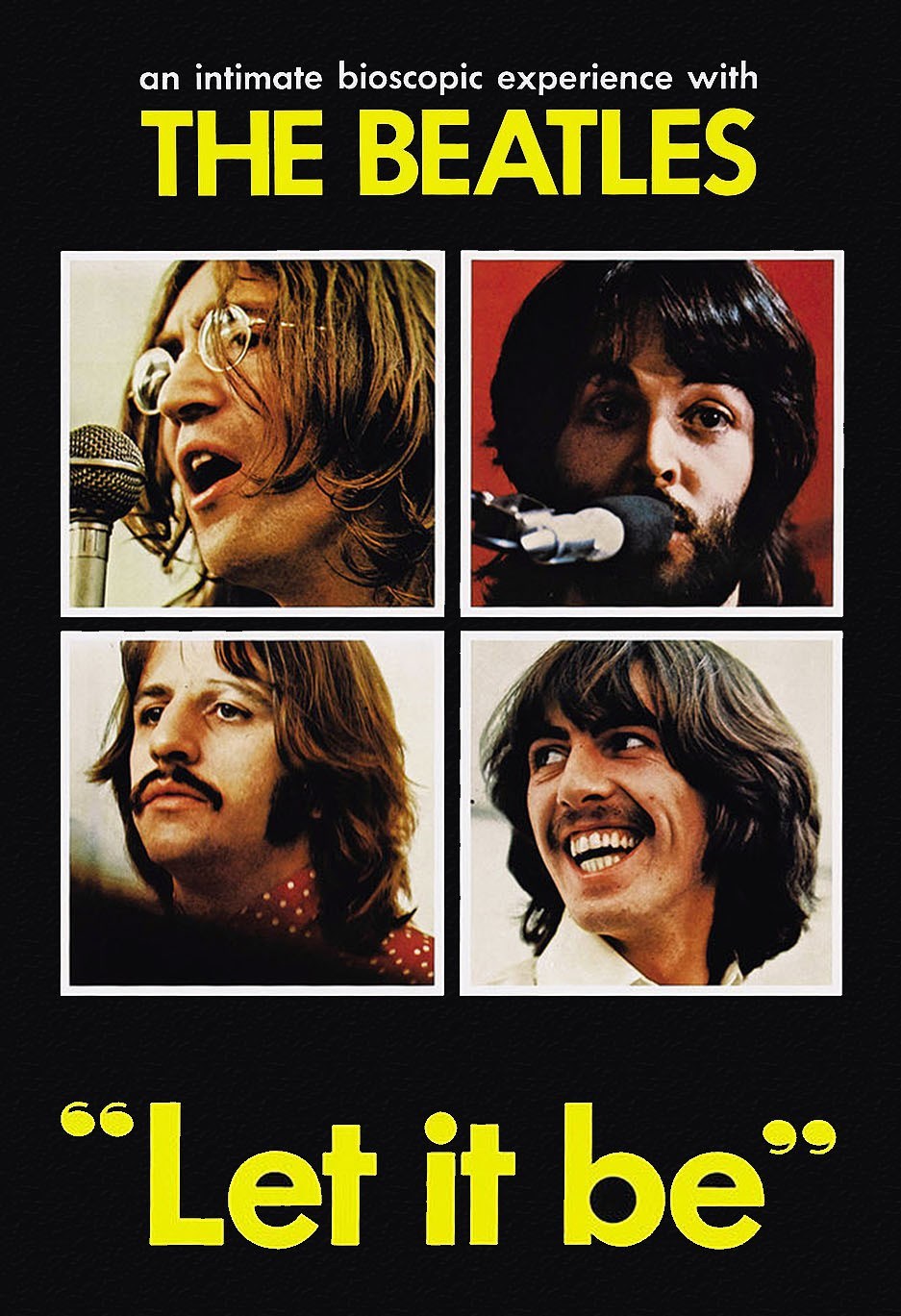 Apple engineer Alan Parsons (yes, that Alan Parsons) set up two eight-track tape recorders in the basement of the Savile Row building and ran wires to the roof. Director Michael Lindsay-Hogg rolled film. With the cold wind blowing and a handful of spectators (including Yoko Ono) gathered, the four musicians, dressed for the weather, took to their instruments, facing the front of the building, and began to play.
They start with "Get Back," one of Paul McCartney's new tunes, then John Lennon's "Don't Let Me Down." Paul's "I've Got a Feeling," an update of their early club favorite "One After 909" and, finally, John's "Dig a Pony," follow, as the confused and/or delighted Londoners on the street—considerably more of them as the show progressed—crane their necks to catch a glimpse or continue on their way, uninterested in the history that was taking place right in front of them.
Listen to "Dig a Pony"
Not surprisingly, the police show up before long. Ignoring them, the Beatles launch into a reprise of "Get Back," Paul improvising a line about getting arrested for playing on a roof.
There's a smattering of applause as they wind things up, then Lennon steps back up to the microphone. "I'd like to say thank you on behalf of the group and ourselves and I hope we've passed the audition," he says, one of rock's most fondly recalled lines.
Listen to the final number, "Get Back" (Take 3)
Related: Peter Jackson's 2021 Get Back
Watch the official trailer for Get Back
Later that year, the Beatles would record Abbey Road, their final album, but by the end of 1969 they were effectively finished. On Sept. 20, John informed the others he "wanted a divorce." By the time the Let it Be album and film were released in 1970—the latter containing some of the rooftop concert—the Beatles were no longer a band.
Related: Did you know that Jefferson Airplane played a rooftop gig weeks before the Beatles?

Latest posts by Best Classic Bands Staff
(see all)