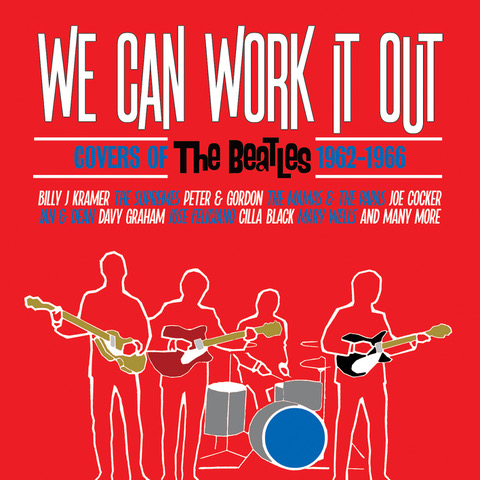 Do we need another compilation album of Beatles covers from their early years 1962-1966? Well, judging from the 85 tracks on the upcoming We Can Work It Out: Covers of The Beatles 1962-1966 the answer would appear to be a resounding yes. The title, on 3-CDs, from U.K. reissue label Cherry Red's Strawberry imprint, arrives November 24, 2023.
The set includes a broad range of recording styles from such artists as Peter and Gordon, the Supremes, the Mamas & the Papas, Count Basie, Joe Cocker, the Ventures, the Fifth Dimension, Mae West, Jose Feliciano, and Petula Clark. Pre-order it in the U.S. here and the U.K. here.
From the label's September announcement: "After the release of the band's first single, 'Love Me Do,' in October 1962, Beatlemania commenced almost instantly and soon their own recordings, as well as covers by others, were omnipresent. In this collection we find artists from France, Holland, America, Italy, New Zealand, Hungary, and Puerto Rico, all proving that The Beatles songs were so great that it didn't matter what language they were sung in. Sunshine pop sits next to raw soul while bluegrass nudges up against jazz."
The announcement continues: "Serious British folkies mix with campy Hollywood legends as Hungarian gypsy guitar makes way for proto psychedelia – nothing was safe from the all-encompassing influence of The Fab Four! This wild variety of musical styles illustrates the strength of the compositional skills of John Lennon, Paul McCartney and George Harrison."
Related: Our feature story on The Beatles' own 1962-1966 collection aka "The Red Album"
The tracklisting appears below the Amazon links. Best Classic Bands is an authorized Amazon affiliate. We're grateful for purchases made by our readers.
We Can Work It Out: Covers of The Beatles 1962-1966 Album Tracklisting
DISC ONE
1 Dick Rivers Love Me Do (Je Suis Fou)
2 The Rattles P. S. I Love You
3 Mary Wells Please Please Me
4 Kenny Lynch Misery
5 Duffy Power I Saw Her Standing There
6 Billy J. Kramer with The Dakotas Do You Want to Know a Secret
7 Mike Redway Bad To Me
8 The Crickets From Me To You
9 The Baconeers She Loves You
10 The Merseymen I'll Get You
11 The Fourmost Hello Little Girl
12 The Kestrels There's a Place
13 Tommy Quickly & Remo Four Tip of My Tongue
14 Cilla Black Love of the Loved
15 Les Lionceaux It Won't Be Long (Le Temps Est Long)
16 Marilyn Powell All My Loving
17 Gregory Phillips Don't Bother Me
18 Jackie Lynton Little Child
19 Count Basie Hold Me Tight
20 Mike Redway I'll Keep You Satisfied
21 Adam Faith I Wanna Be Your Man
22 Claude Francois I Want to Hold Your Hand (Laisse-Moi Tenir Ta Main)
23 Shirley Abicair This Girl
24 Peter And Gordon A World Without Love
25 Baby Cortez Can't Buy Me Love
26 The Supremes You Can't Do That
27 Frank Bacon Nobody I Know
28 The Applejacks Like Dreamers Do
29 The Mamas & The Papas I Call Your Name
30 Frank Alamo A Hard Day's Night (Je Me Bats Pour Gagner)
31 Dino & I Kings I Should Have Known Better (Cerca Di Capire)
DISC TWO
1 The Coterie If I Fell
2 Mark Wynter And I Love Her
3 Me & Them Tell Me Why
4 Joe Cocker I'll Cry Instead
5 Strawberry Fair Things We Said Today
6 Brotherhood When I Get Home
7 The Buckinghams I'll Be Back
8 Trea Dobbs It's for You
9 The Ventures I Feel Fine
10 Noel Harrison She's A Woman
11 Les Lionceaux No Reply (Ne Ris Plus)
12 The Hi-Fi's Baby's in Black
13 Glyn Johns I'll Follow the Sun
14 Alma Cogan Eight Days a Week
15 The 5th Dimension Ticket to Ride
16 The In-Sect Yes It Is
17 Mary Wells Help!
18 The Inbetweens The Night Before
19 Jan & Dean You've Got to Hide Your Love Away
20 The Sunshine Company I Need You
21 The Baskervilles Another Girl
22 The Five Man Electrical Band You're Going To Lose That Girl
23 The Baskervilles You Like Me Too Much
24 Charles River Valley Boys I've Just Seen A Face
25 David & Jonathan Yesterday
26 P. J. Proby That Means a Lot
27 Mae West Day Tripper
28 Swingshift We Can Work It Out
29 Paraffin Jack Flash Ltd Norwegian Wood (This Bird Has Flown)
DISC THREE
1 Madeline Bell You Won't See Me
2 Tony Rivers & The Castaways Nowhere Man
3 Gary McFarland and Gabor Szabo The Word
4 The Free Design Michelle
5 The Truth Girl
6 Davy Graham I'm Looking Through You
7 Jose Feliciano In My Life
8 Frankie Vaughan Wait
9 The Cryan' Shames If I Needed Someone
10 The Transatlantics Run for Your Life
11 Tempest Paperback Writer
12 Petula Clark Rain
13 The Senate Yellow Submarine
14 Erick Saint Laurent Eleanor Rigby
15 Junior Parker Taxman
16 Zoot I'm Only Sleeping
17 Swingshift Here, There and Everywhere
18 Jimmy James Good Day Sunshine
19 Spanky & Our Gang And Your Bird Can Sing
20 Liza Minnelli For No One
21 Rage Doctor Robert
22 The Rackets I Want to Tell You
23 Jackie Trent Got to Get You into My Life
24 Steve Marcus Tomorrow Never Knows
25 The Four Preps A Letter To The Beatles

Latest posts by Best Classic Bands Staff
(see all)