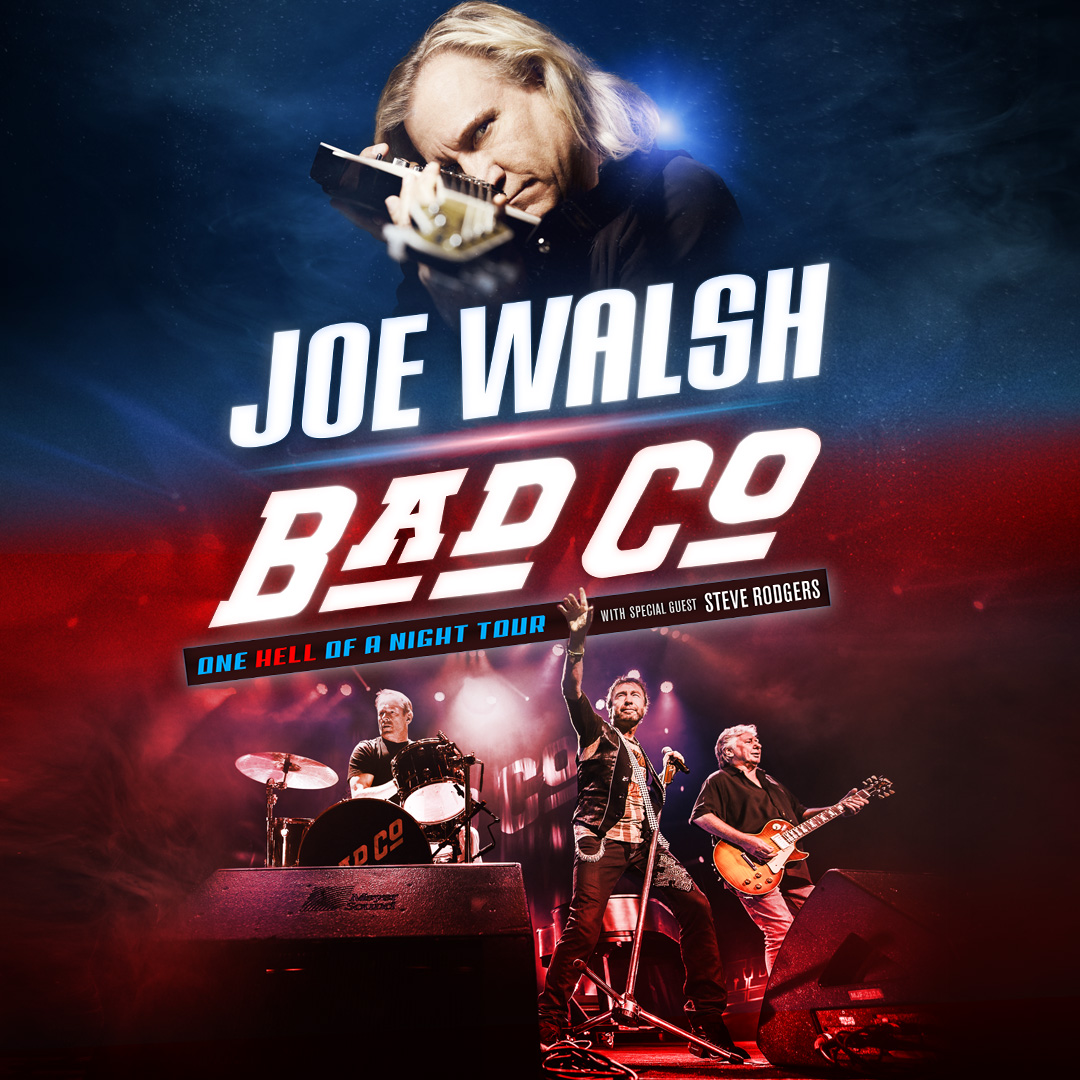 It was, as promised, One Hell of a Night of music when Bad Company and Joe Walsh kicked off their 25-date double-billed tour at the Gexa Energy Pavilion in Dallas, TX. Both acts played sets studded with some of their most popular songs as well as offering a few surprises (see set lists beow). Click here for dates and to purchase tickets.
For BadCo it was the debut of former Black Crowe Rich Robinson filling in for Mick Ralphs. As Paul Rodgers explains, "We just announced the tour when Mick called up and said he'd taken one look at the schedule and gone, 'I don't think I can do this.' And I'm like, 'Really Mick? You couldn't have told us earlier?'
Related: Rich Robinson has a new solo album coming
"But I met Rich down in Seattle, when Experience Music was celebrating Jimmy Page, and I did a couple of Firm songs that we had written. They put a band together for me, and Rich was in my band, and I loved his playing. So I gave him a call, and he was up for this." As best can be determined, it was the first time that the band has played "Crazy Circles" live. And drummer Simon Kirke stepped forward from the kit to play lead guitar on "Seagull."
Walsh performed gems from his James Gang, solo and Eagles days, most surprisingly a song by the superstar classic rock band not usually associated with him: Randy Meisner's "Take It To The Limit." He recently told Billboard magazine that the tour may also be a chance for he and Paul Rodgers to further some collaborating they started about eight years ago. "We have some basement tapes that we're going to revisit," he says. "A couple really good things came out of that. We just got together and wrote for a couple of days and recorded. I had some funky licks that had progressed into kind of a song form, so I dumped those on [Rodgers] and he put words to it and sang it and, of course, it was brilliant, an approach that I never would've come up with. And then he had a couple song ideas, melodies and word groups, that he gave to me and I've been working on those. So we're gonna revisit all that and compare notes and hopefully do something with them."
Don't miss a post! Sign up for Best Classic Bands' Newsletter; form is on every page.
Bad Company set list 5/12/16
Man Needs Woman
Live for the Music
Feel Like Makin' Love
Gone, Gone, Gone
Burnin' Sky
Electricland
Ready for Love
Crazy Circles
Seagull
Rock 'n' Roll Fantasy
Shooting Star
Movin' On
Encore:
Bad Company
Rock Steady
Joe Walsh set list 5/12/16
I Can Play That Rock And Roll
Walk Away
Analog Man
Rosewood Bitters
The Bomber: Closet Queen/Bolero/Cast Your Fate to the Wind
Take It To The Limit
Turn To Stone
In The City
Funk #49
Life's Been Good
Encore:
Life In The Fast Lane
Rocky Mountain Way
(If you're a new reader of ours, we'd be grateful if you would Like our Facebook page and/or bookmark our Home page.)

Latest posts by Best Classic Bands Staff
(see all)