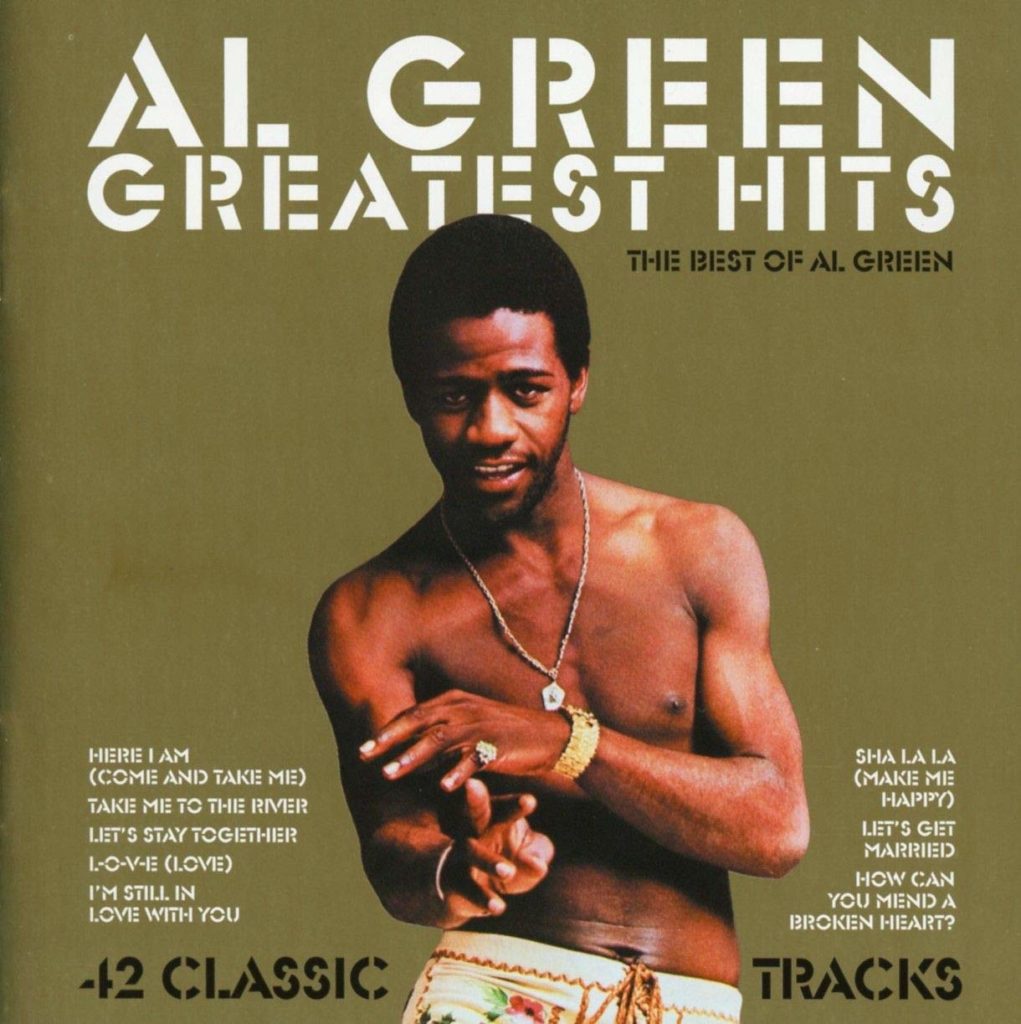 It has been over a half a century since "Al Greene and the Soulmates," then based in Grand Rapids, Mich., released their first album, Back Up Train, on their own Hot Line label. While on tour, somewhere in Texas, the Soulmates quit, leaving Greene—the original spelling of the singer's surname—to work a show date in Midland with bandleader Willie Mitchell, a star artist and producer on Memphis' Hi Records label. That chance meeting evolved into a collaboration that would shape both of their careers.
After signing with Hi Records in 1968, Al Green (with that last "e" dropped) became a soul music sensation within 18 months and an international superstar within seven years. The pair, during their initial Hi/London Records period through 1976, recorded eight albums that sold over 20 million records.
The timelessly sensual groove of Al Green was a staple on the AM and FM radio airwaves in 1972. His album Let's Stay Together was released on January 31, 1972. The title track, released in Nov. '71, reached #1 on both the Billboard Hot 100 and various R&B sales charts and the LP went gold.
Green's follow-up, I'm Still in Love with You, issued in October 1972, went platinum, propelled by two top 10 hit singles, "Look What You Done for Me" and the title track.
The stage was set for three more top 10 singles during 1973: "You Ought to Be with Me," "Call Me (Come Back Home)," and "Here I Am (Come and Take Me)." Green then had several popular radio hits in 1974, including "Love and Happiness" and "Take Me to the River," later covered by Talking Heads.
Backed by the Hi rhythm section (the Hi Records house band) and produced by Mitchell, Green merged his inimitable vocals of sultry depths and soaring falsetto heights with the unit's funk-tinged arrangements, originating a feverish and yearning brand of soul music.
Green's church-informed voice and soaring falsetto leads are reinforced by the almost-mathematical production work of Mitchell and the soothing and compelling band featuring the Hodges Brothers (Mabon "Teenie" Hodges on guitar; Leroy "Flick" Hodges on bass; Charles Hodges on keyboards), plus Howard Grimes on drums and percussion, and Willie Mitchell's brother James Mitchell on strings. The late drummer Al Jackson's work is also heard.
Green's illustrious career has been chronicled in more than 30 albums and an autobiography, Take Me To The River. During the course of his career, the Rock and Roll Hall of Famer, nine-time Grammy winner and ordained minister has racked up seven #1 albums and 16 top 10 singles in the U.S. alone. Green's recordings have earned a bevy of gold and platinum sales awards around the world, including, in the U.S., eight gold singles, five gold albums, one platinum album and one triple platinum album.
In 2004, this writer conducted a phone interview with Mitchell, who passed away in 2010.
Where were you born, Willie?
Ashland, Mississippi. My parents moved to Memphis when I was three. I studied music at Melrose High and then Rust College. Before I went to college, there was a Memphis musician named Onzie Horn, whom I lived with for a while when I was 16. He showed me the Schillinger system (a music method) he had learned in Chicago. He studied with Billy Strayhorn and Quincy Jones.
From listening to the Hi Records boxed set, I noticed you used big, semi-jazz chords in your charts.   
When I began work with Al Green, I applied some of those different things, especially on "I'm Still In Love With You." You'll find lots of those big chords there. I used freak chords on "Let's Stay Together." Al would come to the house and eat and sleep. My wife cooked for him. I used to play him records and say, "Listen to the notes and how they are posted." In fact, me and Al used to spend as much as 10-15 hours a day just studying.
What were some of the earliest productions you worked on?
I had done an album with O.V. Wright, 8 Men and 4 Women, which became a huge R&B smash for Don Robey and Duke/Peacock Records. Then they sent me Bobby "Blue" Bland and I did an album with him. Then more people began to come. I cut "Soul Serenade," which turned out to be a big R&B and pop record for King Curtis. Then we started working with Ann Peebles at Hi. A trumpet player, Gene "Bowlegs" Miller, brought her up to me and said, "Willie, this girl has a good voice." I told him, "All she needs is material." So we went into the studio with her and the first record went around 100,000 [sales]. She became popular on the blues and R&B market. This was before Al Green.
How did you first meet Al Green in 1968?
We were booked in Midland, Texas. It was a real hot day, 109 degrees in the shade. It was a huge club that seated 2,500 people. When I pulled in, Al Green came up to me and said, "Hey man, I'm stranded here. Could I sing a couple of songs? You could give me enough money to get me back home to Michigan." So I let him, and Al starts singing a Sam and Dave song when we were going over what songs we were gonna do. I was gonna give him 50 dollars. I told my brother, "Hold the band a minute." I said, "Come over here, kid. Man, you got a great voice. Why don't you go back to Memphis with me? We got a little label called Hi Records and we can cut some records." And he said, "Well, how long will it take for me to be a star?' I told him about 18 months. He said, "I don't have that long."
So, we played the gig that night. I was really amazed at his voice: the way he sounded, the way he delivered a song. After the gig, we were packing up the bus and a car had blocked the driveway and we couldn't leave. We were sitting there ready to go. There's a knock on my window. "Hey man, you said it would take 18 months for me to become a star." I said, "Somewhere in that area." He said, "Nah. I'm not going." Then the car in front of me got started and we went to pull out and he said, "Yeah, I'm going."
So, he came to Memphis. We are about 10 minutes from Memphis, about to cross the bridge and he says, "I have to go back to Grand Rapids, Michigan…I'm gonna need some money. I'll need 1,500 dollars. That was big money in 1969. So, I said, "OK, kid, I'm gonna give you this money. Now go back, straighten yourself out and come back."
Related: 10 totally cool rock/soul songs
He was really cocky, but I liked his attitude. I put him on the bus and three months later, I would think, "That little…took my money and I don't even have an address or phone number with his name."
Then one night, we played a college in Louisville, Kentucky, came home at 6:30 a.m. and somebody starts bangin' on the door and Al Green is standing there. I let him in and showed him where he needed to go. He said, "Don't you remember me? I'm Al Green." I had forgotten him. He had my money. I got him an apartment, but he was getting frustrated. He cut a version of the Beatles' "I Want To Hold Your Hand." We came up with a thing called "You Said," which did about 100,000. I wasn't satisfied with that. I said, "We're off on a Sly Stone groove and we've got to find our own thing."
What was the initial session like in 1970?
He was singing too hard. I told him he had to soften down. Then we cut a version of the Temptations' "I Can't Get Next To You" that did about 700,000. It showed that he was still singing hard but he had such command. That sort of launched him into getting some gigs. Then we started cutting an album, Green Is Blue. He was up in Detroit and brought in this song, "Tired of Being Alone." And when I heard the song, I knew that was gonna be it. It took a long time to find it, but we did it by working from 11 a.m. 'til two in the morning, every day. "Can't Get Next to You was close, but "Tired of Being Alone" was it."
It hung around February to July and we sold about 900 of 'em. And I said, "I can't be this wrong. This song was gonna be a hit." So I went to Atlanta, to radio station WAOK. I sat with the DJ and the record busted there. We did 30,000 the first week. I called back to Memphis at WDIA, who'd dropped the record already, and told them, "We got somethin' goin' on." Then I went to New York and all hell broke loose. It ended up doing 1.5 million. I told Al, "You've been singing hard."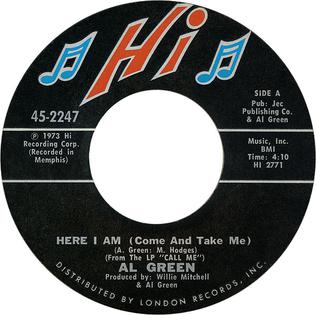 I always heard that when Al was in England on his first tour, you really developed your own sound for him at that point back home.
When Al was in England, I came up with the melody for "Let's Stay Together." When he came back, we would stay at the piano from 9 in the morning until 11 at night. Just a piano and a tape recorder and he'd sing. In 15 minutes, all the lyrics were down for "Let's Stay Together." I was getting hot. I wanted 500,000 copies pressed on "Let's Stay Together." They thought I was crazy. The record came out on Monday and by Thursday it was gold. Then, "Call Me."
What were Al Green's greatest strengths in the recording process?
The main thing is, Al could sing in tune. Once he got a hook on a song, it was hard to beat him. We had six years of nothing but gold and platinum records with Al. Then we finally hit with Ann Peebles' "I Can't Stand the Rain." That was good.
Bonus Video: Watch Al Green perform "Take Me to the River" on Soul Train
Latest posts by Harvey Kubernik
(see all)