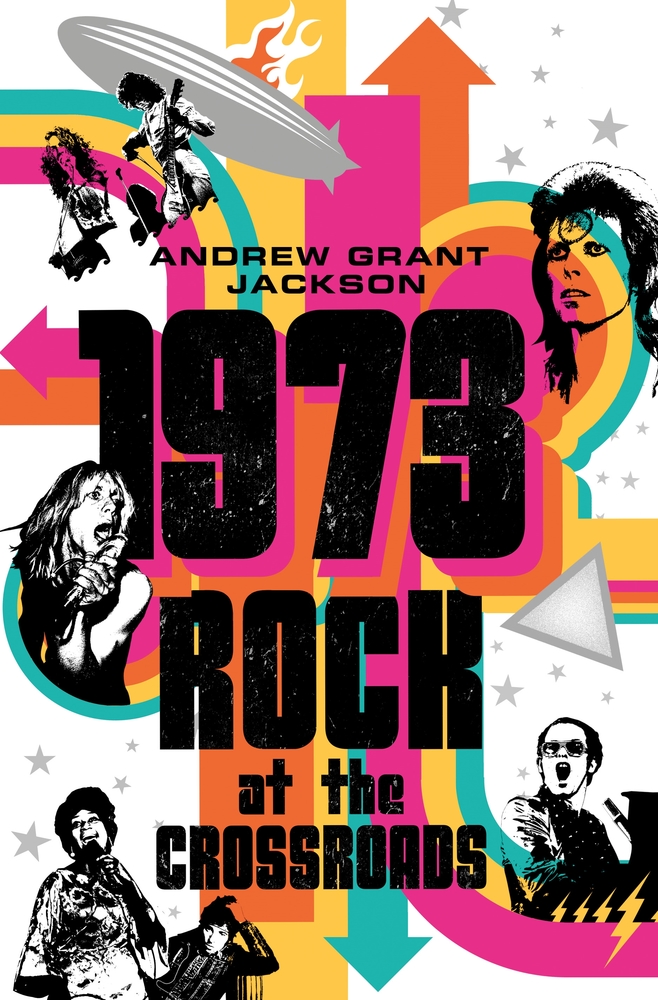 The debate on what year is Ground Zero for rock music always makes for a fascinating discussion among classic rock enthusiasts. Fans of that topic will no doubt enjoy a new book, 1973: Rock at the Crossroads from Andrew Grant Jackson, which arrived recently via Thomas Dunne Books.
The author of such music books as Still the Greatest: The Essential Songs of the Beatles' Solo Careers and 1965: The Most Revolutionary Year in Music, takes on a defining year for such legendary artists as David Bowie, Elton John, Pink Floyd, the Rolling Stones, Stevie Wonder and more, and weaves them through a panoramic history of a pivotal time well beyond their music.
From the book's announcement: The singer-songwriter era reaches its peak at the Troubadour club in West Hollywood while Billy Joel toils away in obscurity at a bar five miles away, finding inspiration for his signature song, "Piano Man."
Aerosmith hopes "Dream On" from their debut album will land them on the charts, but their record label ignores them in favor of its other new artist, Bruce Springsteen, and their managers think a different client will be the ones who will break big: the New York Dolls.
Entire chapters are devoted to such 1973 iconic releases as The Dark Side of the Moon, Carly Simon's No Secrets, The Who's Quadrophenia, Led Zeppelin's Houses of the Holy, Joni Mitchell's Court and Spark, and Elton John's Goodbye Yellow Brick Road.
Related: 1973 – The year in 50 classic rock albums
In the chapter on country rock, author Jackson tackles the role Linda Ronstadt played in the music scene, featuring the future Eagles in her backing band, while herself singing backup vocals on Neil Young's "Heart of Gold" and "Old Man." When she took the opening slot for Young's Time Fades Away tour, he writes, "She was used to clubs, but now she had to win over fifteen thousand people at a time. She'd never had to sing that loud before."
An entire chapter is devoted to the Beatles' 1973 solo work. Of Red Rose Speedway, he writes, "Paul McCartney fumbled the assembly. The sessions included 'Live and Let Die [and] Hi, Hi, Hi but he decided to use them for singles and not include them on the LP."
Listen to a "group-only" take of "Live and Let Die"
Writing about the Allman Brothers Band's Brothers and Sisters in the southern rock chapter, Jackson writes, "The producer didn't think it made sense to release 'Ramblin' Man' as a single because it didn't sound rock. But they did anyway, and it shot up the charts… where it climbed to #2, blocked only by Gregg [Allman]'s future wife Cher's 'Half Breed'."
The year's musical highlights are set against a timeline of significant moments in world history, including the end of the Vietnam War, Watergate, the counterculture era, and the oil crisis.
Related: Our look back at the top selling albums of 1973

Latest posts by Best Classic Bands Staff
(see all)