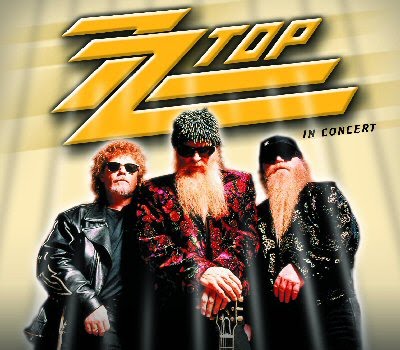 Last Thursday (4/14), ZZ Top bassist Dusty Hill was injured at the Lone Star Events Center in Lubbock, Texas. It prevented the evening's performance from taking place. It was originally thought that Hill had dislocated his shoulder. He has subsequently undergone treatment for a fractured shoulder, and the band's concert dates on their current tour have been postponed through May 7th.
Carl Stubner, the band's manager, recounts the circumstances that led to the injury: "Dusty was suited up and ready to go when he tripped on a step while on his way to the stage for the start of Thursday's show. It was very dark back there and the step – really a half-step – wasn't lit so there's no way he could've seen it. We found out that others had missed it and stumbled earlier in the day. Maybe some strategic lighting could've prevented this, but that's water under the bridge. What's important now is that Dusty and his medical team to do what's necessary for a complete recovery." TMZ initially reported that Hill was injured getting off of the band's bus.
Dusty Hill offered this comment: "My physicians told me that this type of injury is usually associated with contact sports. I'm not sure bass-playing qualifies as such but they're doing their best to get me back in the game as soon as possible. Thanks to everyone for all the good wishes we've received. We're determined to enjoy a speedy recovery and to see you soon!"
ZZ Top has been headlining U.S. concerts before they head to Europe from June 23rd to July 19th. In mid-August they team up with Gregg Allman on a shared-bill U.S. tour that runs into October.
(If you're a new Best Classic Bands reader, we'd be grateful if you would Like our Facebook page and/or bookmark our Home page.)
The following cities and dates have been rescheduled. New tour dates and other announcements will be made on the band's website.
Postponed ZZ Top tour dates:
Apr 15 – Shawnee, OK – The Firelake Arena
Apr 22 – Biloxi, MS – Beau Rivage Theatre (MGM)
Apr 23 – Lake Charles, LA – Golden Nugget
Apr 24 – Shreveport, LA – Municipal Auditorium
Apr 26 – Naples, FL – Artis-Naples
Apr 27 – Sarasota, FL – Van Wezel Performing Arts Hall
Apr 29 – Clearwater, FL – Ruth Eckerd Hall
Apr 30 – West Palm Beach, FL – Sunfest
May 1 – Jacksonville, FL – Rockville Music Festival
May 3 – Chattanooga, TN – Tivoli Theatre
May 4 – Augusta, GA – Bell Auditorium
May 7 – Atlanta, GA – Aaron's Amphitheater at Lakewood

Latest posts by Best Classic Bands Staff
(see all)