The Kinks
The Anthology 1964-1971
(Sanctuary/BMG/Ingrooves)
In A Word: Overdue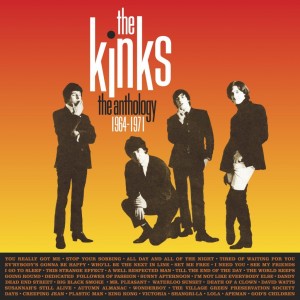 With the possible exception of the Beach Boys, the Kinks are rock's most over-anthologized band, with the market glutted by innumerable carelessly assembled compilations drawn from the band's glorious 1964-1971 output for the British label Pye. That period saw the band transition from raw garage primitivism to elegant, bittersweet songcraft, and frontman Ray Davies evolve into one of rock's most original, emotionally complex songwriters.
Rather than another half-baked rehash, this five-CD, 140-track collection – housed in an inexcusably flimsy slipcase/foldout package – is the authoritative retrospective that the Kinks' watershed years have long deserved. Producer Andrew Sandoval's savvy programming strikes the right balance between classics and deep cuts, with such lesser-known gems as "Good Luck Charm," "Misty Water," Big Sky," "Berkeley Mews" and "This Man He Weeps Tonight" making the case for the band's brilliance as strongly as the familiar classics. Several of the 25 rare or unreleased tracks are mere snippets, but the rarities are consistently illuminating if not revelatory.

Latest posts by Scott Schinder
(see all)