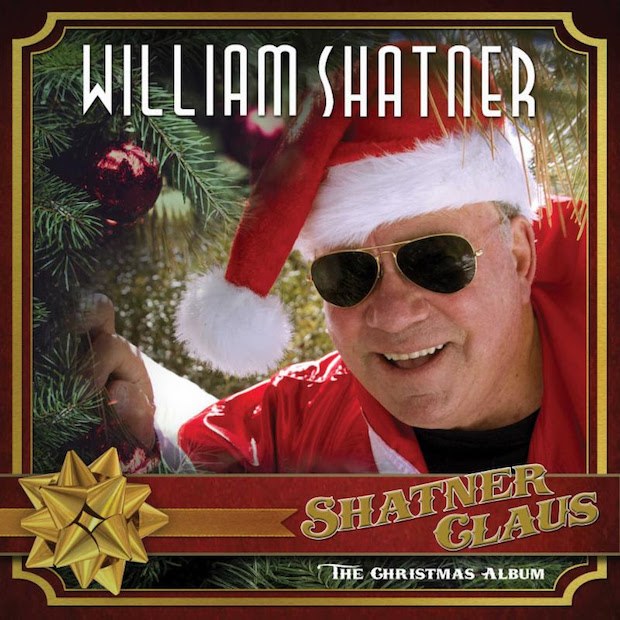 Before you roll your eyes or let out a hearty laugh, consider the guest list: Todd Rundgren, Iggy Pop, Jethro Tull's Ian Anderson, Judy Collins, ZZ Top's Billy Gibbons, Yes' Rick Wakeman and more. The album is titled Shatner Claus (for real!) and the artist is, yes, that William Shatner.
The album was released Oct. 26 on Cleopatra Records. Watch the video for "Rudolph the Red-Nosed Reindeer," featuring ZZ Top's Billy Gibbons, below.
According to its marketing copy, Shatner Claus is "a very special gift of the holidays—the first-ever Christmas album from the godfather of dramatic musical interpretations and a legend of stage and screen, Mr. William Shatner! Features an incredible cast of supporting players such as Henry Rollins, Billy Gibbons, Judy Collins, Brad Paisley, Rick Wakeman, Iggy Pop, Todd Rundgren, Joe Louis Walker and more! This is a holiday treat the whole family can enjoy with gorgeous and fun arrangements of these holiday classics as well as an original tune 'One For You, One For Me!' Available on both CD and limited edition red vinyl!"
But first…
Watch the video for "Rudolph the Red-Nosed Reindeer"
Shatner, of course best known for his recurring role in Star Trek enterprises as Capt. James T. Kirk, is no stranger to musical recordings. His 1968 debut album, The Transformed Man, included covers of the Beatles' "Lucy in the Sky With Diamonds" and Dylan's "Mr. Tambourine Man," among others. It became a coveted collectible in its original vinyl pressing. He has since released several other albums, including 2011's Seeking Major Tom, a set of covers of songs by David Bowie, Elton John, Sting, Freddie Mercury, Black Sabbath and others, and Ponder the Mystery (2013), a prog-rock album.
Related: More about that 1968 debut
Listen to his take on "Jingle Bells" featuring Rollins
Shatner Claus–The Christmas Album Track Listing
1 Jingle Bells [ft. Henry Rollins]
2 Blue Christmas [ft. Brad Paisley]
3 Little Drummer Boy [ft. Joe Louis Walker]
4 Winter Wonderland [ft. Todd Rundgren & Artimus Pyle]
5 Twas The Night Before Christmas [ft. Mel Collins]
6 Run Rudolph Run [ft. Elliot Easton]
7 O Come, O Come Emmanuel[ft. Rick Wakeman]
8 Silver Bells [ft. Ian Anderson]
9 One for You, One For Me
10 Rudolph The Red-Nosed Reindeer [ft. Billy Gibbons]
11 Silent Night [ft. Iggy Pop]
12 White Christmas [ft. Judy Collins]
13 Feliz Navidad [ft. Dani Bender]
14 Jingle Bells (Punk Rock Version) [ft. Henry Rollins]
Listen to "Silent Night" featuring Iggy Pop

The BCB team brings you the latest Breaking News, Contests, On This Day rock history stories, Classic Videos, retro-Charts and more.

Latest posts by Best Classic Bands Staff (see all)