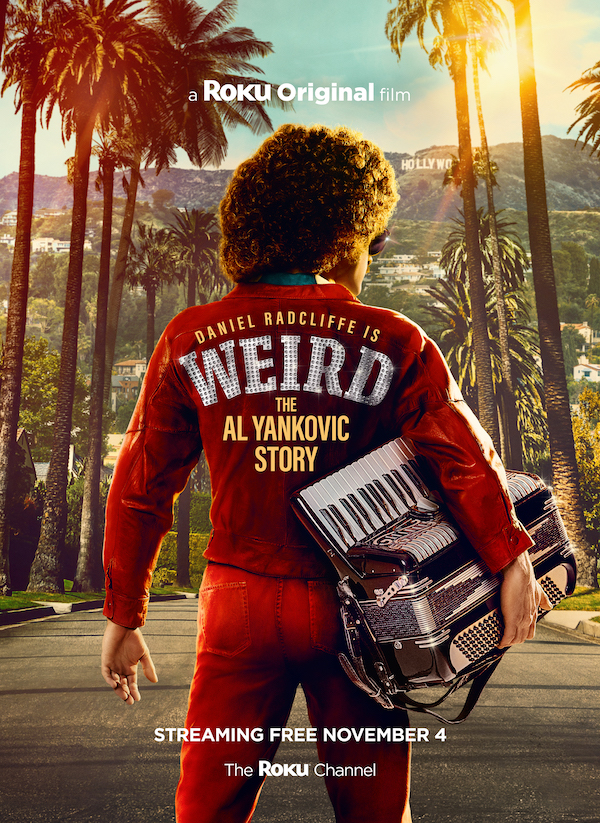 "Weird Al" Yankovic is the subject of a new biopic starring Harry Potter actor Daniel Radcliffe. The film, Weird: The Al Yankovic Story, is being produced by Funny Or Die and Tango for Roku to be released on Nov. 4, 2022. The film had its world premiere on Sept. 8 as part of the Toronto International Film Festival's "Midnight Madness" schedule.
In its favorable review, the New York Post wrote, "What Yankovic and director/co-writer Eric Appel have done, brilliantly in spots, is parody Yankovic's own life while sending up the whole biopic genre. In a messed-up way, the maneuver is kinda poetic. And so very funny."
The Hollywood Reporter wrote, "A funny, welcome reminder of a time before the internet and Marvel made being a nerd so ordinary."
The original Jan. 18 announcement indicated that production for the all-new feature film about the prolific career of Grammy-winning musician and pop cultural icon began in Los Angeles in early February. The official trailer was released on August 29; watch it below.
On March 3, it was revealed that actress Evan Rachel Wood had been cast as Madonna. Rainn Wilson (The Office) portrays Dr. Demento. Both actors and their characters are prominently featured in the new trailer.
More from the original announcement: The Roku Original film holds nothing back, exploring every facet of Yankovic's life, from his meteoric rise to fame with early hits like "Eat It" and "Like a Surgeon" to his torrid celebrity love affairs and famously depraved lifestyle. Weird: The Al Yankovic Story takes audiences on a truly unbelievable journey through Yankovic's life and career, from gifted child prodigy to the greatest musical legend of all time.
Watch the teaser trailer, released on May 3
"When my last movie UHF came out in 1989, I made a solemn vow to my fans that I would release a major motion picture every 33 years, like clockwork. I'm very happy to say we're on schedule," said Yankovic. "And I am absolutely thrilled that Daniel Radcliffe will be portraying me in the film. I have no doubt whatsoever that this is the role future generations will remember him for."
"There clearly aren't enough biopic movies about famous musicians and we were excited to shine a light on the incredibly true, unexaggerated story of Weird Al," said Colin Davis, Roku's Head of Original Scripted Programming. "This is sincerely the ultimate combination of talent, creativity, and friends, coming together to make something genuinely funny and we could not be prouder to call this film a Roku Original."
Weird: The Al Yankovic Story is written by Yankovic and Eric Appel. Appel is also directing the film.
Watch the official trailer, released on August 29
"When Weird Al first sat me down against my will and told me his life story, I didn't believe any of it, but I knew that we had to make a movie about it," Appel said.
Listen to his 1979 parody of "My Sharona"
Related: Remember The Knack?
"Weird Al" Yankovic, born Oct. 23, 1959, is the biggest-selling comedy recording artist of all time. A five-time Grammy winner, his 2014 release Mandatory Fun was the first comedy album in history to debut at #1 on Billboard's Top 200. He is one of only three artists to have had their own top 40 hits in each of the last four decades (the other two being Michael Jackson and Madonna). On August 27, 2018, the Hollywood Chamber of Commerce awarded "Weird Al" with a star on the Hollywood Walk of Fame.

Latest posts by Best Classic Bands Staff
(see all)