Reared in the Oak Park suburb of Detroit, singer, guitarist/bassist and songwriter Doug Fieger began his musical career during his high school years as the frontman of Sky, a popular local band who opened concerts for such stars as Jethro Tull, The Who, Joe Cocker, Bob Seger, The Stooges and Traffic. Signed to RCA Records, they released two albums that were produced by Jimmy Miller, known for his work with the Rolling Stones.
When Sky failed to connect, Fieger moved to Los Angeles, where he eventually formed the pop-rock foursome The Knack in 1978, who quickly became a hot attraction on the Sunset Strip club scene. Joined onstage by such other artists as Bruce Springsteen, Tom Petty and Ray Manzarek (Doors), the group generated a buzz that led to a major label bidding war that was won by Capitol Records.
The Knack's 1979 debut album, Get The Knack, was produced by Mike Chapman, who had had a run of hits earlier that decade for such artists as Suzi Quatro and Nick Gilder, and had recently produced Blondie's massive Parallel Lines album.
Get The Knack was an out-of-the-box hit, driven by the song "My Sharona," co-written by Fieger and bandmate Barton Averre. The single was released in June and shot to #1 on Aug. 11, holding the top slot for six weeks, eventually becoming the biggest single of the year and selling over a million copies.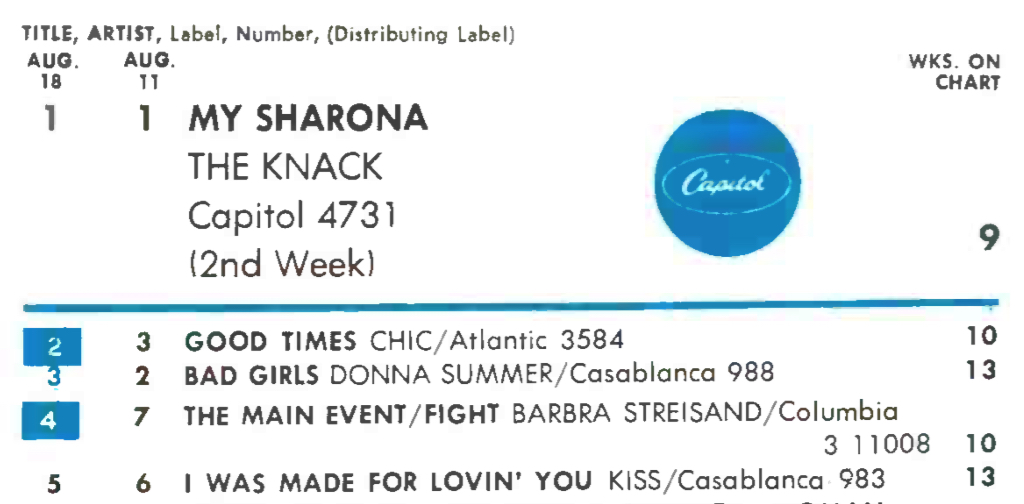 Another single, "Good Girls Don't," reached #11. The album enjoyed a five-week run at #1 and sold more than two million copies.
The Knack's almost immediate success generated one of rock music's biggest-ever backlashes. The group's matching suits and Capitol's record packaging alluded to The Beatles, which did not sit well with some critics and music fans. They were also scorned as careerist musicians who were cashing in on the burgeoning new wave movement and its back to pop-rock basics ethos.
The group's 1980 second album, …But the Little Girls Understand, was deemed a failure when it only sold half-a-million copies. A third LP in 1981, Round Trip, moved a mere 150,000 units. Fieger quit the band at the end of that year.
The Knack reunited in 1986, and enjoyed two slight resurgences: first in 1991 with a new album titled Serious Fun that yielded a Top 10 album rock radio track "Rocket O' Love;" again in 1994 when "My Sharona" was included in the hit movie Reality Bites.
At a 2006 gig in Las Vegas, Fieger had trouble performing and was subsequently diagnosed with two brain tumors. He died on February 14, 2010 following a long battle with brain and lung cancer.
Related: Radio hits of 1979

Latest posts by Best Classic Bands Staff
(see all)