On Being Music Mogul Walter Yetnikoff's 'Rabbi'
by Ira Mayer
The passing of Walter Yetnikoff, the longtime head of CBS Records, on August 8, 2021, elicited plenty of memories of the colorful executive on Facebook from those who worked with him. Yetnikoff, who ran the enormous label group, led by the Columbia and Epic labels, for decades during the '70s and '80s, died of cancer three days shy of his 88th birthday.
Ira Mayer, a longtime marketing and licensing consultant, and music journalist, shares one such story with Best Classic Bands' readers. (You can follow his contemporary pop culture jottings at Nightmayer.net.)
"Do you write speeches?"
"Yes, of course."
Robert Altschuler, the head of public relations for CBS Records, surely knew I was lying.
"Would you consider writing a speech for Walter Yetnikoff?" Walter was the president of CBS Records, the most powerful man in the music business, and a man known for being a tough negotiator . . . and more.
"Let me warn you first: Walter threw an ashtray at the last person who wrote speeches for him. He throws things. He yells. He can be very rude."
I'd deal with it. My freelance writing career in the late 1970s was at one of its lowpoints, and this was going to pay well. The speech was due in a few days. Could I come in the following afternoon around 5?
I was ushered into Walter's corner office at Black Rock, the nickname for the CBS headquarters building at 51 W. 52nd Street in Manhattan. Walter emerged from a side door and greeted me.
"Rabbi!" I had red hair, a bushy red beard. "Do you like a little Scotch?"
"Yes, thank you."
He pulled out a bottle of Chivas, then the crème-de-la-crème of Scotches. He put it on the coffee table, got two glasses and coasters.
Now it was time for a little small talk. While I hadn't asked, he explained that that side door led to a bedroom for his afternoon naps. Yes, I'd gone to Jewish day school. No, I wasn't observant. Spoke a little Hebrew, no I don't speak Yiddish, though I understand my father's hometown dialect from Germany.
And we were off. I have no recollection what that specific speech was for, but it was to be the first of quite a few I wrote for him and for a host of other executives — initially mostly at CBS, but word spread and soon there were speeches to write for the head of the record industry trade association, other label heads, and others.
One of Walter's speeches stands out, though.
This one was for the June 1979 inaugural meeting of the Black Music Association. The BMA had been founded by Kenneth Gamble and Leon Huff, the songwriting and production team who also headed Philadelphia International Records. That label was a heavy contributor to CBS's bottom line at the time, with hits by the O'Jays, Harold Melvin & The Blue Notes, and Teddy Pendergrass, among others. The chair of the event was CBS's Black music VP LeBaron Taylor. And in addition to the conference, the festivities were to be capped off by President Carter issuing a proclamation declaring June Black Music Month (a designation which continues to this day), and a Salute to Black Music concert and reception for 1,000 invited guests at the White House. That show starred Billy Eckstine, Chuck Berry, Andre Crouch, Evelyn "Champagne" King, and Sarah Jordan. Walter was keynoting the conference earlier in the day after lunch, representing the largest music company of the day — and its support of Black music.
Walter and I finished composing his speech in limos and on the airplane on the way to the luncheon in DC.
I handed him the typed-with-scribbled-in-the-car-notes-in-the-margins as he ascended the dais from the side. He took the speech and stopped on the stair. Again, this was 1979 and in the Black community stylized hugs, handshakes, fist bumps and other forms of greeting were sprouting everywhere. Walter extended his arm and rubbed it up mine, grabbed my hand and turned our palms. "How do I shake hands?" he asked me.
Over the several years I worked with him, Walter never yelled, never threw anything, was never rude to me. He did, however, address me as Rabbi every time we met.
Related: Our obituary of Yetnikoff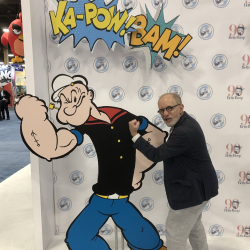 Latest posts by Ira Mayer
(see all)