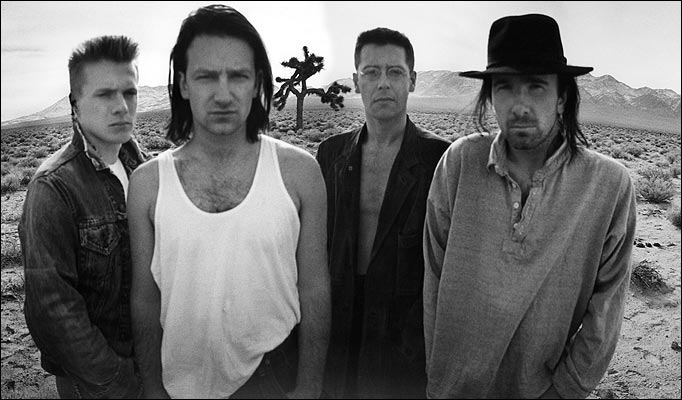 America was the big thematic thread that runs through U2's fifth studio album, The Joshua Tree. The band had been spending some five months of every year in the U.S. Bono had been reading American authors like Norman Mailer, Flannery O'Connor and Raymond Carver and digging into American roots music traditions. He was determined to express his feelings about the nation (from an Irish point of view) and have the album's sound reflect the wide open spaces found across the country, the bigness of America as a place as well as a concept.
Working with producers Brian Eno and Daniel Lanois, the band initially set up their recording gear in January 1986 at Danesmoate House, an 18th Century vintage manor in the Irish countryside. Recording continued throughout the year, using both studios and the home that U2 guitarist The Edge had recently purchased (bassist Adam Clayton later bought Danesmoate House). Recording finished in November. The album ended up being sequenced by Kirsty MacColl, artist and wife of Steve Lillywhite, who produced U2's first three albums and was mixing the singles on The Joshua Tree. On its completion, Bono declared himself "as pleased with the record as I can ever be pleased with a record."
It was the album that broke U2 through to international superstardom, and was the first new release to be made available on the compact disc, vinyl record, and cassette tape formats all on the same date. On April 25, 1987, it reached #1 on the U.S. Top 200–its first of a reported nine weeks there–and topped album charts in 20 other nations. The songs "With or Without You" and "I Still Haven't Found What I'm Looking For" both hit #1 in America. By May the album had sold some seven million copies worldwide. The Joshua Tree went on to post international sales of 25 million, joining the select list of the best selling albums ever.
Upon its 30th anniversary (on March 9, 2017), their label announced a new edition in a variety of formats. "Alongside the 11-track album," read the press release, "the super deluxe collector's edition box set includes a live recording of The Joshua Tree Tour 1987 Madison Square Garden concert; rarities and B-sides from the album's original recording sessions; as well as 2017 remixes from Daniel Lanois, St Francis Hotel, Jacknife Lee, Steve Lillywhite and Flood; plus an 84-page hardback book of unseen personal photography shot by The Edge during the original Mojave Desert photo session in 1986."
The Joshua Tree Tour 2017 opened in Vancouver on May 12, kicking off a run of stadium dates across North America and Europe, including U2's first ever U.S. festival headline appearance at the Bonnaroo Music & Arts Festival.
Watch the start of the anniversary tour
Related: Recap of opening night

Latest posts by Best Classic Bands Staff
(see all)