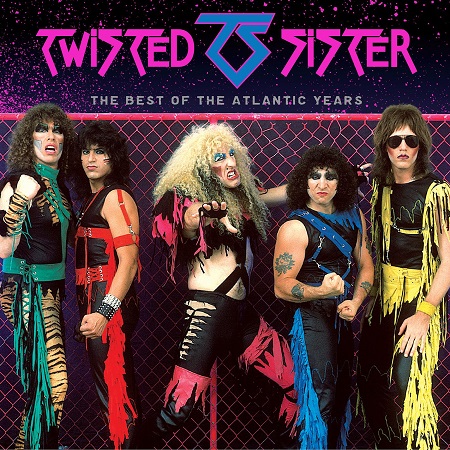 As a product of NYC's early 70's glam scene, Twisted Sister's hard hitting shows and loud anthems coupled with their outrageous costume and makeup looks, took them from playing bars in the Seventies to headlining festivals in the Eighties. And after 40 years and more than 10 million records later, the band is currently commemorating the anniversary with their final tour, aptly entitled "Forty and F*ck It."
Rhino is getting in on the celebration by releasing a 19-song collection that honors this ultimate hair band's legacy by spotlighting some of the group's biggest hits, "I Wanna Rock" and "We're Not Gonna Take It," as well as the band's previously unreleased cover of Steppenwolf's "Born To Be Wild." Fans will be able to buy Twisted Sister: The Best of the Atlantic Years on August 28.
The compilation will feature a variety of songs cherry-picked from five of the band's albums, spanning across the decades. The group's 1982 debut album, Under The Blade, produced by UFO bassist Pete Way, will lend a trio of songs from the album: "What You Don't Know (Sure Don't Hurt You)," "I'll Never Grow Up Now!" and '"Sin After Sin."
Their next album, You Can't Stop Rock 'n' Roll, featured the core lineup of singer Dee Snider, guitarists Jay Jay French and Eddie Ojeda, bassist Mark Mendoza and drummer A.J. Perro.  This would become the band's first gold record in 1983. "I Am (I'm Me)," "The Kids Are Back," and the title track are highlighted on the new collection.
Stay Hungry was Twisted Sister's third and best-selling album. Released in 1984 and produced by Tom Werman (Ted Nugent, Cheap Trick), the album went multi-platinum in the US., with sales of more than three million. The album is well represented with six songs: "I Wanna Rock," "The Price," "SMF," "The Beast," "Burn In Hell" and "We're Not Gonna Take It."
The Best of the Atlantic Years also takes focus on the band's last two releases for Atlantic: the gold-certified Come Out & Play (1985) and Love Is For Suckers (1987). Among the highlights are: "You Want What We Got," a cover of the Shangri-La's "Leader Of The Pack," "Hot Love" and "Love Is For Suckers."
Need some 70's glam in your life right now? Check out the [groups rock-documentary] We Are Twisted F*cking Sister, which came out February, and offers up the inside scoop on the beginnings of the so-called "band that killed disco" and with it, a glimpse of the 10 years the native Long Island, NY group spent toiling away in the New York City suburbs before they became famous.
Related: We Are Twisted F*cking Sister
Twisted Sister: The Best of the Atlantic Years Track Listing:
1. "What You Don't Know (Sure Can Hurt You)"
2. "I'll Never Grow Up, Now!"
3. "Sin After Sin"
4. "You Can't Stop Rock 'N' Roll"
5. "I Am (I'm Me)"
6. "The Kids Are Back"
7. "I Wanna Rock"
8. "We're Not Gonna Take It"
9. "The Price"
10. "S.M.F."
11. "The Beast"
12. "Burn In Hell"
13. "Come Out And Play"
14. "Leader Of The Pack"
15. "The Fire Still Burns"
16. "You Want What We Got"
17. "Hot Love"
18. "Love Is For Suckers"
19. "Born To Be Wild" – Previously Unreleased

Latest posts by Best Classic Bands Staff
(see all)