Aug 11, 2020: Trini Lopez—'If I Had a Hammer' & 'Lemon Tree' Singer—Dies
by Jeff Tamarkin
The prolific singer, guitarist and actor Trini Lopez, who pioneered folk-rock music in the early '60s while giving it a Latin accent, died August 11, 2020, from the effects of Covid-19, in Rancho Mirage, Calif.
His death was confirmed in a Facebook post by filmmaker P. David Ebersole, who was working on, My Name is Lopez, a documentary film on the singer, as well as by Palm Springs Life magazine. Lopez's personal assistant has also confirmed his passing. Lopez was 83.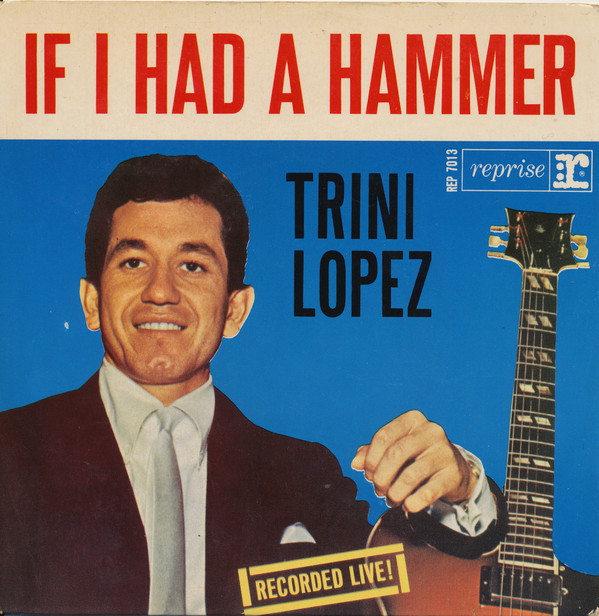 Signed to Reprise Records, Lopez placed 18 singles on the Billboard chart between 1963-69, most notably his #3 hit "If I Had a Hammer" and the top 20 "Lemon Tree." His album successes included the live Trini Lopez at PJ's, a rollicking 1963 set that featured his uptempo interpretations of the West Side Story classic "A-me-ri-ca," Woody Guthrie's "This Land is Your Land," the Mexican folk song "La Bamba" and Ray Charles' "What'd I Say" and "Unchain My Heart," reached #2 in Billboard.
A sequel, More Trini Lopez at PJ's, peaked later that year at #11. He placed 14 albums in all in Billboard, although none after 1967.
Among those influenced by Lopez were Johnny Rivers, whose early hits were also recorded live with crowd sounds included, and Jefferson Airplane singer Marty Balin, who said that he got the idea for a folk-rock band by listening to Lopez.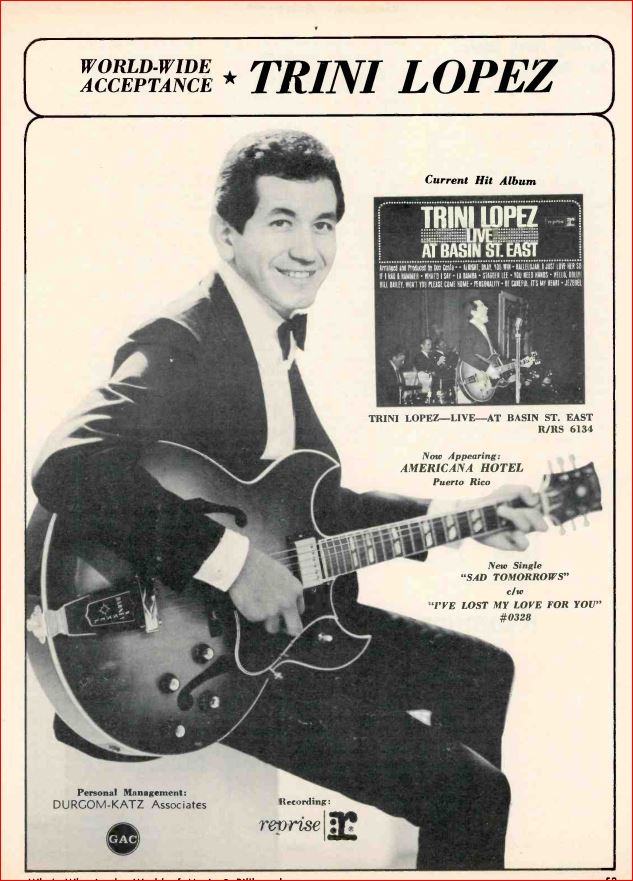 Trinidad Lopez III was born in Dallas, Tex., on May 15, 1937, to parents of Mexican descent. He formed his first band at age 15 and performed locally (including a gig at a nightclub owned by Jack Ruby, who later shot and killed JFK assassin Lee Harvey Oswald). In 1958, Lopez recorded his first single for producer Norman Petty (who'd produced Buddy Holly) in New Mexico. Titled "The Right to Rock," it was released on the small Volk label. Lopez then signed to King Records (home of James Brown). He recorded more than a dozen singles for King, none of which charted; neither did his debut album, Teenage Love Songs, also on King.
A move to Los Angeles soon proved fruitful as Lopez was awarded with a recurring gig at the dance nightclub PJ's. That led to his 1963 signing to Reprise (reportedly by the direct request of label head Frank Sinatra) and the single "If I Had a Hammer." Written by Pete Seeger and Lee Hays of the Weavers, the song was given a strong backbeat by Lopez—the sounds of the frenzied PJ's dancers added to its excitement and sent both the single and LP up the charts. "If I Had a Hammer" reportedly went to #1 in some 36 countries.
The success of the live album led to the More… followup, before Lopez started to diversify—his 1964 The Latin Album reached #18 and was followed by dedicated collections of folk music, R&B and other genre exercises.
Watch the trailer for the documentary My Name is Lopez
Related: More details on the My Name is Lopez film
In addition to the "Lemon Tree" single, his chart singles included an adaptation of "Kansas City" and the top 40 hit "I'm Comin' Home Cindy."
Lopez became a successful Las Vegas entertainer long before other artists made the city a second home, and he branched out into acting, starting in 1965 with an appearance in the film Marriage on the Rocks. His most popular role was in the 1967 film The Dirty Dozen, in which he played the character Pedro Jimenez.
Watch Lopez sing "Bramble Bush" in The Dirty Dozen
Lopez starred in his own NBC TV special in 1969 (with the Ventures as his backing band) and he continued to tour worldwide and record even while his chart successes disappeared after the '60s.
Watch Lopez sing "La Bamba"

Latest posts by Jeff Tamarkin
(see all)